Houselungo 8 Jan 23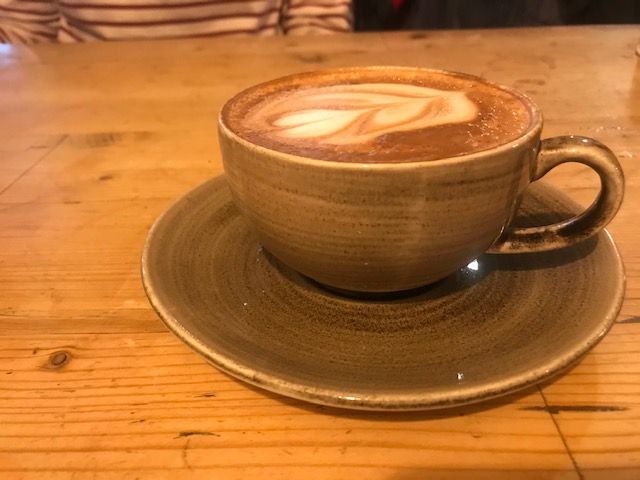 House prices fall in December but rose in 2022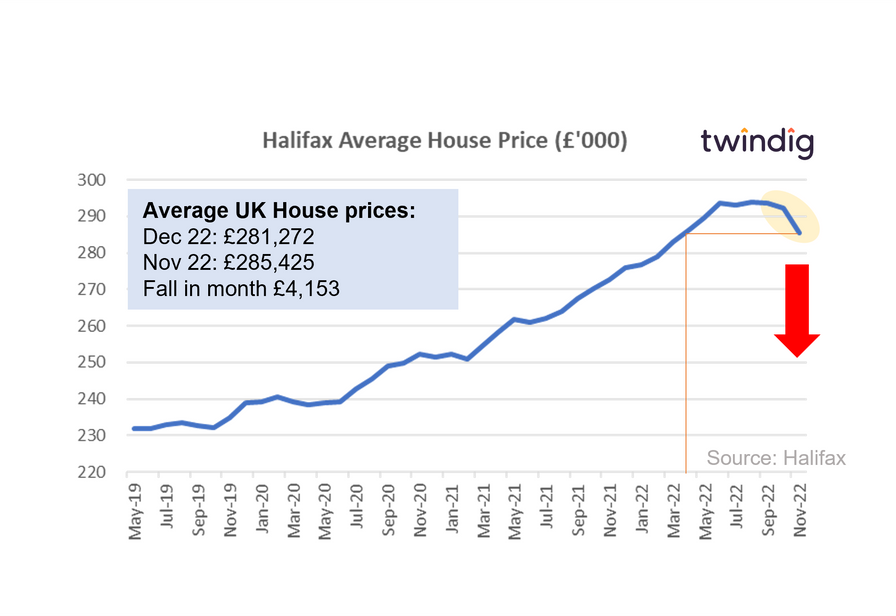 The Halifax released its house price index for December on Friday
What the Halifax said
Average house price £281,272
House prices fell by 1.5% or £4,153 in December
Annual house price inflation 2.0%
Twindig Take
The Halifax House Price Index followed the Nationwide House Price Index reporting the fourth consecutive monthly fall in house prices in December 2022.
According to the Halifax, the average UK house price is now £281,772, some £12,720 lower than their August 2022 peak of £293,992. The December fall takes house prices back to their levels in February and March last year. House prices today are around £41,000 higher than they were before the start of the COVID-19 pandemic.

The pattern of house prices in 2022 saw sharp rises in the first six months, up 6% or almost £18,000 followed by a plateau in the summer and falls in autumn and winter as rising mortgage rates and costs of living increases took the wind out of the housing market's sails.
Mortgage rates more than double in a year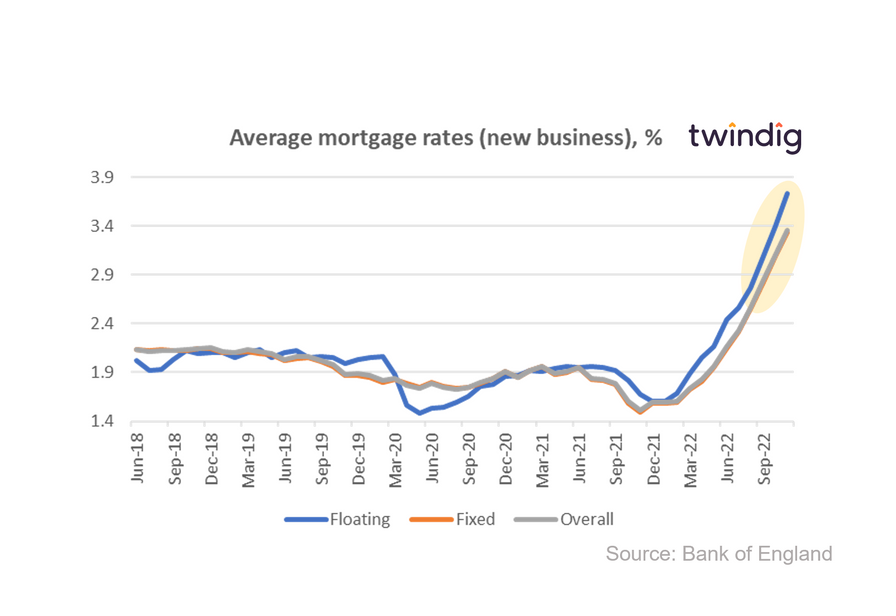 The latest data from the Bank of England revealed that overall average mortgage rates for new business increased again in November 2022, rising by more than 8%.

What the Bank of England said
The average floating mortgage rate for new business was 3.73%
The average fixed mortgage rate for new business was 3.34%
The average overall mortgage rate for new business was 3.36%
Twindig take
Once again mortgage rates have risen, and in our view, they are likely to keep rising as the Bank of England raises interest rates (Bank Rate) to tackle inflation.
Average UK mortgage rates increased by 8.4% in November to 3.36%, with much of this increase driven by the impact of the mini-budget on the financial markets and the recent increases in Bank Rate.
Average floating rate mortgage rates increased by 9.7% in the month to 3.73% some 122% higher than they were one year ago when the average floating rate was just 1.68%.
Average fixed-rate mortgage rates increased by 8.1% to 3.34%, some 124% higher than they were in November 2021 when the average rate was 1.49%
Mortgage approvals plummet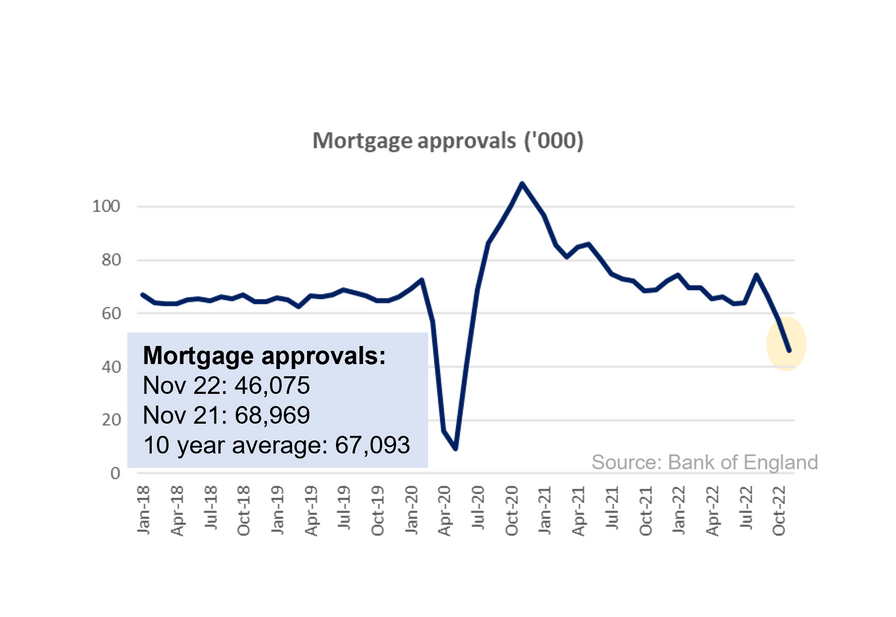 The Bank of England released mortgage approval data for November this week


What the Bank of England said
Mortgage approvals for November 2022 were 46,075
This was 20.4% lower than the 57,875 mortgages approved in October 2022
This was 33.2% lower than the 68,969 mortgages approved during November 2021
Twindig take
This was a big drop. Mortgage approvals fell by 11,800 in November 2022 the biggest fall since April 2020 and are at their lowest level since June 2020.
This is not the news the housing market was hoping for in the first week of the new year. Mortgage approvals are the key lead indicator for housing transactions, lower mortgage approvals today means fewer housing transactions tomorrow.
November marks the third monthly fall in mortgage approvals in a row, the first being in September 2022 following the announcement of the mini-budget. Whilst the financial markets have largely recovered from the mini-budget, the housing market is still feeling the impact along with the pain of mortgage rate rises and cost of living increases.
Housing Market forecasts for 2023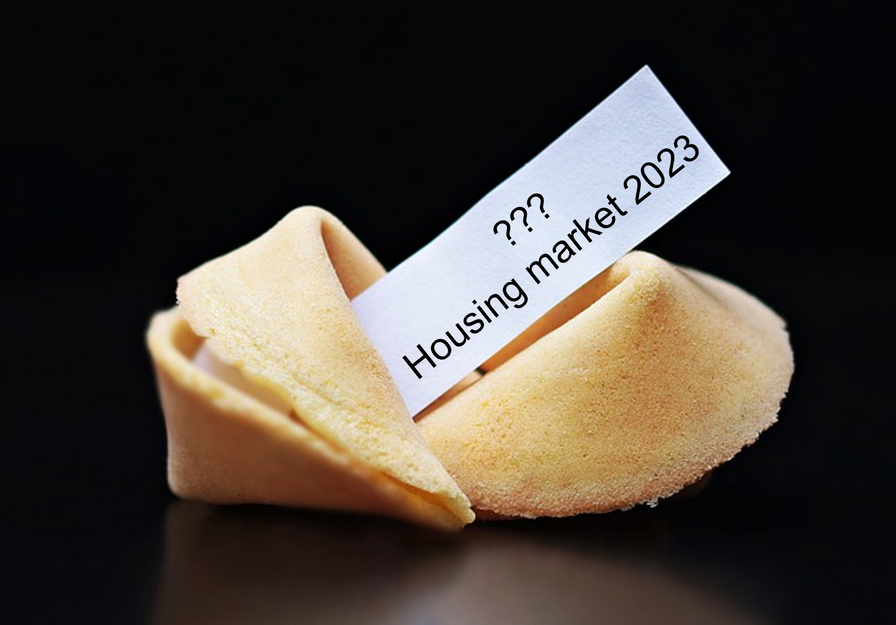 In 2023, we forecast that UK house prices will fall by 8-10%; housing transactions to fall by more than 20% to around 960,000; Bank Rate to continue to increase to a peak of 5.25% in September 2023 before starting to fall.
In 2022 the UK housing market played a game of two unequal halves, which were defined by the September mini-budget, rising before it and falling after it. We expect 2023 to be a challenging year, but with housing market conditions improving in the second half and possibly gaining momentum from September onwards.
Twindig Housing Market Index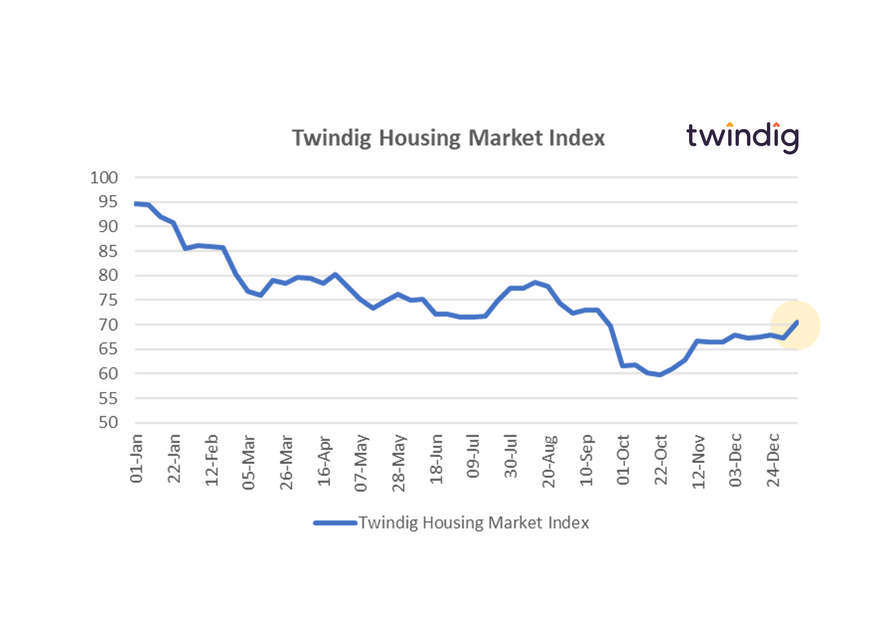 The Twindig Housing Market Index has had a positive start to the year rising by 4.9% this week to 70.6 its highest level since 17 September 2022. Investors were most optimistic about the UK Housebuilders, a pattern we often see at the start of the year. Statistically, it is a brave person who bets on the share prices of housebuilders falling in the first quarter of any given year.



Confidence in housebuilders on the up
We are not sure why housebuilders usually have a strong first quarter, but perhaps after having friends and family to stay over Christmas investors perceive their need for a bigger home and conclude many others will be thinking the same thing. Time will tell, and we will hear from the big three housebuilders (Barratt, Persimmon and Taylor Wimpey) next week. To assess our expectations for their short-term performance, we will look at their orderbook, for the 6-12 month view build costs, and for the longer-term view land-buying.
We expect that orderbooks will be down on their position one year ago, build costs will be rising and land buying will be slowing. However, cash is king, and we expect no changes to dividend guidance following the cuts in dividend expectations last year.
Subscribe to Market Views