House prices fall in December, but did rise in 2022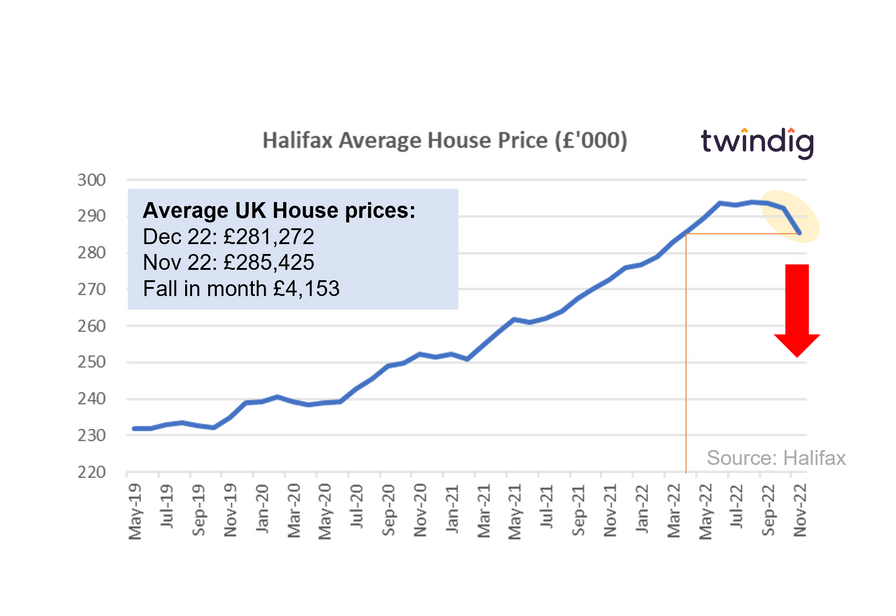 The Halifax released its house price index for December today
What the Halifax said
Average house price £281,272
House prices fell by 1.5% or £4,153 in December
Annual house price inflation 2.0%
Twindig Take
The Halifax House Price Index followed the Nationwide House Price Index reporting the fourth consecutive monthly fall in house prices in December 2022.
According to the Halifax, the average UK house price is now £281,772, some £12,720 lower than their August 2022 peak of £293,992. The December fall takes house prices back to their levels in February and March last year. House prices today are around £41,000 higher than they were before the start of the COVID-19 pandemic.

The pattern of house prices in 2022 saw sharp rises in the first six months, up 6% or almost £18,000 followed by a plateau in the summer and falls in autumn and winter as rising mortgage rates and costs of living increases took the wind out of the housing market's sails.


The outlook for house prices in 2023
We expect house prices to fall by around 8-10% in 2023, which would take average house prices to around £255,000 by the end of the year, a level still almost £15,000 higher than pre-pandemic levels. You can see our detailed 2023 housing market forecasts here

The falls are likely to be weighted towards the first half of the year, in our view, as interest rates and the cost of living continue to rise. We expect the Bank of England's Bank Rate to peak in September 2023 and to see all interest rates (including swap rates) fall as Bank Rate reduces.

The Bank of England will only reduce Bank Rate when it believes that inflation is under control and as the cost of living increases soften, we expect the downward pressure on house prices to start to ease.
Subscribe to Market Views