UK Housing Market Forecasts 2022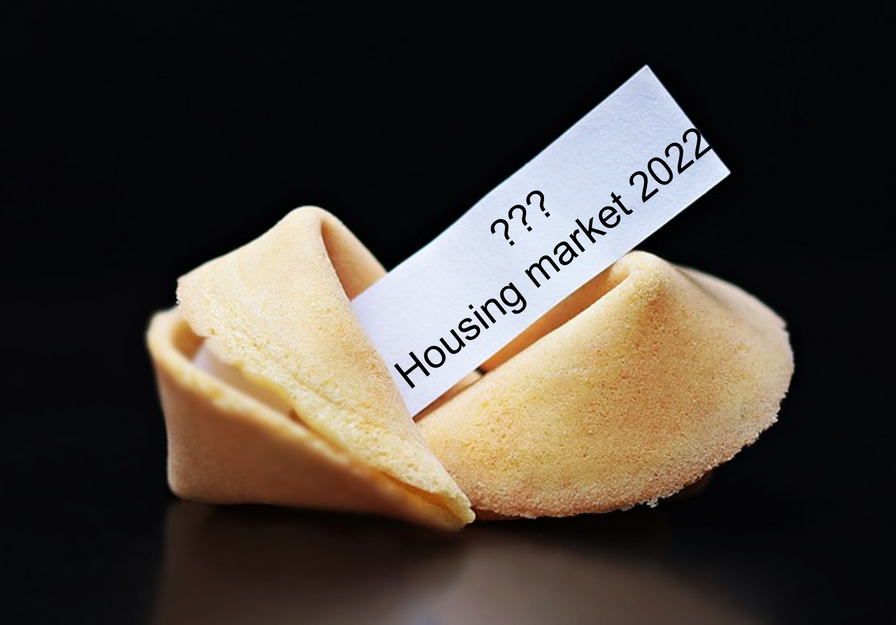 In this article, we set out our housing market forecasts for 2022. We forecast UK house price inflation of 5%; housing transitions in the range of 1.0 and 1.1 million; Bank Rate to continue to increase and therefore mortgage rates to rise. The UK housing market continued to surprise us on the upside during 2021, just as it had done in 2020 and we wouldn't rule out being pleasantly surprised for the third year in a row. It will be very interesting to see how long and strong 2022's spring selling season will be as the impact of the COVID-19 Stamp Duty Holiday subsides.
House Price Forecast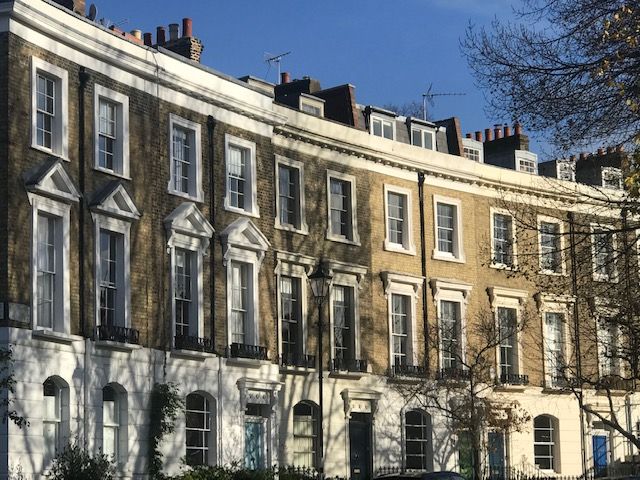 Twindig expects UK house prices to increase by 5% in 2022
We expect the positive trend in house price inflation seen in 2020 and 2021 to continue into 2022. We estimate that house price inflation will be positive during the Spring Selling Season of January, February and March 2022 as homebuyers start the new year with optimism and strong intentions to move.
House prices may soften by 1-2% in April and May as the Spring Selling Season fades, mortgage rates start to rise and attention, hopefully, starts to focus on overseas summer holidays after two years of staycations.
During the second half of the year we expect a gradual increase in house prices and believe that on average, UK house prices will by 5% higher in December 2022 than they were in December 2021.
Working from Home vs Working from the office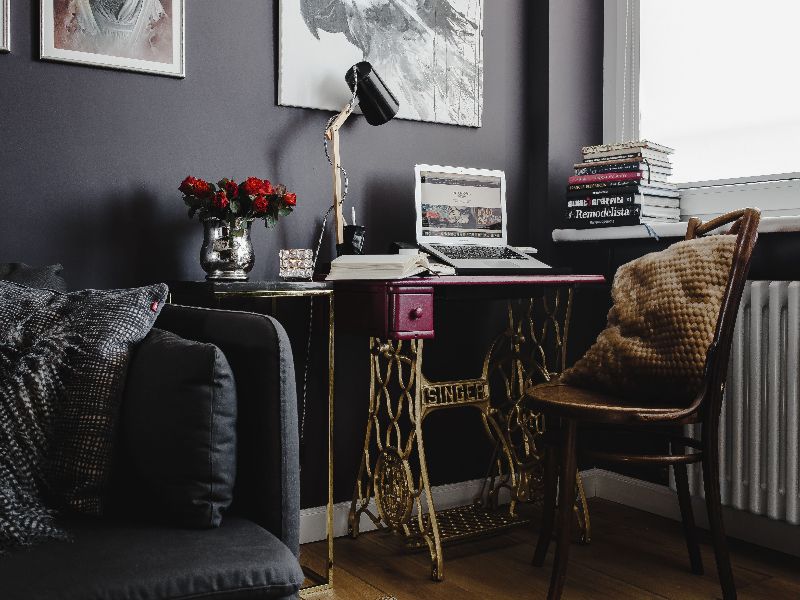 The so-called 'race for space' played a significant role in underlying housing demand during 2020 and 2021 as working from home untied many from the constraints of the commuter belt. For otherwise, it made them realise they just needed more space at home, in order to work from home.
The UK Government appeared confused in its thinking about the merits of working from home - good for the staying at home saving lives agenda, but not so good for the economic health of the high street and urban centres. The Government was therefore a fair-weather friend championing either work from home or working from the office when it suited them.
We believe that working from home is here to stay, but that the scale of the 'exodus' has been somewhat exaggerated. We, therefore, believe that house price inflation, and rents, close to urban centres will outperform the more rural areas.
Housing transactions forecast
Our housing market transaction forecast is based on the following assumptions:
There are no Stamp Duty Holidays

The UK housing market remains open throughout 2022
The key lead indicator for housing transactions is, in our view, mortgage approvals and they were surprisingly stable in the period leading up to the COVID-19 pandemic, especially when we consider that the four years leading up to the COVID-19 pandemic were not without challenges of their own.

In fact, both mortgage approvals and housing transactions had started to recover during the first lockdown, before any Government interference, which appears to have destabilised rather than stabilised the UK housing market.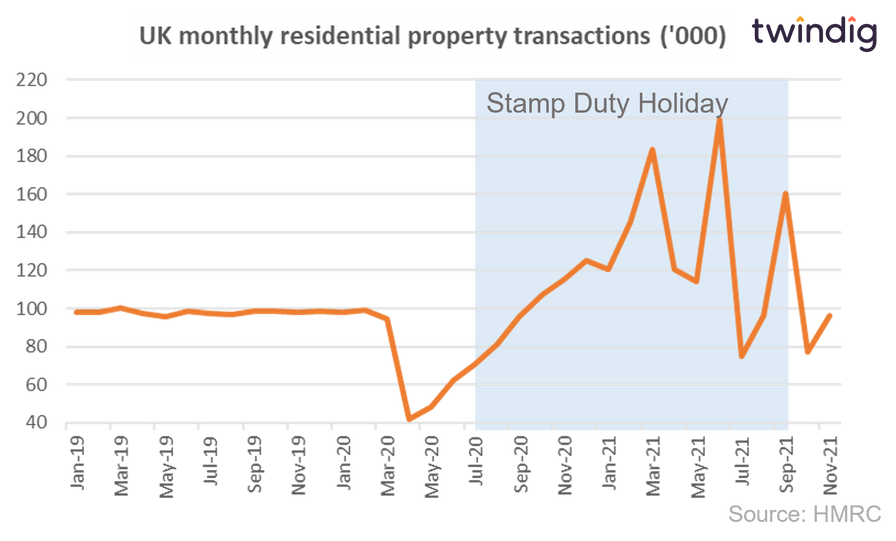 Without any further Government intervention, we expect housing transaction levels to return to their longer-term norms and, overall, we forecast UK housing transactions to be between 1.0 and 1.1 million in 2022.
Mortgage rate forecast
Twindig along with many other housing market commentators were surprised to see Bank Rate increase in December 2021, but what does this mean for mortgage rates in 2022? Mortgage rates fell significantly during the second half of 2021 as illustrated in the graph below and the Bank of England has been clear that Bank Rate (the interest rate which sets or influences all other interest rates) may have to change to help control inflation.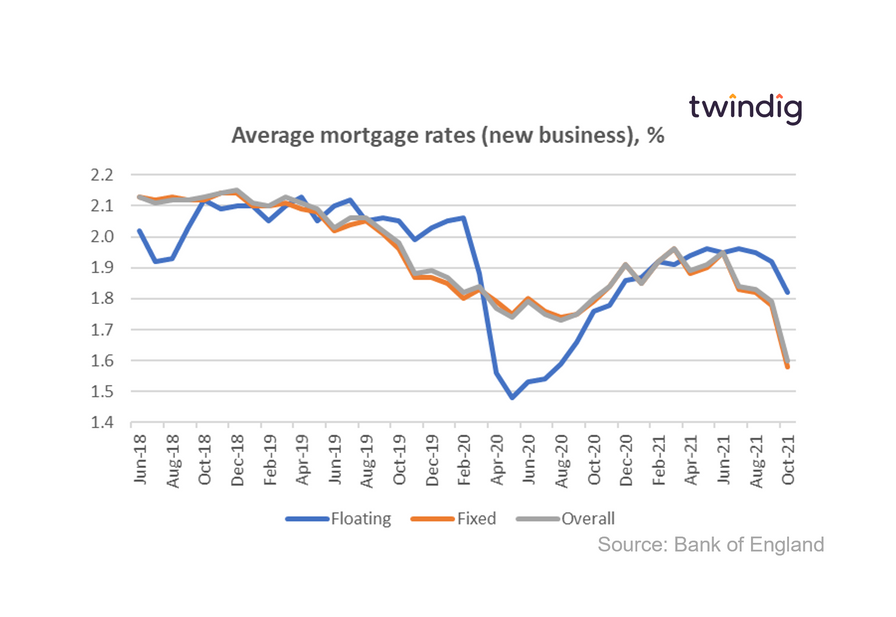 However, we must put any Bank Rate increases into context, we show in the chart below UK Bank Rate since January 2000.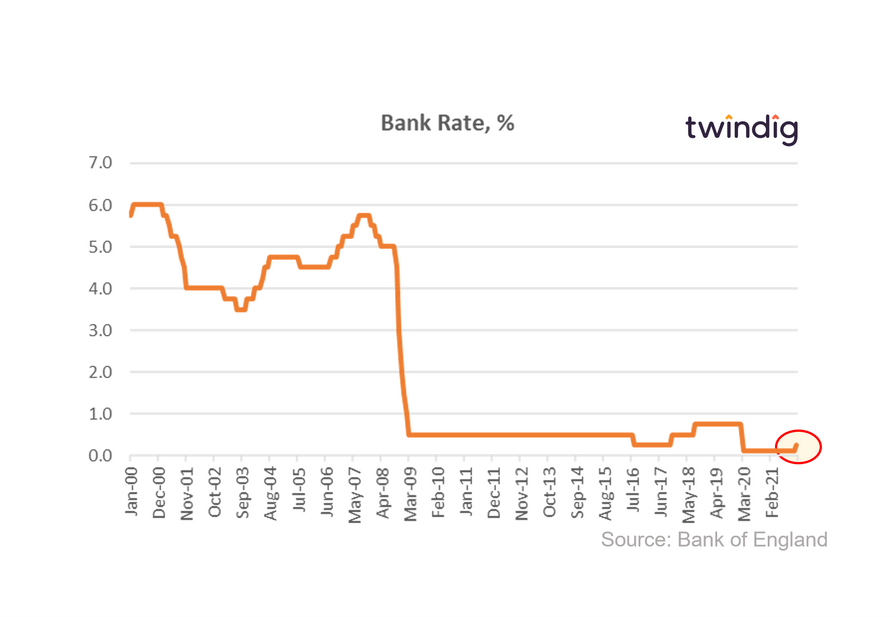 We have been in a very low Bank Rate since March 2009. However, Bank Rate had made its way up 0.75% before the COVID pandemic struck. Our central thesis is that Bank Rate will rise to 1.0% during 2022, however we would not rule out a rise to 2.0% if inflation keeps rising.
The Bank of England has a tricky balancing act to perform, using interest rates to control inflation without causing households and the Government difficulties in servicing existing debts. It will also be aware that those with lots of debt (i.e. the Government) benefit from rising inflation. As inflation rises the real value of debt declines.
Those with mortgages might not be so sanguine about rising interest rates, but since 2013 the overwhelming majority of mortgage advances have been fixed-rate mortgages, therefore a rise in mortgage rate will not have any immediate impact.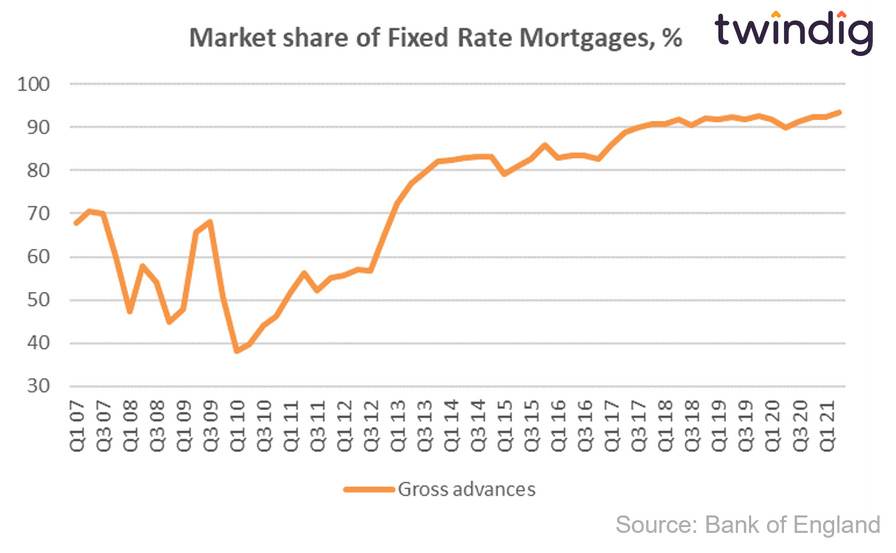 Many homeowners will also have benefitted from significant house price inflation since they last arranged their mortgage, their Loan to Value (LTV), will, therefore, have fallen enabling them to secure a more favourable mortgage rate. You can read more about the impact of rising mortgage rates in our article Why rising mortgage rates might not hurt you
Bringing all the above analysis together, our mortgage rate forecasts for 31 December 2022 are as follows:
Bank Rate 1.0%
2 Year fixed-rate 95% LTV mortgage 4.00%
2 Year fixed-rate 75% LTV mortgage 3.00%
2 Year fixed-rate 60% LTV mortgage 2.25%
Capital Gains Tax Forecast
As we entered 2021 Chancellor Rishi Sunak was reviewing the structure of UK taxes. We had thought that following the significant financial impact of the COVID-19 pandemic on the public purse, Capital Gains Taxes (a tax primarily paid by the better off) would rise.
Our working assumption was that Capital Gains Tax rates will be brought into line with income tax rates, higher rate taxpayers will therefore pay higher rates of Capital Gains Tax.
However, in November 2021 The Chancellor shelved plans to make any wide-sweeping changes to Capital Gains Tax. Commenting on behalf of HMRC LUcy Frazer QC MP said:
these reforms would involve a number of wider policy trade-offs and so careful thought must be given to the impact that they would have on taxpayers, as well as any additional administrative burden on HMRC. The Government will continue to keep the tax system under constant review to ensure it is simple and efficient
We view this as an interesting decision, after all, a rise in taxation, whilst unpopular now, may have been forgotten about by the time of the next election. In our view raising taxes on the better off to help cover the costs of helping those more in need would have been a wise decision.
Housing repossessions forecast
According to UK Finance, in the first three quarters of 2021 there were 810 owner occupier home repossessions compared to 1,320 in the first 9 months of 2020. HOwever, the level of possessions is rising as the Government is no longer requiring lenders to put in place emergency support measures. We expect the trend to continue upwards in 2022, especially as mortgage rates rise.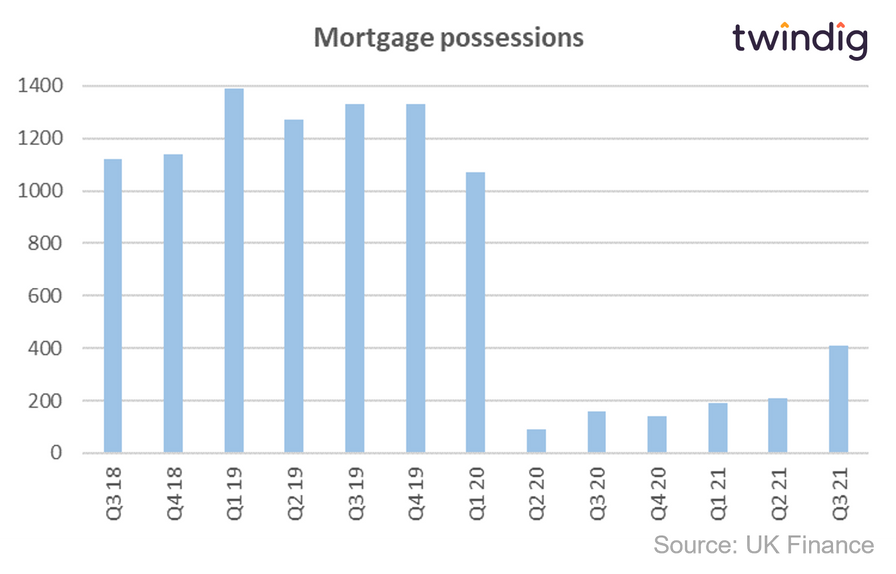 We expect repossessions to be around 4,000 in 2022 as the UK Government scales back its housing market interventions. By comparison, our repossession forecast is still very low compared to the Credit crunch peak in 2009 of 48,900.
We also not that the number of owner-occupied homes in mortgage arrears fell has been trending downwards suggesting that household Balance sheets , on the whole, are getting stronger as we emerge from lockdown.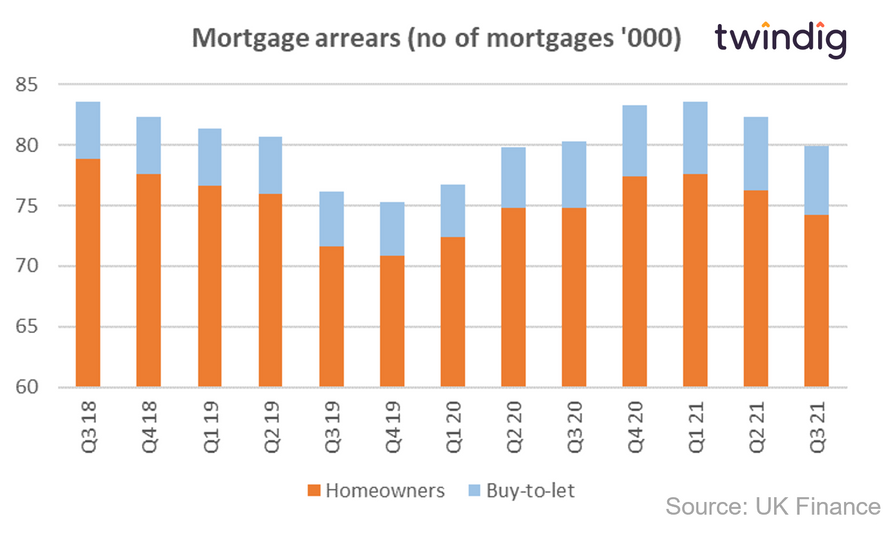 How much is my house worth?
Twindig has details for every home across the country, including yours. If you want to see an estimate of the current value of your home you can do so by visiting twindig or by clicking the button below
How accurate were our 2021 forecasts?
It would of course be easy to ignore what we said at the start of 2021, but we are happy for our forecasts to stand up to scrutiny.
House prices
We said house price inflation would be 5%
What actually happened? The latest data suggests house price inflation in 2021 was actually 10%
We, therefore, got the direction of travel right, just not the distance travelled...
Any mitigating factors?
We made our forecast when the Stamp Duty Holiday was due to end in March 2021, it subsequently was extended until the end of September.
Housing Transactions
We predicted 1.05-1.10 million
What actually happened? The outturn is likely to be nearer 1.4 million housing transactions
Any mitigating factors?
Once again we made our forecast based on the assumption that the stamp duty holiday would end in March 2021. We estimate that between April and September there were an additional 167,000 housing transactions due to the stamp duty holiday. This does reduce our forecasting error somewhat, although whichever way we look at it, the stamp duty holiday caused a much more buoyant housing market than we had anticipated.
Interest rates
We predicted
Bank Rate (unchanged)
60% LTV 2 year fixed rate mortgage to be around 1.30% and a
95% LTV 2 year fixed rate mortgage to be around 3.5%
What actually happened (latest data at the time of writing)
Bank Rate 0.1%
60% LTV 2 year fixed rate mortgage to be around 1.13% and a
95% LTV 2 year fixed rate mortgage to be around 2.97%
Any mitigating factors?
We were lucky on Bank Rate... and there was more competition and more optimism in the mortgage market that we had anticipated given the economic uncertainty we faced at the start of 2021.
Subscribe to Market Views