Twindig Housing Market Index 7 Jan 23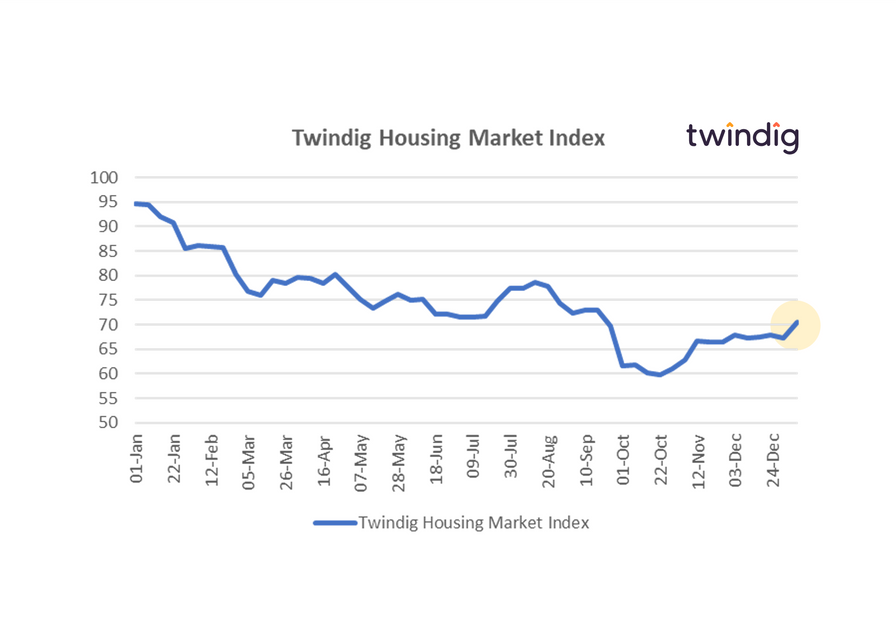 The Twindig Housing Market Index has had a positive start to the year rising by 4.9% this week to 70.6 its highest level since 17 September 2022. Investors were most optimistic about the UK Housebuilders, a pattern we often see at the start of the year. Statistically, it is a brave person who bets on the share prices of housebuilders falling in the first quarter of any given year.



Confidence in housebuilders on the up
We are not sure why housebuilders usually have a strong first quarter, but perhaps after having friends and family to stay over Christmas investors perceive their need for a bigger home and conclude many others will be thinking the same thing. Time will tell, and we will hear from the big three housebuilders (Barratt, Persimmon and Taylor Wimpey) next week. To assess our expectations for their short-term performance, we will look at their orderbook, for the 6-12 month view build costs, and for the longer-term view land-buying.
We expect that orderbooks will be down on their position one year ago, build costs will be rising and land buying will be slowing. However, cash is king, and we expect no changes to dividend guidance following the cuts in dividend expectations last year.
Meanwhile, house prices continue to fall
Yesterday the Halifax followed the Nationwide in reporting that UK house prices fell for the fourth month in a row in December 2022. We expect further falls this year, with falls weighted to the first half. In the second half, we expect to see movements in inflation and interest rates to start helping rather than hindering the housing market.
Mortgage approvals plummet
The latest mortgage approval data saw mortgage approvals at their lowest level since the first pandemic lockdown, this big drop, in our view was mainly caused by the mini-budget in September, although we do expect mortgage approvals to be less spritely and more subdued in 2023 than 2022
Mortgage rates double in a year...
Mortgage rates will continue to weigh on homebuyers' and home mover's minds in 2023 and we expect to see a fall in discretionary home moves in 2023 as higher mortgage rates put the brakes on the housing market. Those that need to move will move, but unless driven by need many homebuyers will sit on the sidelines in the first half of 2023.
Subscribe to Market Views