Biggest drop in mortgage approvals since lockdown 1
The Bank of England released mortgage approval data for November this morning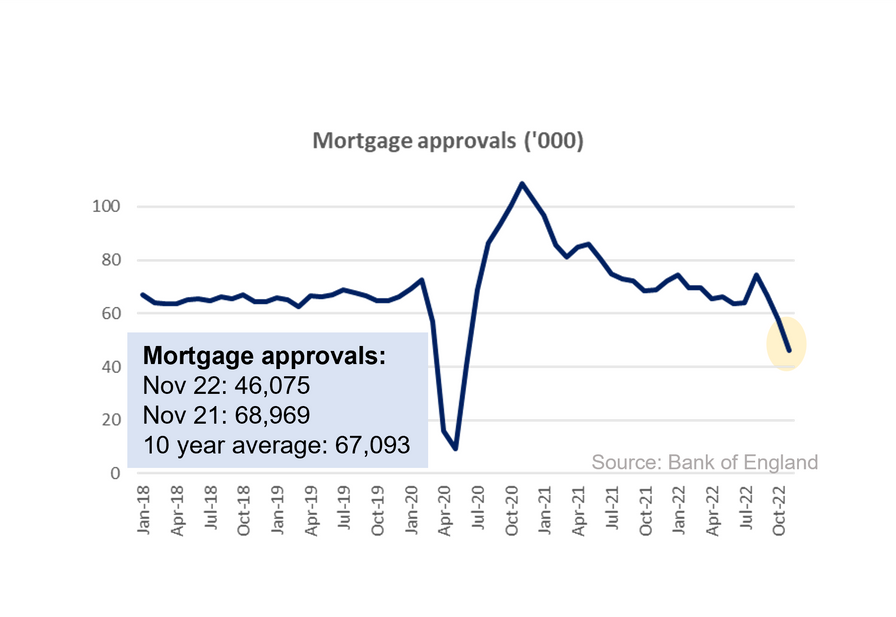 What the Bank of England said
Mortgage approvals for November 2022 were 46,075
This was 20.4% lower than the 57,875 mortgages approved in October 2022
This was 33.2% lower than the 68,969 mortgages approved during November 2021
Twindig take
This was a big drop. Mortgage approvals fell by 11,800 in November 2022 the biggest fall since April 2020 and are at their lowest level since June 2020.
This is not the news the housing market was hoping for in the first week of the new year. Mortgage approvals are the key lead indicator for housing transactions, lower mortgage approvals today means fewer housing transactions tomorrow.
November marks the third monthly fall in mortgage approvals in a row, the first being in September 2022 following the announcement of the mini-budget. Whilst the financial markets have largely recovered from the mini-budget, the housing market is still feeling the impact along with the pain of mortgage rate rises and cost of living increases.
We forecast at the start of the year that housing transactions would fall by more than 20% this year and the mortgage approval data published today is consistent with that view. A reduction in housing transactions will hurt all those businesses that are involved in the home-moving process, but the absence of forced sellers implies that house prices will not fall as far.
Subscribe to Market Views