Houselungo 5 Feb 23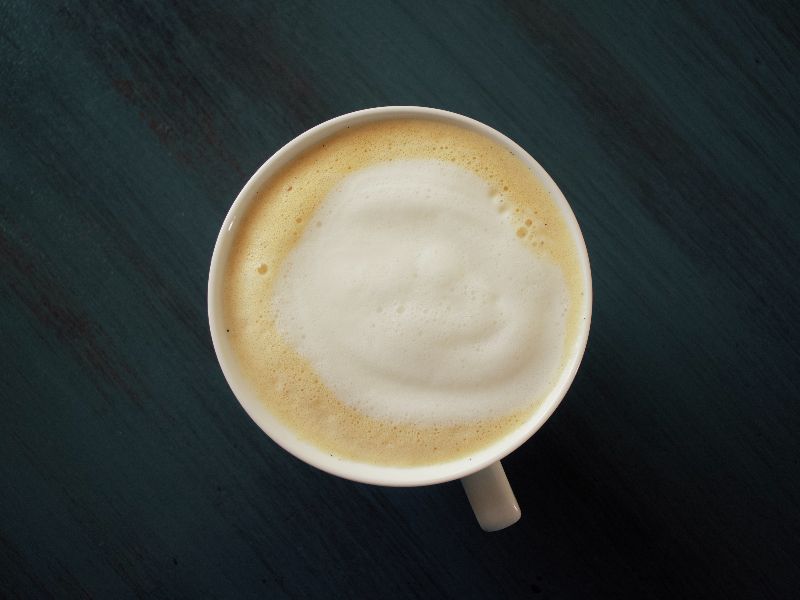 Dry January continues into February for house prices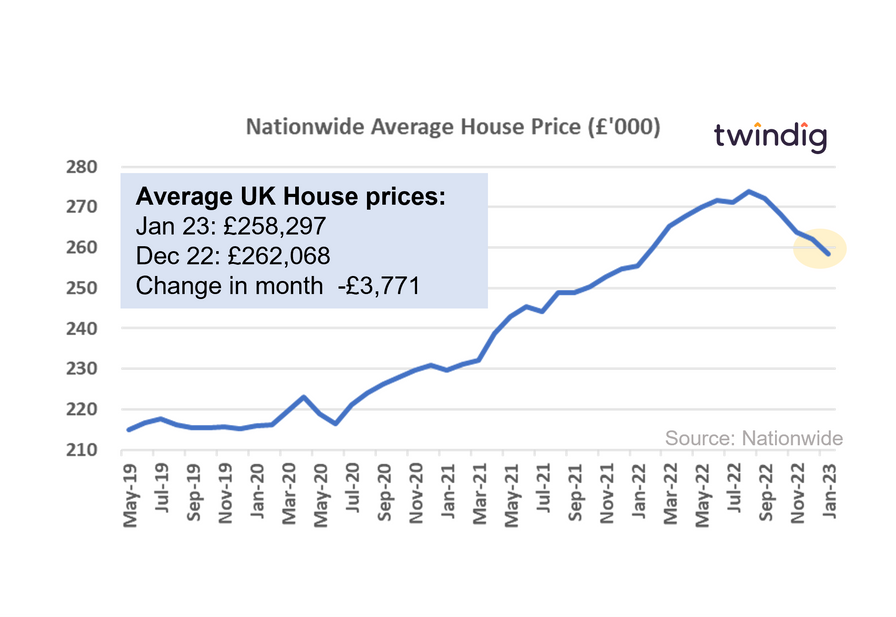 The Nationwide released its house price index for January this week
What the Nationwide said
Average house price in January 2023 was £258,297
House prices fell by 1.4% or £3,771 in January
Annual house price inflation fell to 1.1% down from 2.8% in November 2022
Twindig take
Many, especially those partaking in dry January, will, like the housing market be happy to have left January behind them. House prices continued trending downwards in January, falling by £3,771 in the month to £258,297. But although many will be able to cheer themselves up with a drink this evening, the Nationwide, expects the January drought to continue:
"It will be hard for the market to regain much momentum in the near term as economic headwinds are set to remain strong, with real earnings likely to fall further and the labour market widely projected to weaken as the economy shrinks."
Whilst for homebuyers falling prices are a welcome tonic, rising living costs make it harder to save for a deposit and with inflation currently outstripping wage growth, there is little to cheer.
Mortgage rates are also continuing to rise, taking away some of the affordability gains of falling house prices.
Mortgage approvals fall down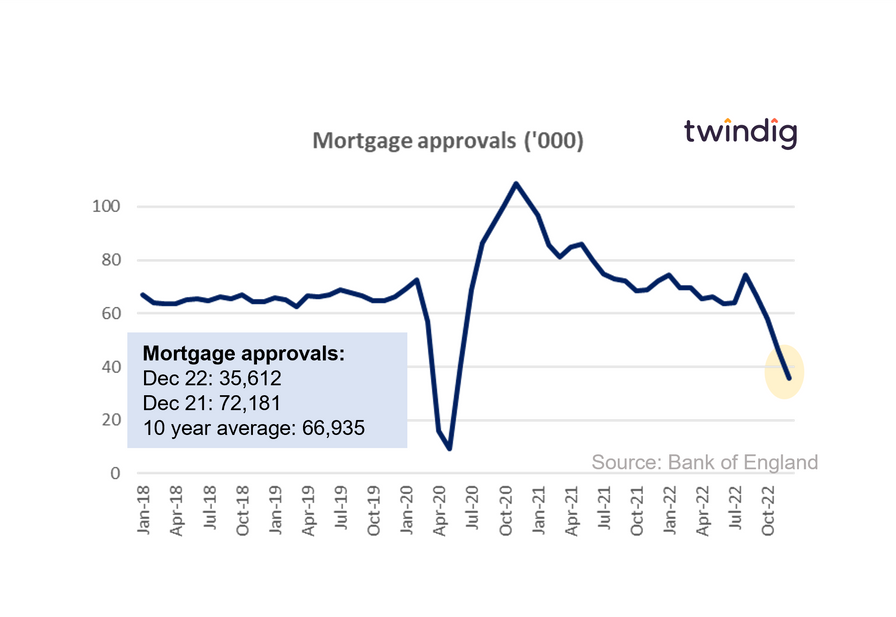 The Bank of England released mortgage approval data for December this week
What the Bank of England said
Mortgage approvals for December 2022 were 35,612
This was 22.9% lower than the 46,186 mortgages approved in November 2022
This was 50.7% lower than the 72,181 mortgages approved in December 2021
Twindig take
In December 2022 mortgage approvals hit their lowest level since June 2020. At 35,612 mortgage approvals in December 2022 were 47% below the ten-year average and just over 50% lower than in December 2021. This is a big drop.
We below show the long-run chart for mortgage approvals to put today's figure in context. Mortgage approvals in December 2022 were the lowest they have been apart from the initial phase of the COVID-19 pandemic and the Global Financial Crisis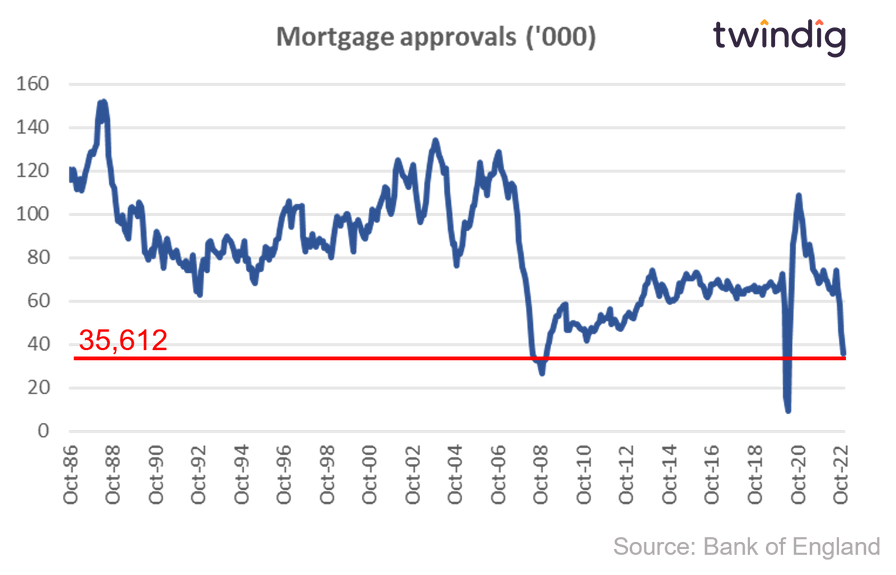 Mortgage rates leap up again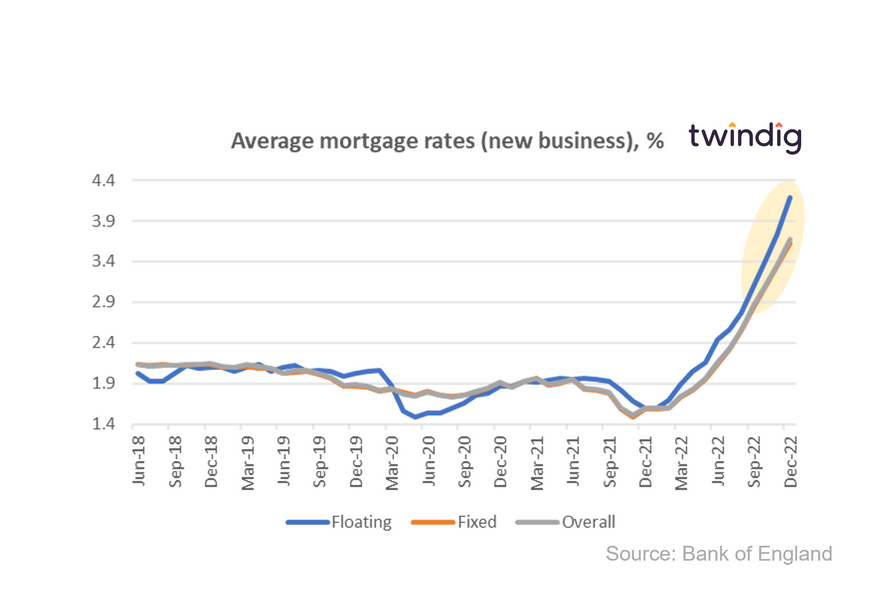 What the Bank of England said
The average floating mortgage rate for new business was 4.19%
The average fixed mortgage rate for new business was 3.63%
The average overall mortgage rate for new business was 3.68%
Twindig take
As mortgage approvals fell, mortgage rates continued to rise as average floating mortgage rates for new business leapt by 12% to 4.19% and fixed rates moved up by 9% to 3.63%
Over the last year average floating mortgage rates for new business have increased by 162% from 1.60% in December 2021 to 4.19%, increasing the monthly cost of a 100,000 25-year capital repayment mortgage by more than £130 from £404 to £534 a month.
As the costs of living continue to rise, rising mortgage rates will continue to stretch already-stretched household budgets. As a result fewer households will be able to move and the pressure on house prices will be down rather than up
The mortgage rate podcast
In this week's Property Market Insights Daniel Hamilton Charlton and I discussed the mortgage market

What is happening to mortgage approvals and what does that mean for the housing market?
What is happening to mortgage rates are they going up or down and what is the mortgage rate outlook for the rest of the year?
What did the Bank of England do to Bank Rate this week and why is that important to the mortgage market?
Bank rate hits the big 4.0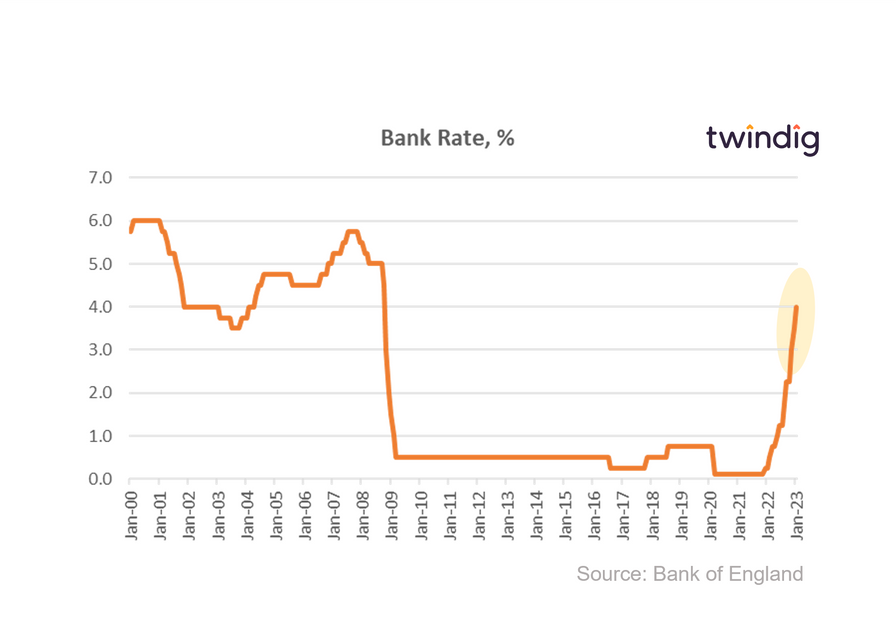 As widely expected, the Bank of England raised Bank Rate by 50 basis points this week from 3.5% to 4.0%
What the Bank of England said
The Bank of England's Monetary Policy Committee (MPC) raised Bank rate to 4.0%
MPC members voted by a majority of 7-2 to increase Bank Rate by 50bp
Two members voted to maintain Bank Rate at 3.5%
Twindig take
Today's Bank Rate rise of 50bp is the 10th rise in a row since the Bank of England started to raise Bank Rate from its all-time low of 0.1% in December 2021.
A strong majority 7-2 voted for the rise, the other two members voted to keep Bank Rate at 3.5%
The good news
The MPC believes that inflation is likely to have peaked in the UK and wholesale gas prices have fallen recently it also appears that global supply chain disruption has eased as global demand slows. Market pricing indicators suggest that central bank interest rates have peaked.
Headline mortgage rates are falling. The average quoted mortgage rates on two-year fixed-rate mortgages for 90% and 75% LTV stod at 6.0% and 5.4% in December 2022, down from 6.3% and 5.9% in November 2022. Preliminary data suggests that rates fell by a further 25 basis points during January.
The bad news
The MPC reported that whilst starting to fall, UK domestic inflationary pressures have been firmer than expected and wage inflation in both the public and private sectors has been higher than forecast in the November 2022 Monetary Policy Report. It is feared that such wage growth will underpin the rate of inflation suggesting that further interest rate rises will be required. However, inflation is expected to fall to around 4% towards the end of this year.
But are there further Bank Rate rises to come?
Twindig Housing Market Index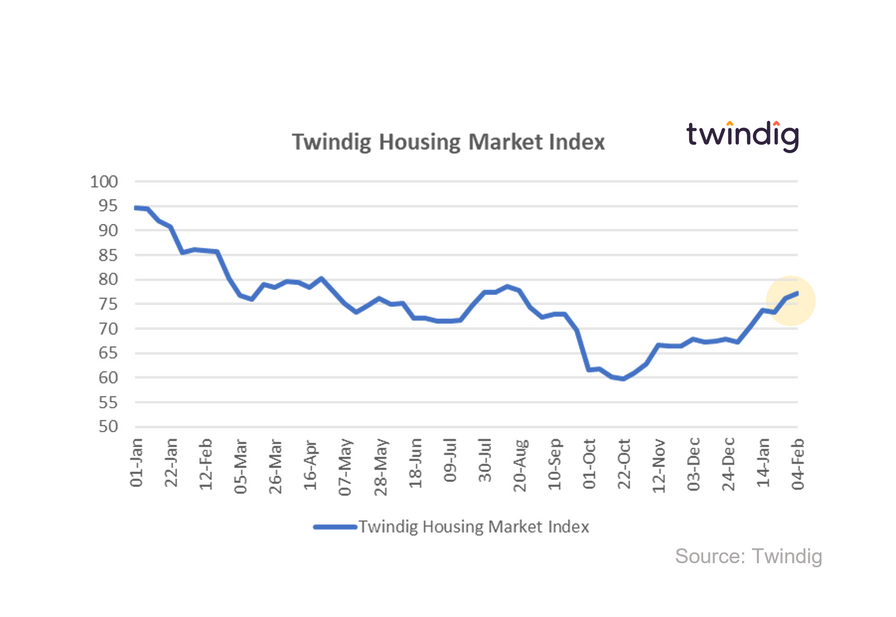 In the week that saw house prices fall for the fifth month in a row, mortgage approvals tumbled to just 35,600 and Bank Rate hit the big 4.0, the Twindig Housing Market Index (a measure of investor confidence in the UK Housing market) increased by 1.2% to 77.1.

At first glance, it appears odd that the Twindig Housing Market increased in a week of rather gloomy headlines for the housing market, but as ever the devil is in the detail. Investors appeared most interested in the commentary from the Bank of England's Monetary Policy Committee (MPC) about the future path of Bank Rate and the current trajectory of mortgage rates.
The MPC suggested that Bank Rate may peak at 4.5% - just 50bp higher than its current level - in mid-2023 after which the next likely move is down. The MPC also commented that quoted mortgage rates for high loan-to-value mortgages are also starting to fall from their post-mini-budget highs, this is good and welcome news for homebuyers.
Subscribe to Market Views