Bank Rate hits the big 4.0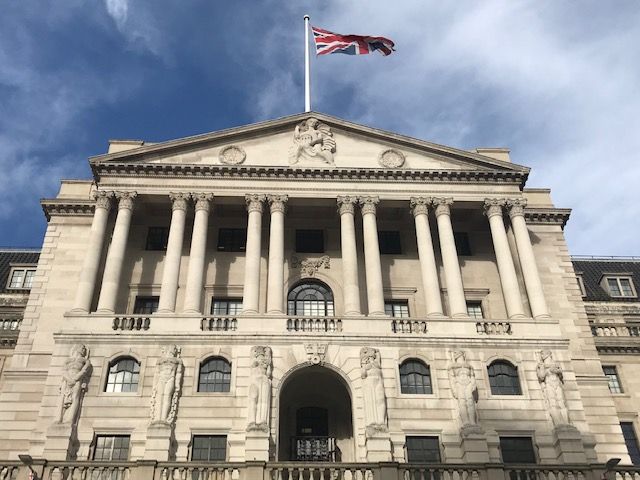 As widely expected, the Bank of England raised Bank Rate by 50 basis points today from 3.5% to 4.0%
What the Bank of England said
The Bank of England's Monetary Policy Committee (MPC) raised Bank rate to 4.0%
MPC members voted by a majority of 7-2 to increase Bank Rate by 50bp
Two members voted to maintain Bank Rate at 3.5%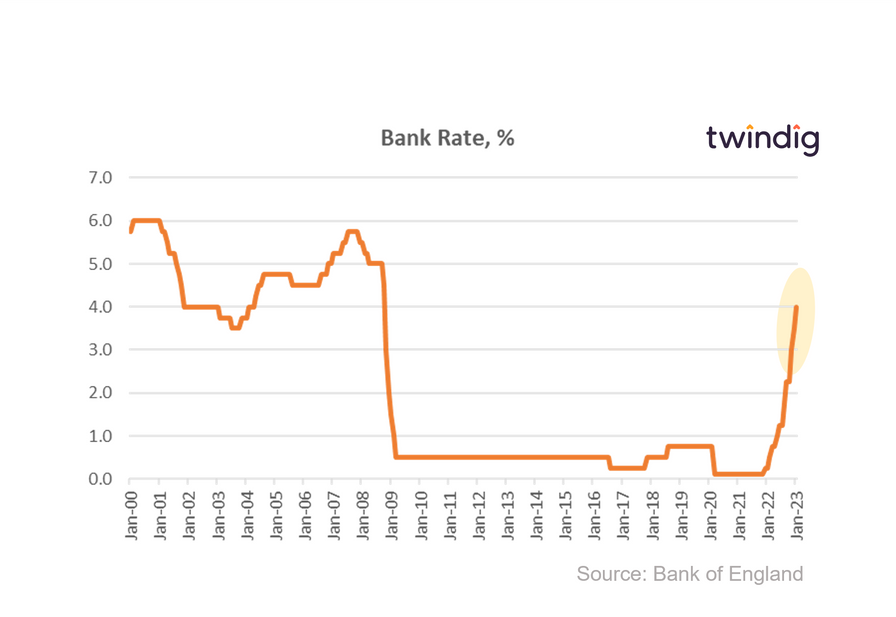 Twindig take
Today's Bank Rate rise of 50bp is the 10th rise in a row since the Bank of England started to raise Bank Rate from its all-time low of 0.1% in December 2021.
A strong majority 7-2 voted for the rise, the other two members voted to keep Bank Rate at 3.5%
The good news
The MPC believes that inflation is likely to have peaked in the UK and wholesale gas prices have fallen recently it also appears that global supply chain disruption has eased as global demand slows. Market pricing indicators suggest that central bank interest rates have peaked.
Headline mortgage rates are falling. The average quoted mortgage rates on two-year fixed-rate mortgages for 90% and 75% LTV stod at 6.0% and 5.4% in December 2022, down from 6.3% and 5.9% in November 2022. Preliminary data suggests that rates fell by a further 25 basis points during January.
The bad news
The MPC reported that whilst starting to fall, UK domestic inflationary pressures have been firmer than expected and wage inflation in both the public and private sectors has been higher than forecast in the November 2022 Monetary Policy Report. It is feared that such wage growth will underpin the rate of inflation suggesting that further interest rate rises will be required. However, inflation is expected to fall to around 4% towards the end of this year.
Further Bank Rate rises to come?
The market-implied path for Bank Rate is for it to rise to 4.5% in mid-2023 and to fall back to just over 3.75% in three years' time.
However, considerable uncertainty remains around the medium-term economic outlook and the MPC continues to judge that risks to inflation are skewed to the upside.
2-year swap rates
Swap rates have fallen significantly since the reversals of the mini-budget and appear to have settled at a higher but stable equilibrium of around 4.0%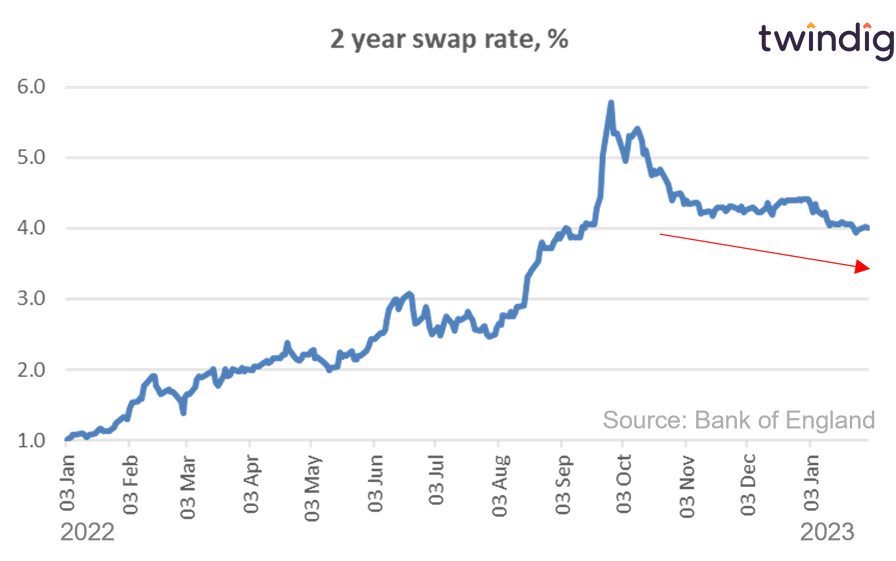 Why are swap rates important?
Swap rates are important because the pricing of fixed-rate mortgages is closely related to swap rates which can be viewed as a proxy or estimate of the cost of a fixed-rate mortgage. Swap rates largely reflect the financial markets' expectations for the future path of Bank Rate. The current stability suggests that Bank Rate is at or near its peak.
How much will my mortgage cost now?
For those on fixed-rate mortgages the monthly payments will remain fixed for the duration of the fixed term, after that it is likely that the remortgaged rate will be higher than it currently is.
To calculate mortgage payments you can use the Twindig mortgage calculator below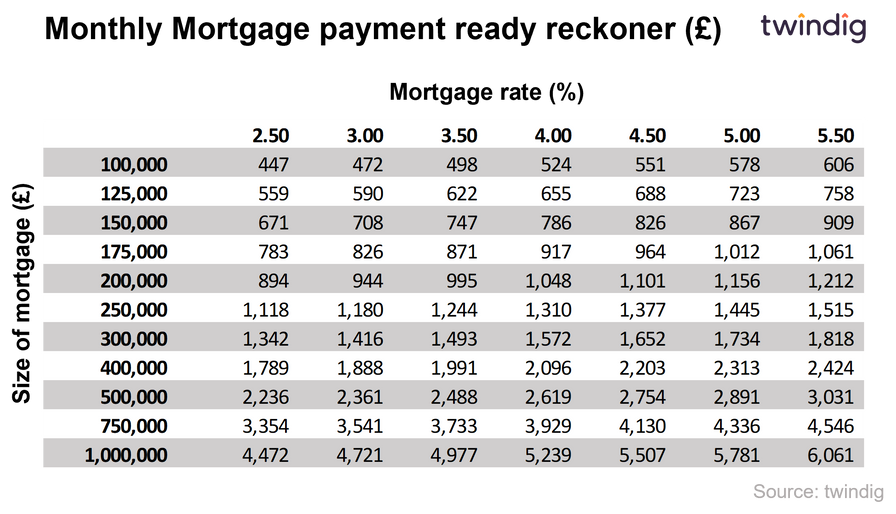 Subscribe to Market Views