Mortgage approvals another big drop
The Bank of England released mortgage approval data for December this morning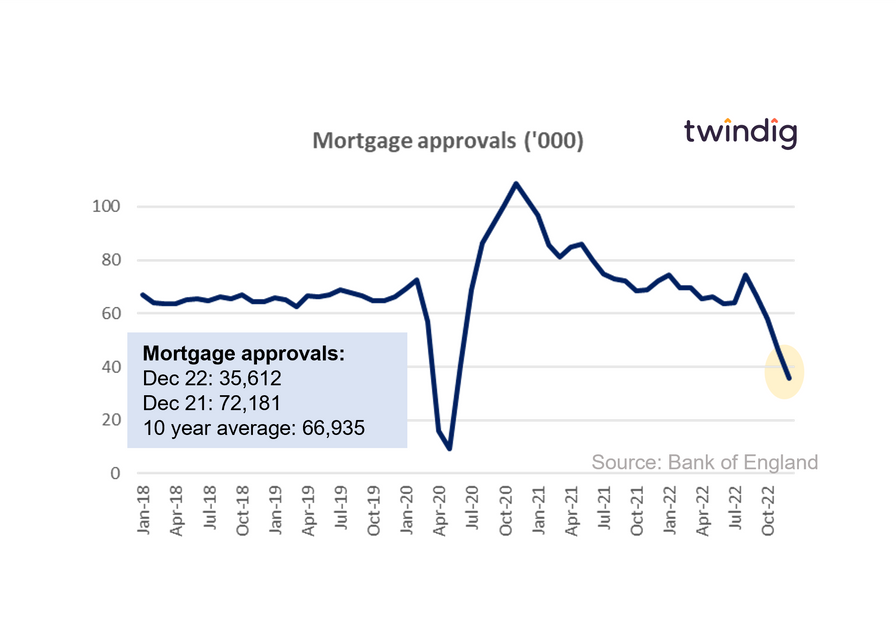 What the Bank of England said
Mortgage approvals for December 2022 were 35,612
This was 22.9% lower than the 46,186 mortgages approved in November 2022
This was 50.7% lower than the 72,181 mortgages approved in December 2021
Twindig take
In December 2022 mortgage approvals hit their lowest level since June 2020. At 35,612 mortgage approvals in December 2022 were 47% below the ten-year average and just over 50% lower than in December 2021. This is a big drop.
We below show the long-run chart for mortgage approvals to put today's figure in context. Mortgage approvals in December 2022 were the lowest they have been apart from the initial phase of the COVID-19 pandemic and the Global Financial Crisis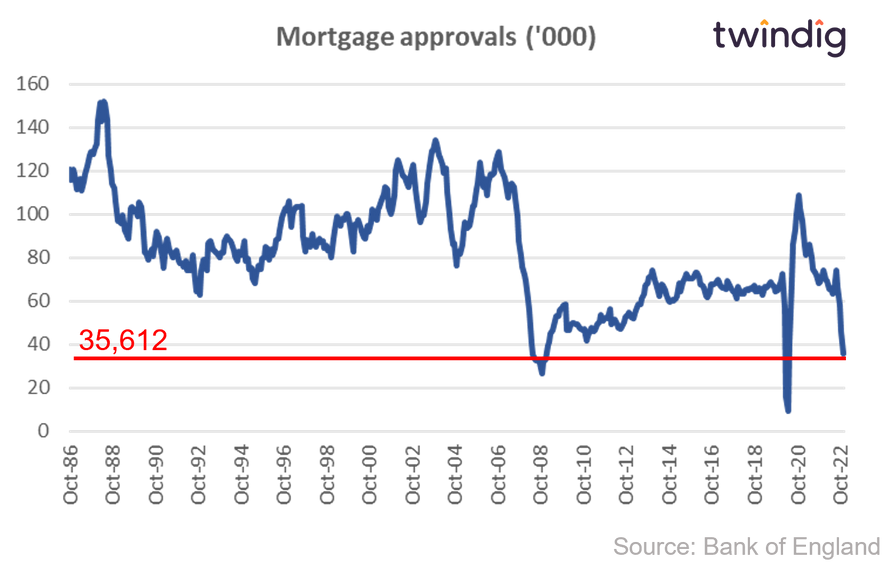 What do low mortgage approvals mean for the UK Housing market?
The overwhelming majority of housing transactions are completed using mortgage finance. Therefore if mortgage approvals fall we will see fewer housing transactions. Fewer housing transactions implies less revenue and income for all those businesses connected with housing transactions (estate agents, solicitors, removals, DIY, builders etc).
Mortgage approvals have now declined for four months in a row and it is no coincidence that the first fall was in September 2022, the month of the mini-budget. Mini by name, but very significant in its impact on the UK housing market.
What will this mean for house prices?
Both the Nationwide and Halifax House Price Indices have also been reporting falling house prices since September 2022 as the shock of the mini-budget shocked the housing market. House prices are falling and are likely to continue to fall, BUT we do not expect house prices to get into a free fall. In our view, falling mortgage approvals act as a cushion for house prices taking some of the sting out of the tail. We saw this during the Global Financial Crisis and we expect to see it again. Housing transaction levels are likely to fall by a larger percentage than house prices.
We expect housing transactions to fall by around 20% this year and house prices by 7-8%, with house price falls weighted to the first half.
Subscribe to Market Views