Mortgage rates jump another 10%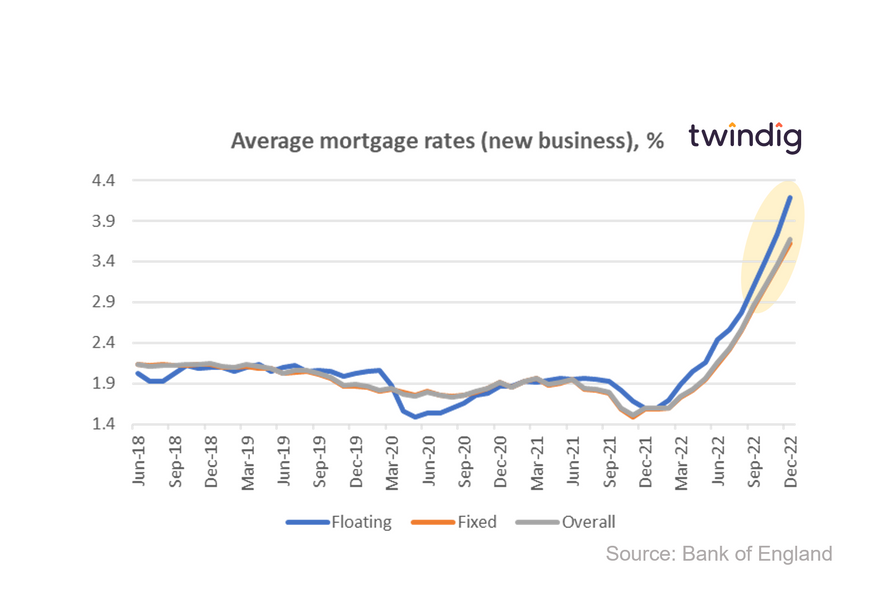 The latest data from the Bank of England revealed that overall average mortgage rates for new business increased again in December 2022, rising by almost 10%

What the Bank of England said
The average floating mortgage rate for new business was 4.19%
The average fixed mortgage rate for new business was 3.63%
The average overall mortgage rate for new business was 3.68%
Twindig take
As mortgage approvals fell, mortgage rates continued to rise as average floating mortgage rates for new business leapt by 12% to 4.19% and fixed rates moved up by 9% to 3.63%
Over the last year average floating mortgage rates for new business have increased by 162% from 1.60% in December 2021 to 4.19%, increasing the monthly cost of a 100,000 25-year capital repayment mortgage by more than £130 from £404 to £534 a month.
As the costs of living continue to rise, rising mortgage rates will continue to stretch already-stretched household budgets. As a result fewer households will be able to move and the pressure on house prices will be down rather than up
Mortgage rates likely to get worse before they get better
The Bank of England is still expected to raise Bank Rate later this week (2 February) and any increase will feed through into floating-rate mortgages and is likely, in our view, to put upward pressure on the fixed rates offered by lenders.
As we saw in the mortgage approval data earlier this morning, the rising of mortgage rates is slowing down the housing market as mortgage approvals fell dramatically in December.
However, mortgage rates are likely to fall in the second half of 2023
Although we expect more interest rates rises to come, we also believe that mortgage rates will start to fall in the second half of 2023. If inflation starts to fall as we expect the Bank of England to start reducing the interest rates it raised to fight inflation. Rising rates are a case of us having to take medicine, it might taste ghastly, but it is doing us good.
Subscribe to Market Views