Houselungo 3 July 22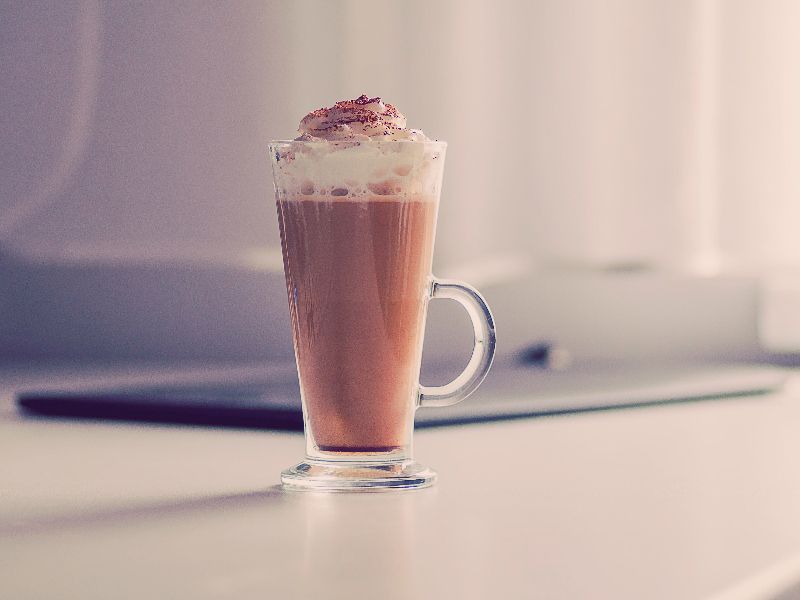 House Prices new record highs in June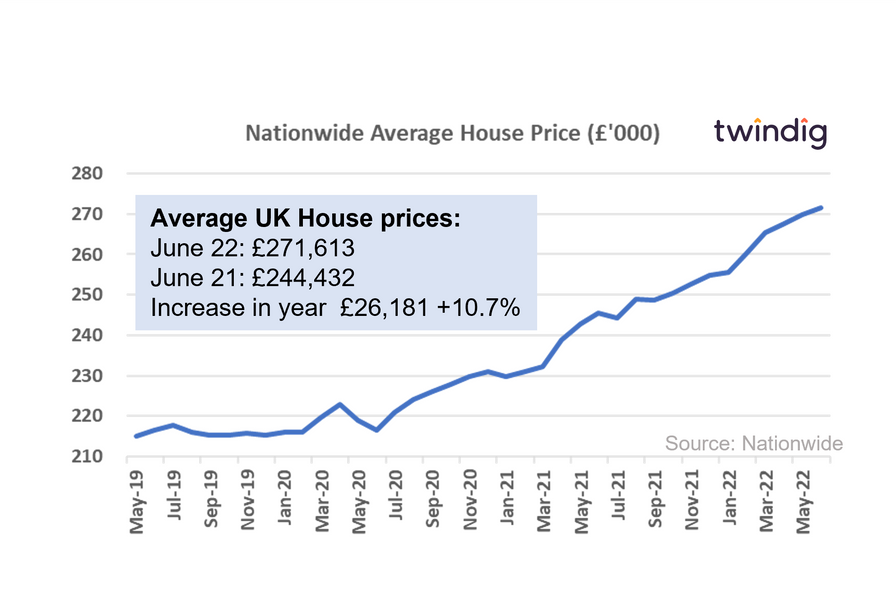 House prices appear not to be hearing, listening or taking notice of the naysayers who are predicting doom and gloom for the housing market as they rose by more than 10% in June.
Surveyors may be reporting a slight reduction in new buyer enquiries and mortgage approvals may have dipped a little in April, but housing demand is still outstripping housing supply and house prices continue to rise.

Inflation may be at 40-year highs, but unemployment is close to 50-year lows and the tightness in the labour market is ensuring that despite rising mortgage rates and living costs more people can buy a home than the number of those currently looking to sell.
Mortgage Approvals firm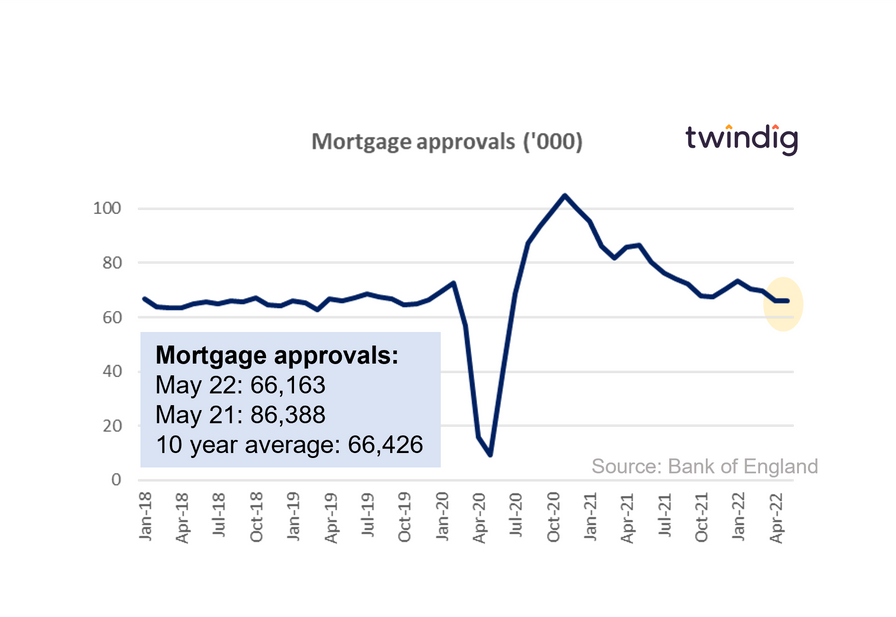 The Bank of England released mortgage approval data for May on Friday
What the Bank of England said
Mortgage approvals for May 2022 were 66,163
This was 0.1% higher than the 66,064 mortgages approved in April 2022
This was 23.4% lower than the 86,388 mortgages approved during May 2021
Twindig take
Mortgage approvals remain robust in the face of rising living costs and mortgage rates, and although much lower than one year ago they remain in line with the 10-year average suggesting it is business as usual for the UK housing market.
Although rates are rising, due to the recent increases in underlying Bank Rate, lenders are showing no signs of concerns about the outlook for the UK housing market. One could make the case that lenders are feeling more upbeat, earlier this week the Halifax lowered their deposit requirements on new build properties to 5%, suggesting that their view of the risks on new build lending is falling not rising in the current economic climate.
Mortgage rates up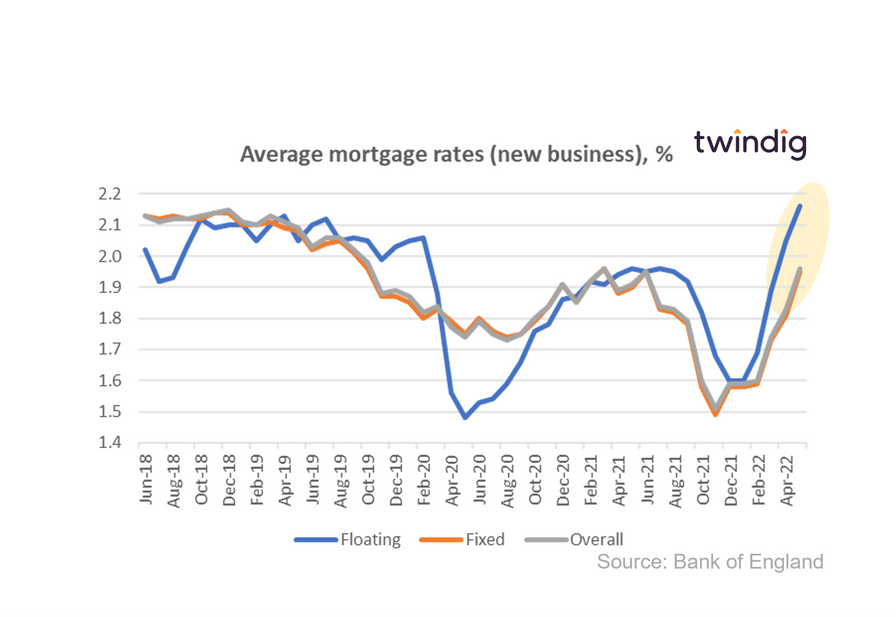 The latest data from the Bank of England revealed that overall average mortgage rates for new business increased significantly in May 2022.
What the Bank of England said
The average floating mortgage rate for new business 2.16%
The average fixed mortgage rate for new business 1.95%
The average overall mortgage rate for new business 1.96%
Twindig take
Whilst unwelcome, it is no surprise that in the face of increases in the underlying Bank of England Bank Rate that mortgage rates follow suit.
The average new business mortgage rate for floating rate mortgages increased by 5.4% in May to 2.16% and new business fixed rates rose by 7.7% to 1.95%.
As illustrated in the chart above the trajectory for mortgage rates has been consistently steep for most of the year so far.
Deposit boost for new builds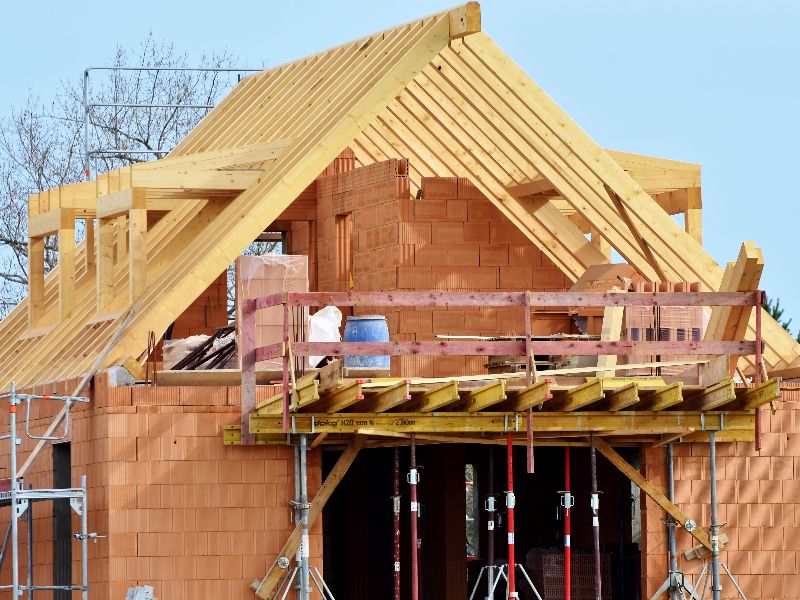 The Halifax, the UK's largest lender cut the minimum deposit requirements on new build properties from 10% to 5% on 1 July 2022.

This is important because housebuilders have frequently been frustrated by lenders' decision not to offer high loan-to-value mortgages to the new build sector, this will therefore be welcome news.
Twindig take
This is good news for housebuilders and new homebuyers alike. Homebuilders are readying themselves for the end of Help to Buy in March 2023, therefore any improvements in mortgage availability at higher Loan to Value (LTV) ratios will be welcomed by the builders of new homes.
First-time buyers looking at new build properties, without the benefit of Help to Buy, will also welcome the halving of the deposit requirement from 10% to 5%.
However, whilst this move helps with the deposit gap, it does not help with the income gap. At first glance, this is also good news for aspiring first-time buyers. The higher LTV reduces the deposit gap, but whilst aspiring first-time buyers may be able to clear the lowered deposit hurdle, the income gap may put the hurdle back to where it was before.
Solving the mortgage problem for one constraint (deposit) doesn't necessarily solve the mortgage problem overall when other constraints (income multiples) are still in play.
In a world where house prices are divorced from wages, income-based approaches to home buying, will not reconcile the gap between home buyers and the homes they want to buy.
If we want to champion homeownership, increase participation in the housing market and turn generation rent into generation buy, we need to reassess how we finance, purchase and own our homes. In our view, fractional ownership is the way forward, providing a way to fix our broken housing market
Twindig Housing Market Index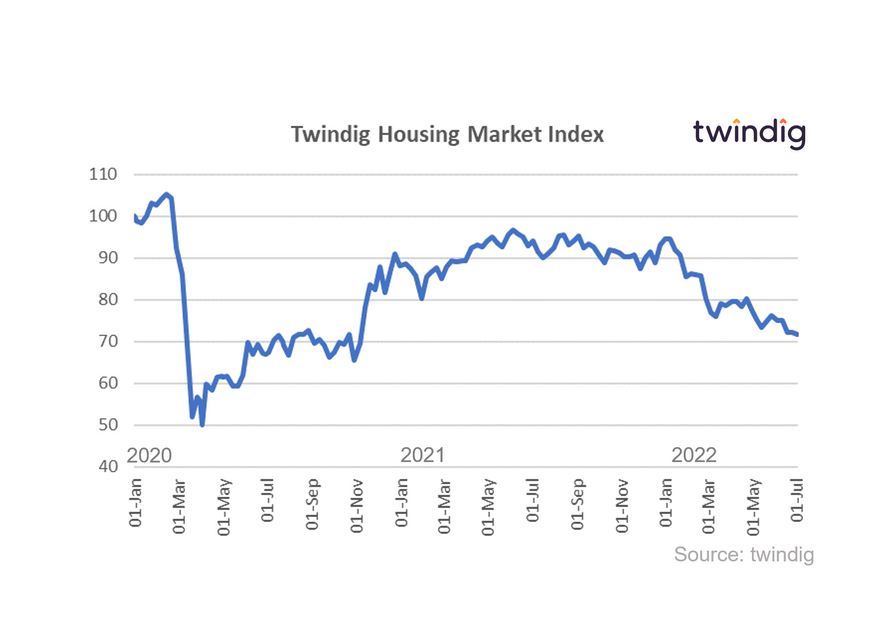 In the week that saw the Nationwide house price index reach another new high, mortgage rates rise and mortgage approvals hold firm the Twindig Housing Market Index fell by 0.7% to 71.6 this week.
Rising mortgage rates coupled with rising house prices caused some to question how long the house price party can continue. Twindig's calculations suggest that the average monthly cost of a mortgage on the averagely priced UK Home has risen by £177 per month or by 22% since the start of the pandemic. At a time when food, energy and a whole host of other costs are rising has led some to call the top of the market.
We are not ready to make that call yet. Mortgage approvals are, in our view, the key housing market lead indicator and the latest data from the Bank of England this week revealed that mortgage approvals remained firm in May and broadly in line with their 10-year long-run average. This suggests to us that the housing market is currently in good shape.
Subscribe to Market Views