Twindig Housing Market Index 27 May 2023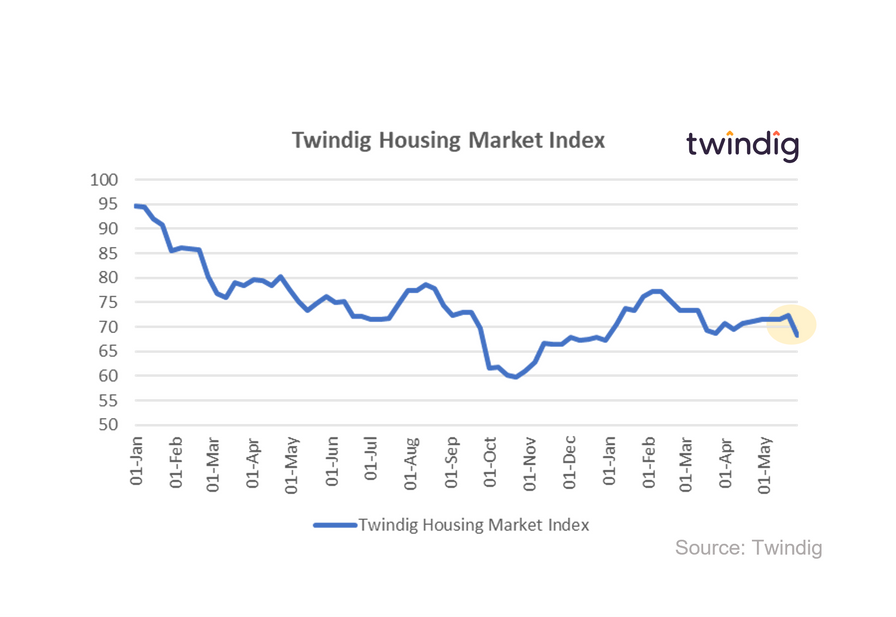 In the week that saw London house prices fall by £8,800 and UK house prices down £3,500 and inflation remain stubbornly high, the Twindig Housing Market Confidence Index fell by 5.6% this week, its biggest fall since last year's mini-budget
Inflation down, but the wrong sort of down
Residential investors were spooked by the inflation figures this week. Although inflation fell, it did not fall by as much as many had hoped and the so-called 'core' inflation remained stubbornly high. The upshot of this news is that interest rates are likely to rise again and the Bank of England is likely to raise Bank Rate higher than most had thought. Swap rates also jumped this week as uncertainty increased. The impact of this news led the Twindig Housing Market Index to fall by 5.6% this week, its biggest fall since the September 2022 mini-budget
London falling
The latest data from the Land Registry shows that the average house price in London fell by 1.7% or £8,790 to £523,325 in March 2023 as house prices fell in 21 of the 34 London boroughs during March.
The biggest London house price falls last month were to be found in the City of Westminster where house prices fell by £57,890 (6.2%), followed by the London borough of Ealing down £19,330 (3.5%) and the London borough of Brent down £13,570 (2.5%).

However, not all boroughs saw average house prices fall, the biggest house price rises were seen in the City of London up £53,38 (6.3%), Kensington and Chelsea up £11,460 (0.9%) and the London borough of Hackney up £9,540 (1.5%).
UK house prices down £3,500
The average house price in the UK is £285,009, average prices have increased by 4.1% or £11,222 over the last year, but fell by 1.2% or £3,354 last month. We note that these figures are provisional and subject to change, but it seemed that in March 2023 house prices fell for the fourth month in a row and the peak of house prices is now behind us as the cost of living crisis and rising mortgage rate rises start to bite.
Don't forget your equity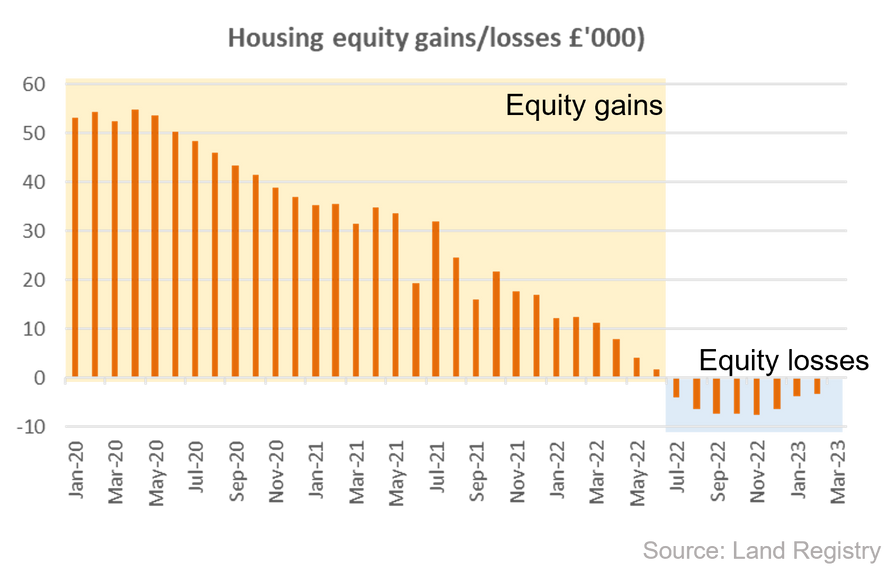 House prices may well have peaked and the trend for the next few months may well be down not up, but don't get caught in the headlines and forget your equity, you are probably richer than you think
The housing market headlines can make for depressing reading, it's not so much that many commentators' housing market glass is half full, but rather they don't have a glass at all..

We need to put the recent house price falls into context. Since their peak, average UK house prices have fallen by just over £7,500 or by 2.6%. We appreciate that £7,500 is not to be sniffed at, but we have to compare that 'loss' with the recent 'gains'.
Since the lows of April 2020, when the housing market was starting to get to grips with the COVID-19 pandemic, house price growth has been very strong. Even after taking into account the recent falls, on average, house prices have increased by £38,600 or 16.8% since April 2020.
Subscribe to Market Views