UK housing market: house prices scale new heights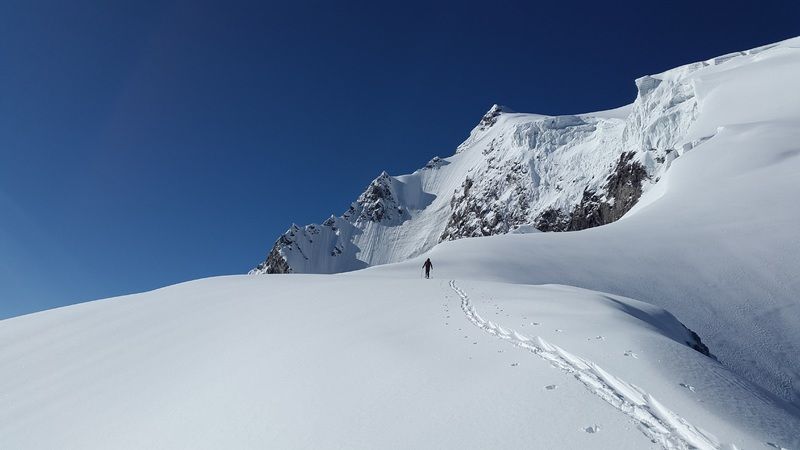 UK house prices scaled new heights this week as the Land Registry reported record house prices in the UK at almost £250,000 and average house prices in London passed the £500,000 mark. The latest housing transaction data from HMRC shows the highest level of December housing transactions since December 2006. The housing market has certainly been refreshed by the Stamp Duty Holiday and whilst the 'end-extend' debate continues we see little need to extend it.
Land Registry House Prices
The Land Registry reported house prices for November 2020 this week.
What they said
The average price of a residential property in the UK Is £249,663

This represents an annual increase of 7.6%

An increase of 1.2% in the month
Twindig take
UK house prices continue to rise. The latest data from the Land Registry for November 2020 puts annual house price inflation at 7.6% and up 1.2% in the month. The average UK house price in November 2020 was £249,663 and has increased by 6.25% or £14,692 since the announcement of the Stamp Duty Holiday. The Stamp Duty Holiday appears to have benefitted sellers rather than buyers, raising the question of whether it was or wasn't needed to kick start the housing market. House prices by region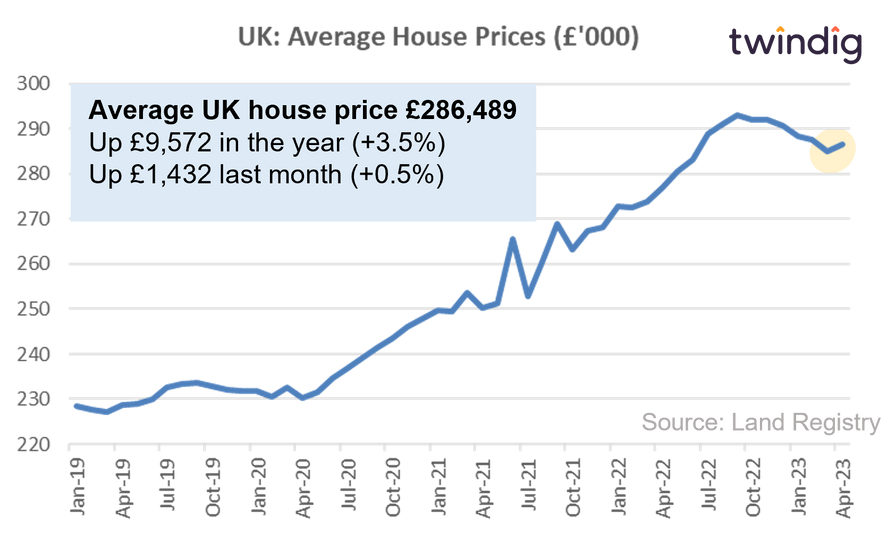 How much is my house? Register your property on twindig to find out. Enter your postcode, view your property, register or login to see our market move valuation
London House Prices
Average London house prices passed the half a million (£500,000) mark for the first time on record. 26 London boroughs have seen house price inflation ahead of the maximum Stamp Duty saving of £15,000 since the start of the Stamp Duty Holiday. You will find full details of London house prices by borough here: House prices by London Borough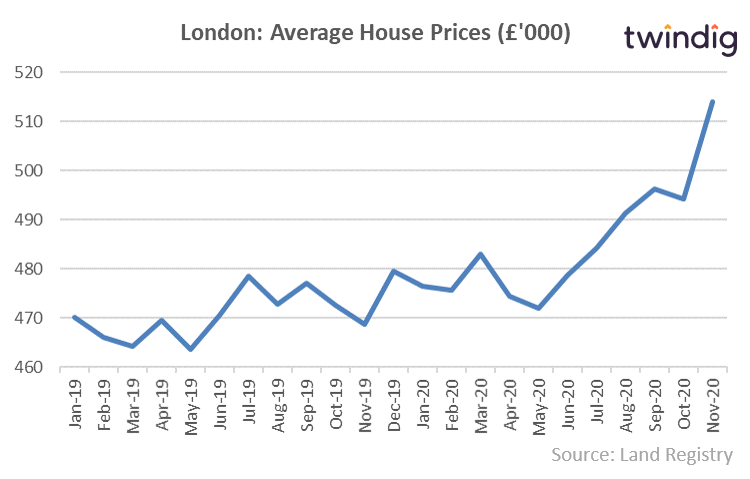 Land Registry Housing Transactions
The Land Registry reported housing transaction data for September 2020 this week
What they said
Housing transactions in September 2020 70,750

Close to pre-pandemic levels of January and February 2020

Total transactions in 2020, just 11% below 2019
Twindig take
Provisional Land Registry data suggests that UK Housing transactions in September 2020 were 70,750, which is 20% below their level in September 2019. It is still too early to see if the Stamp Duty Holiday achieved its aim of increasing the level of housing market activity. However, if we don't see a big increase in the coming months all the Stamp Duty Holiday will have done is inflated house prices, which is great for home sellers but not helpful for home-movers or first-time buyers and perhaps an own goal for a Government intent on increasing homeownership.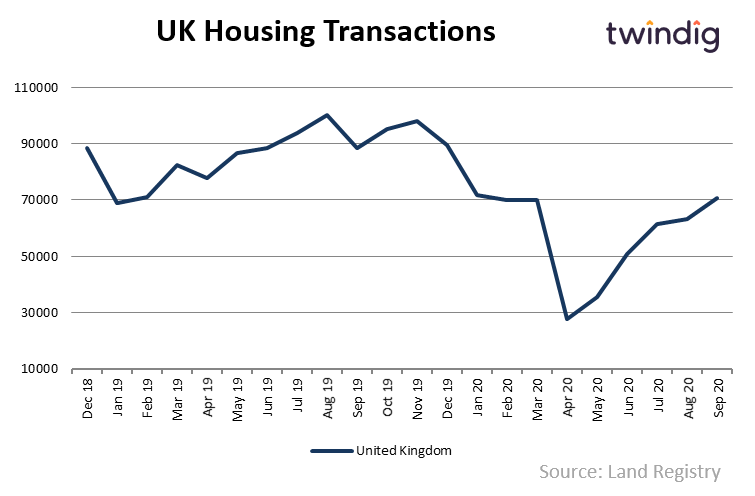 HMRC housing transaction data
The HMRC also released provisional housing market data this week for December
Housing transactions in December 2020 were 129,400

This is 32% higher than December 2019

13% higher than November 2020
Twindig take
The provisional data suggests that housing transaction volumes in 2020 were only 11% below that of 2019 a remarkable result given the impact of the COVID-19 pandemic on our ability to travel and work. The Stamp Duty race is clearly having an impact as December is usually a quieter month. The increase of 32% over December 2019 will have meant that few conveyancers and mortgage brokers will have had a peaceful and restful Christmas, but the show must go on and the data points to the fact that the how did go on.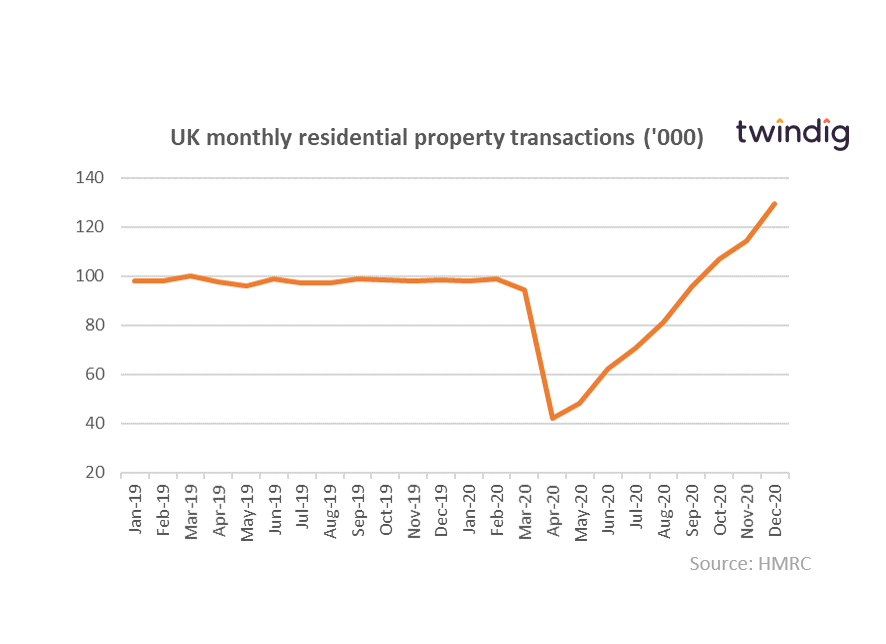 Countryside
Housebuilder Countryside issued its trading update for Q1 2021 on Thursday
What they said
Total completions up 17% to 1,280 homes

Net cash £91m (Q1 2020 net debt £62m)

Private average selling price £404,000 (Q1 20: £394,000)
Twindig take
Countryside reported today strong demand for homes across all tenures (affordable, private rented sector and open market homes) and is around 80% forward sold for 2021, which is a very firm foundation on which to build. The Group also expects to grow the number of developments it operates from during the second quarter. Countryside made no mention of the Stamp Duty Holiday or the changes to Help to Buy, our conclusion the housing market has a clean bill of health.
Subscribe to Market Views