Houselungo 27 March 22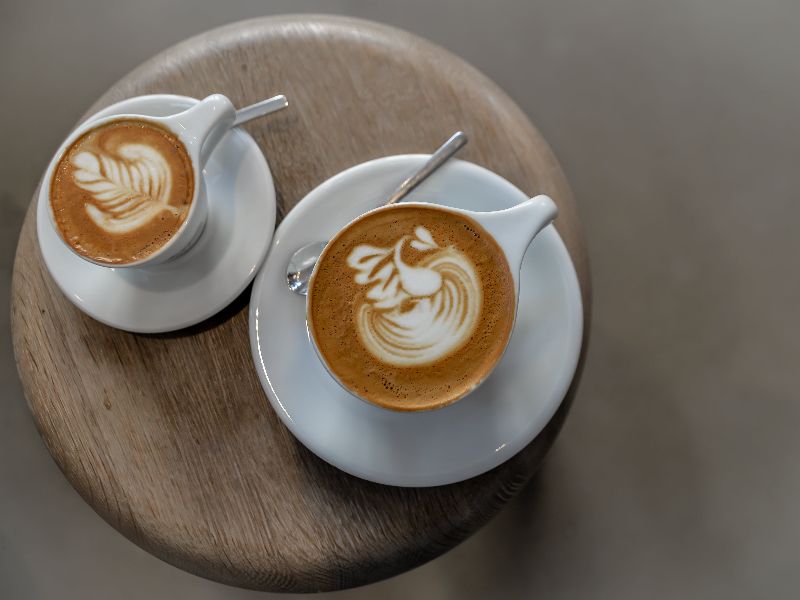 House prices up, but only just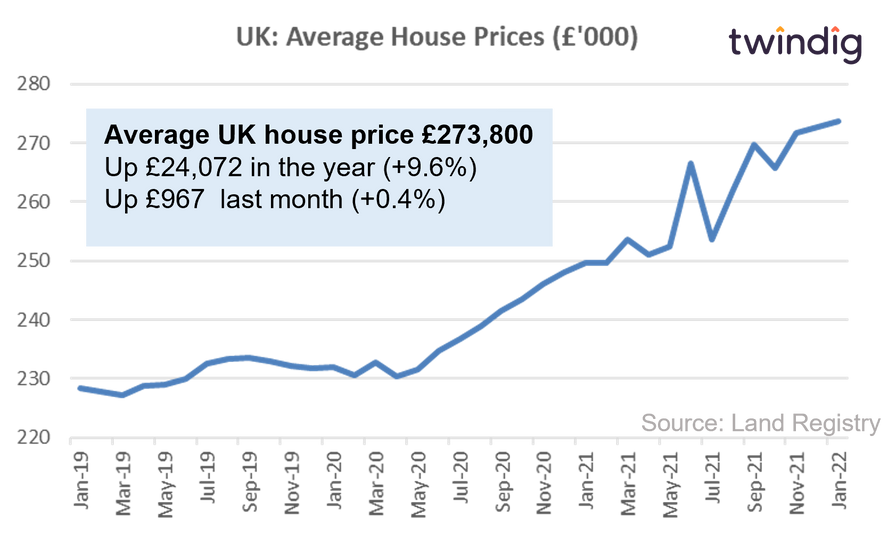 The average house price in the UK is £273,762, average prices have increased by 9.6% or (£24,072) over the last year, but only increased by 0.35% or (£967) last month. We note that these figures are provisional and subject to change, but it seemed that in January after a hectic 2021 the UK housing market paused for breath. Has the house price party finally come to an end? Will 2022 be a subdued year for house prices? House prices may have beaten COVID-19, but it seems in the face of the cost of living rises they have met their match?
House prices rise in January, but not across the board
UK house prices rose in four regions, but fell across five regions of the country in January 2022. Overall average house prices rose by £967 across the UK. January is often a quiet month for house prices as households ease into the new year.
The Land Registry data is the most accurate house price data, in our view, although its publication lags the other major house price indices. The other indices have shown continued growth so far this year and we expect the same of the Land Registry Gold Standard index in the months to come.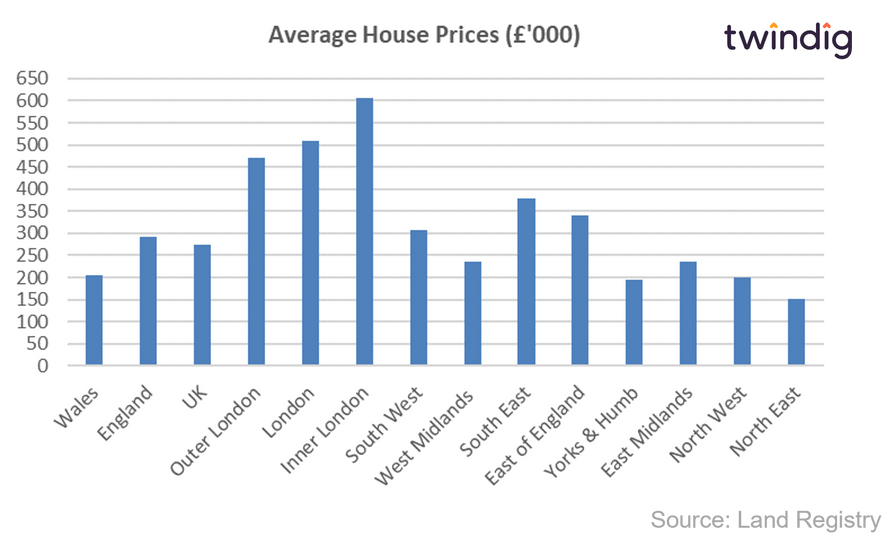 We continue to believe that in the medium-term demand will outstrip underpinning house prices
But housing transactions continue to rise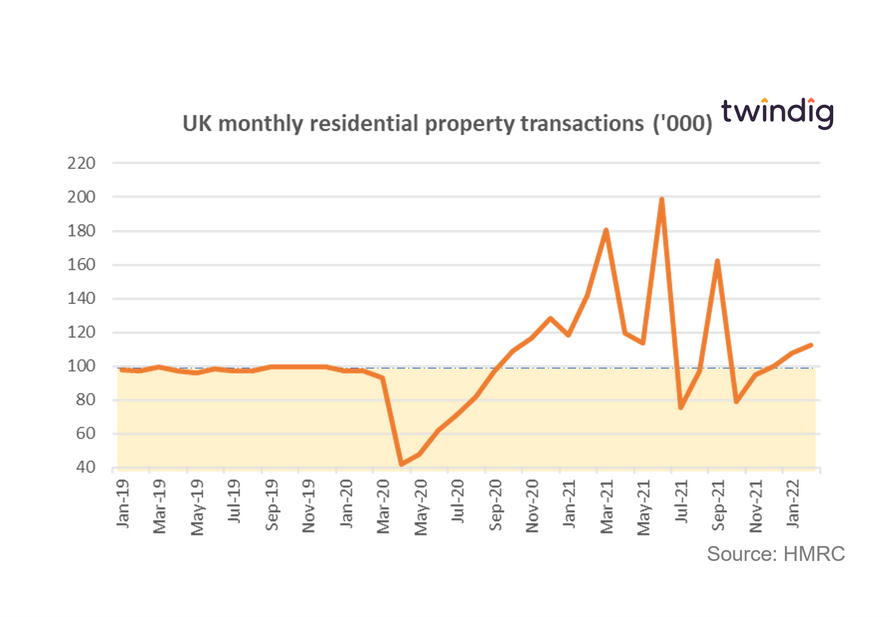 Once again, housing transactions continue to rise, the fourth monthly rise in a row. The spring selling season has had a strong start and although house price rises appear to be being tempered by rising mortgage rates and rising living costs, they seem to be doing little to dampen buyers' enthusiasm to get on or move up the housing ladder.
At 112,240 housing transactions in February were 15% ahead of the long-run average of 97,916. Estate agents continue to report a shortage of homes to sell, which suggests to us a very robust underlying housing market. We are buying 470 more homes a day than the long-run average and estate agents are saying that they could sell even more if they had more homes to sell.
The hottest 25 housing markets in the UK right now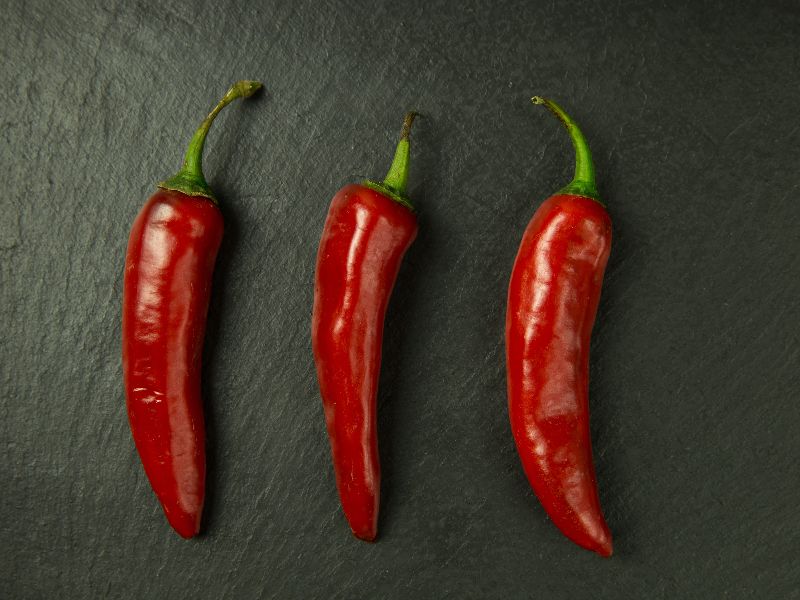 We often talk about 'the UK housing market' and 'UK house price inflation' as if there is one housing market and one rate of house price inflation. Neither is true.
The UK is made up of hundreds if not thousands of tiny housing markets, which operate independently of each other. One person buying a home in Swindon does not move the housing market in Stockwell.
Biggest house price increases last month
The biggest house price winner last month was the London borough of Hackney where house prices increased by 8.0% or £47,836.
In second place came Eden where house prices increased by 7.6% and in third place with house prices rising by 7.5% was Uttlesford.
Interesting to see that three different regions make up the top three.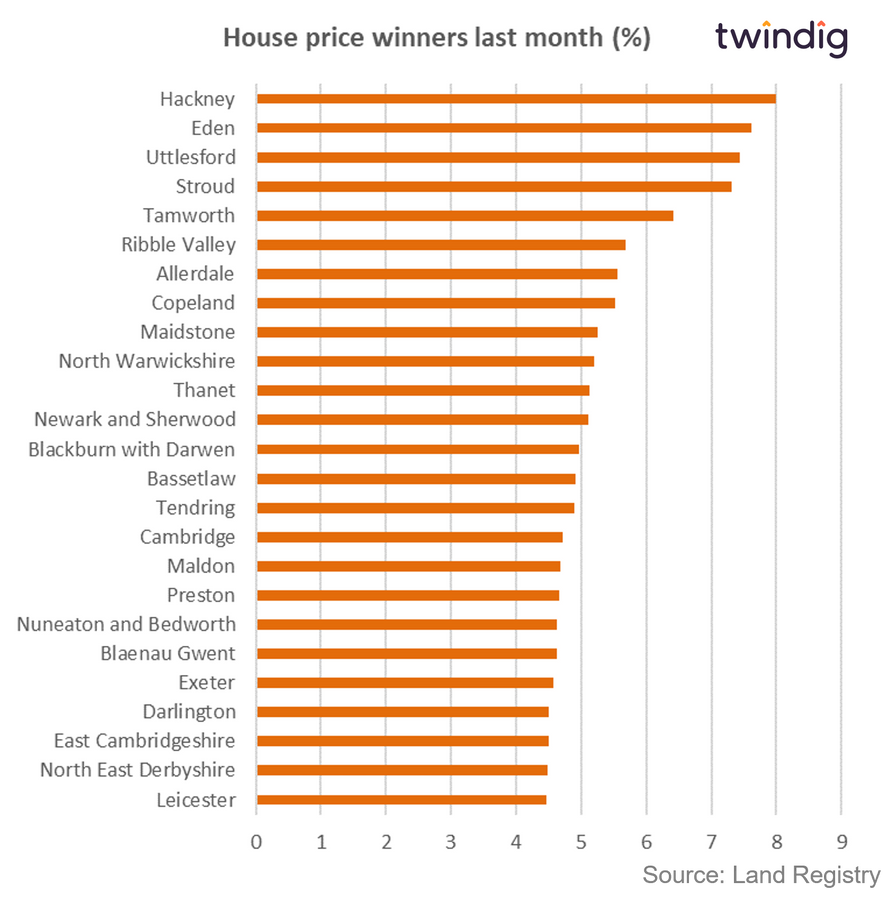 The coldest 25 UK housing markets right now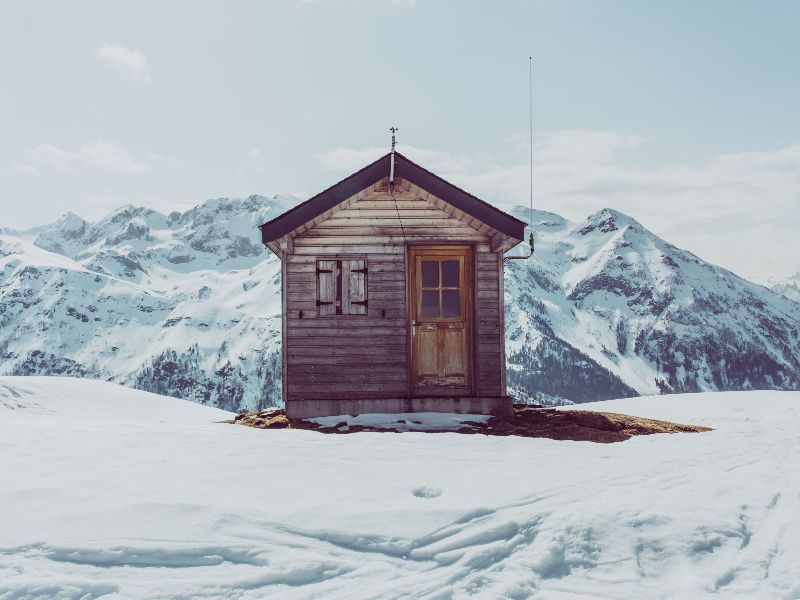 The London borough of Camden saw the biggest housing affordability gains last month as prices fell by 10.1% (£95,638) from £947,791 to £852,153.
Camden was followed by West Devon, which includes the boroughs of Chagford, Okehampton, and Tavistock; where average prices fell by 7.5% from £318,360 to £294,496.
Making up the podium was Tandridge in East Sussex, which includes Caterham, Godstone, Lingfield and Oxted, where house prices fell on average by 4.6% from £511,198 to £487,631
We show in the chart below the 25 housing markets with the biggest relative house price falls or housing affordability gains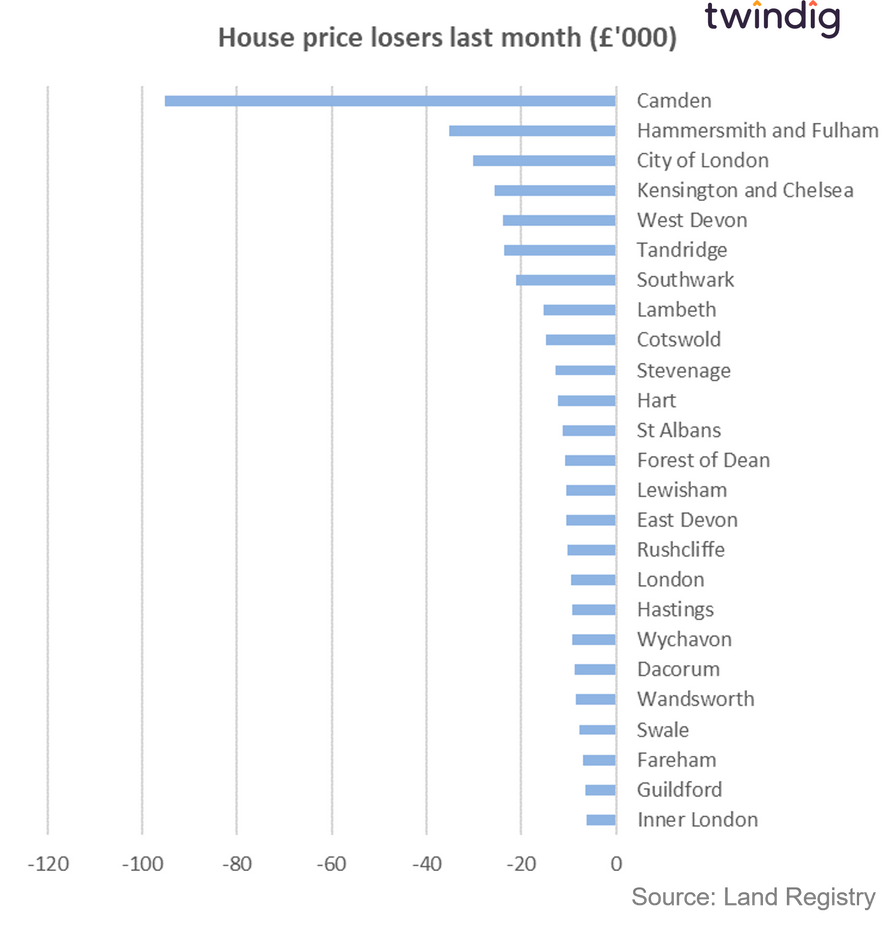 Twindig Housing Market Index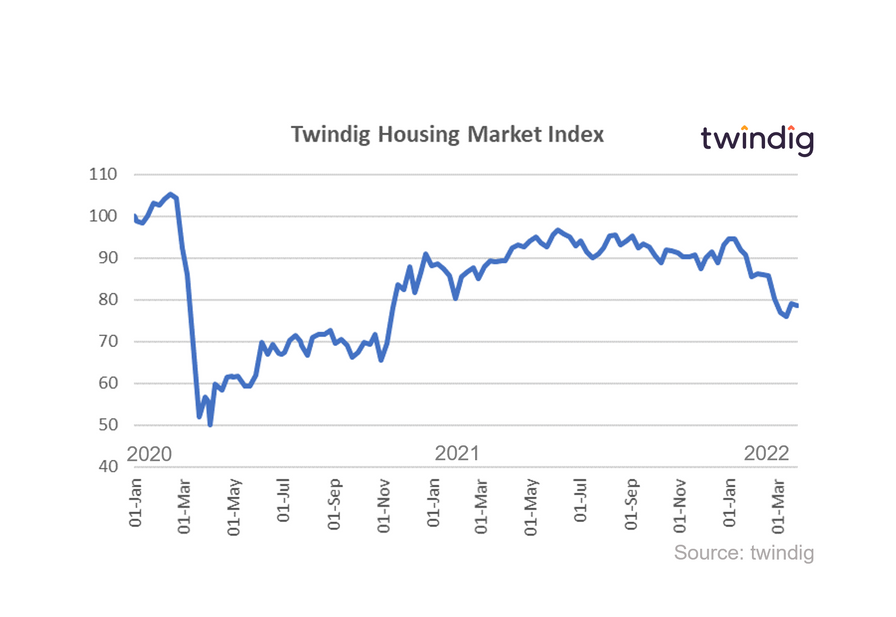 The Twindig Housing Market Index fell by 0.8% this week from 79.1 to 78.5 and it probably would have gone up if it hadn't been for that meddling Secretary of State...
Michael Gove's comments this week about the UK having a cartel of volume housebuilders, spooked investor confidence this week. The Twindig Housing Market Index may only have fallen by 0.8% overall, but if we dig into the data we can see that investor confidence fell in housebuilders by 6.5% during the week that Mr Gove made 'cartel' the collective noun for housebuilders.
Investors fear that the pendulum is swinging against housebuilders and that after almost ten years of help to buy feast there will be a period of famine where the UK Government uses stock not carrots to achieve policy objectives.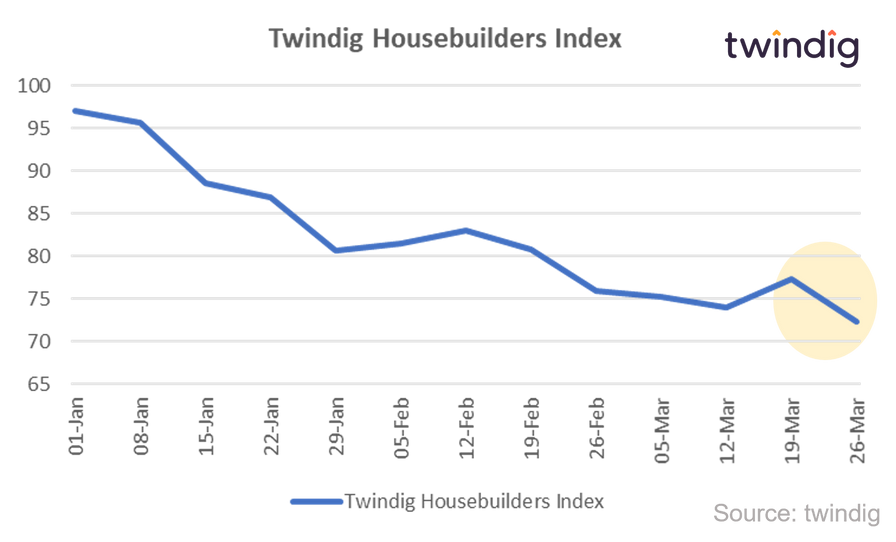 Subscribe to Market Views