Housing transactions - February 2022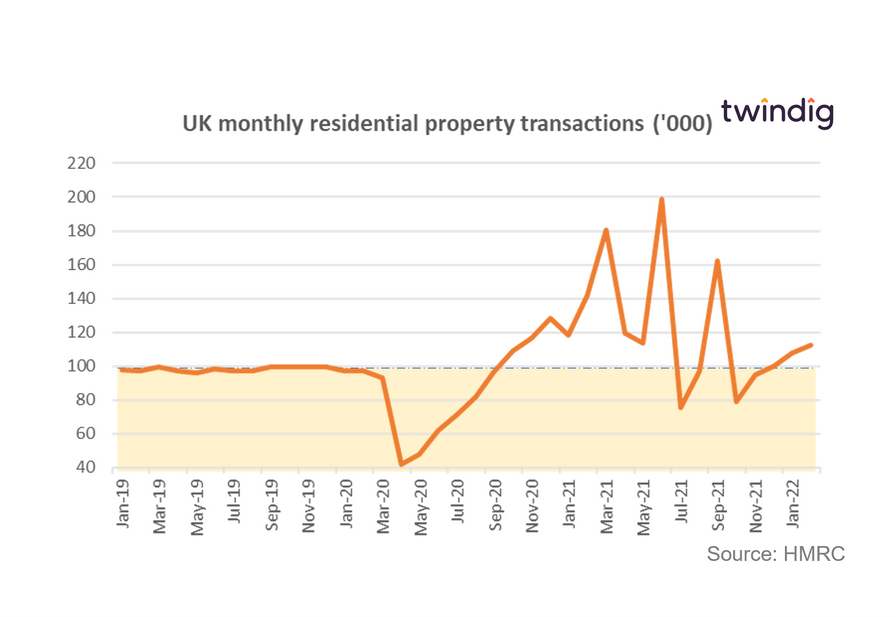 HMRC released provisional housing transaction data for February 2022 this morning
What they said
Housing transactions in February 2022 were 112,240
This was 4.4% higher than in January 2022
This was 20.8% lower than February 2021
Twindig take
Once again, housing transactions continue to rise, the fourth monthly rise in a row. The spring selling season has had a strong start and rising house prices, rising mortgage rates and rising living costs seem to be doing little to dampen buyers' enthusiasm to get on or move up the housing ladder.
At 112,240 housing transactions in February were 15% ahead of the long-run average of 97,916. Estate agents continue to report a shortage of homes to sell, which suggests to us a very robust underlying housing market. We are buying 470 more homes a day than the long-run average and estate agents are saying that they could sell even more if they had more homes to sell.


The high levels of transactions point towards a two-speed housing market, with those who can buy 'buying' and those who can't are not. Rising house prices and rising living costs will not help those in the latter camp, but those in the former have yet to feel the pinch of rising prices.


If the stamp duty holiday provided a catalyst to housing transactions last year, perhaps rising mortgage rates are doing the same this year, encouraging buyers to act now before rising mortgage rates (and house prices) price them out of the market altogether.
Subscribe to Market Views