Houselungo 3 April 22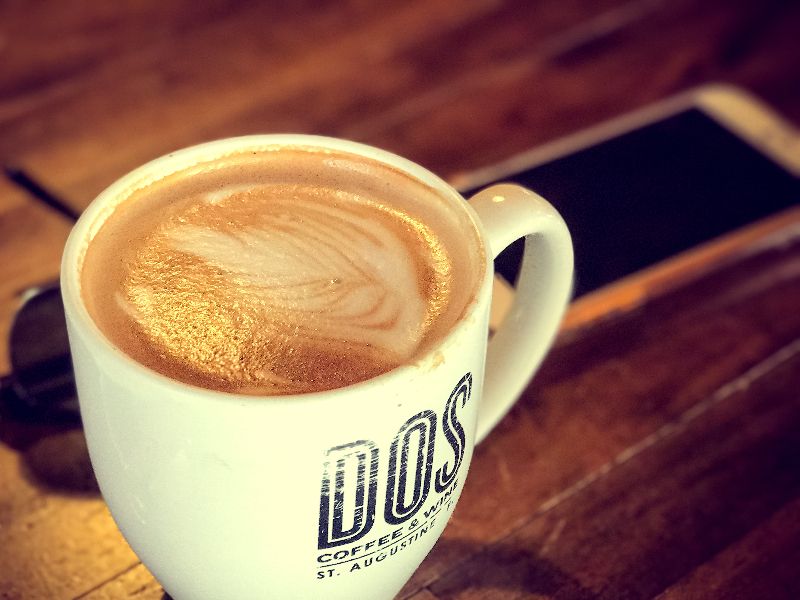 House prices rising likes it's November 2004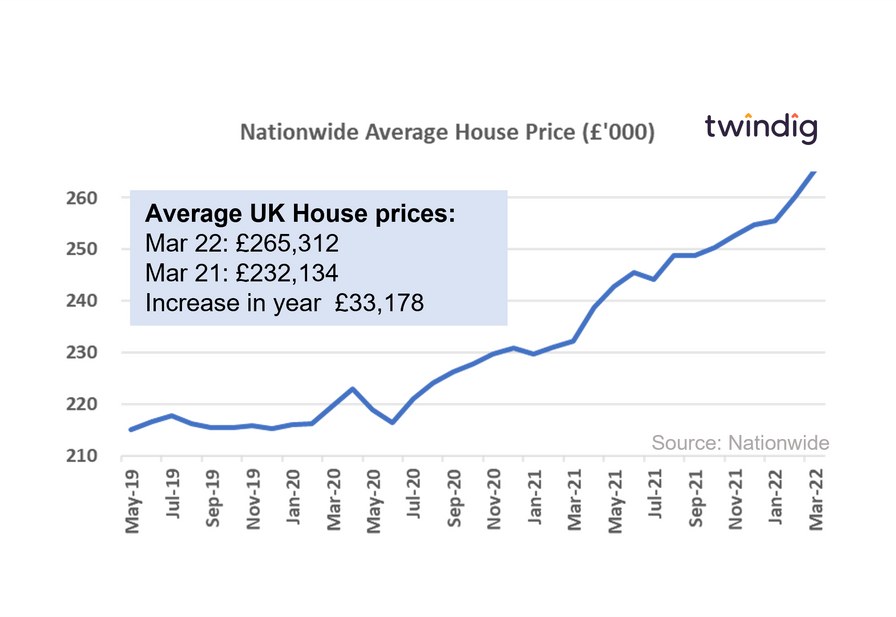 The Nationwide released their house price index for March 2022 on Thursday
What they said
Average UK house prices £265,312
Annual house price inflation 14.3% - its highest since November 2004
Average house prices up almost £50,000 since the first lockdown
Twindig take
House price growth has reached its highest rate since November 2004 as average house prices increased by 14.3% in the year to March 2022.

House prices in the UK are now almost £50,000 higher than they were before the start of the pandemic in 2020.

The strong employment market coupled with enforced savings during the COVID lockdowns has certainly put money in the pockets of home buyers and it appears that they are very willing to spend that money on houses.
Meanwhile, mortgage approvals dip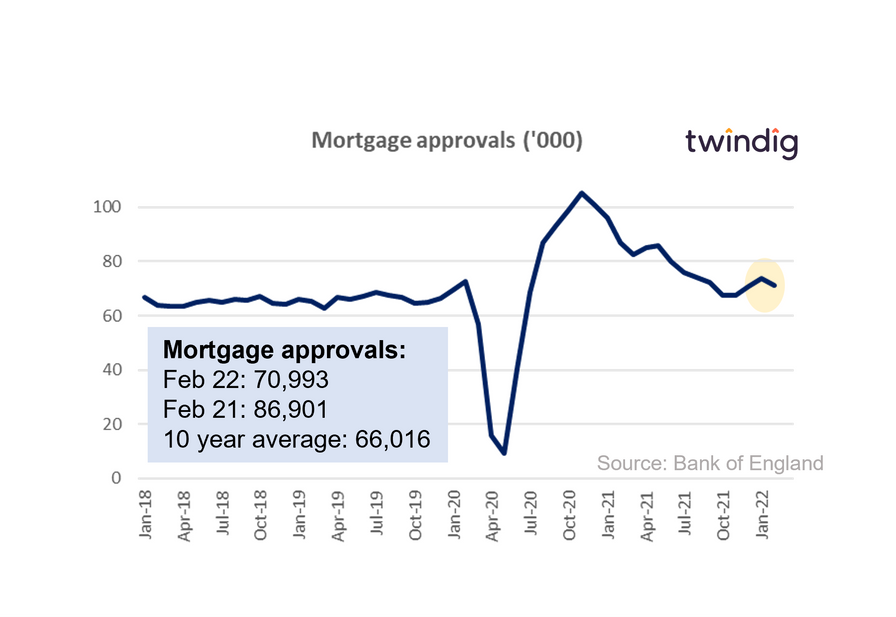 The Bank of England released the mortgage approval data for February 2022 this week.
What they said
Mortgage approvals for February 2022 were 70,993
This was 3.9% lower than the 73,841 mortgages approved in January 2022
This was 18.3% lower than the 86,901 mortgages approved during February 2021
Twindig take
Although mortgage approvals dipped a touch in February, they are still comfortably (7.5% or 4,977 mortgages) ahead of the 10 year average of 66,016.
One data point does not make a trend, but we could be seeing the start of the impact of the rising cost of living on the housing market. Mortgage rates are also starting to rise which may also be weighting on homebuyers minds, however, in the past mortgage rates have been a very weak predictor of the level of mortgage approvals.
And mortgage rates start to rise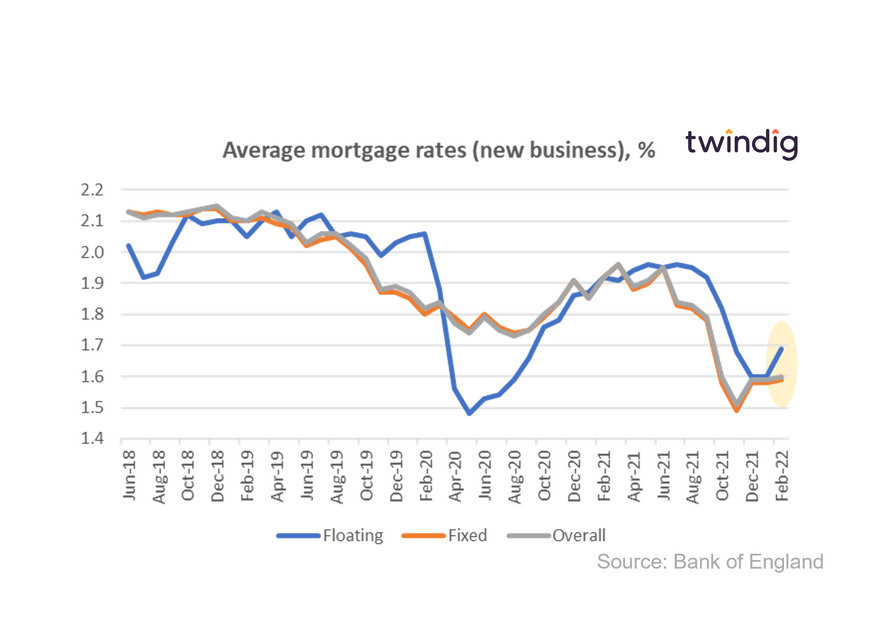 The latest data from the Bank of England revealed that overall average mortgage rates for new business increased in February 2022.
What they said
The average floating mortgage rate for new business 1.69%
The average fixed mortgage rate for new business 1.59%
The average overall mortgage rate for new business 1.60%
Twindig take
Following the recent increases in Bank Rate as illustrated in the graph below it is no surprise that mortgage rates are starting to increase. The Bank of England's Bank Rate sets the tone for all other mortgage and interest rates.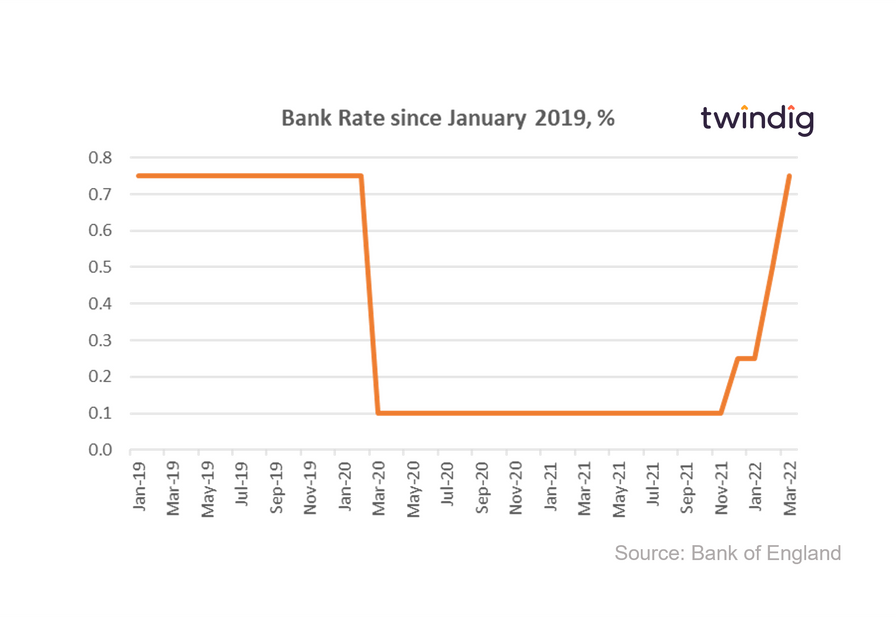 However, whilst rising mortgage rates on top of rising living costs is not likely to be welcomed, it is worth putting the latest figures in context.
Average mortgage rates on floating rate mortgages are 12% lower than they were one year ago and average fixed-rate mortgage rates are 17% lower than they were in February 2021.
Scotland's house price winners and losers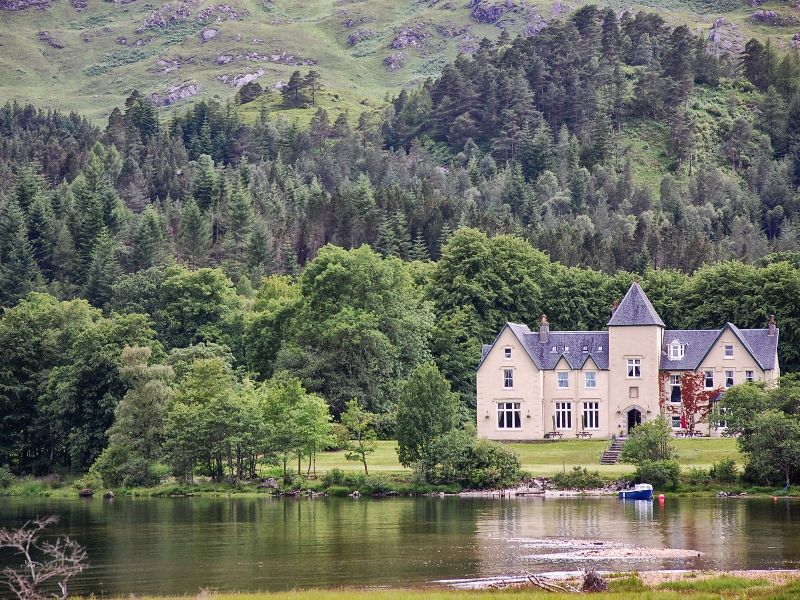 The latest data from the Register of Scotland suggests that the average house price in Scotland is £201,198.

House prices in Scotland fell on average by 1.7% or £3,520 in January 2022

Over the last 12 months, average house prices in Scotland increased by 1.2% or £2,430
Scotlands house price league table
We show in the chart below the average house price across Scotland by local authority.
The local authority with the most expensive average house price is East Renfrewshire where average house prices are £316,000
In second place is the City of Edinburgh where average house prices are £302,000 and in third place is East Lothian where average house prices are currently £293,000.
At the lower end of Scotland's house price table are North Ayrshire [ ]Inverclyde where average house prices are £130,000, with average house prices of £133,000 and West Dunbartonshire where average house prices are £138,000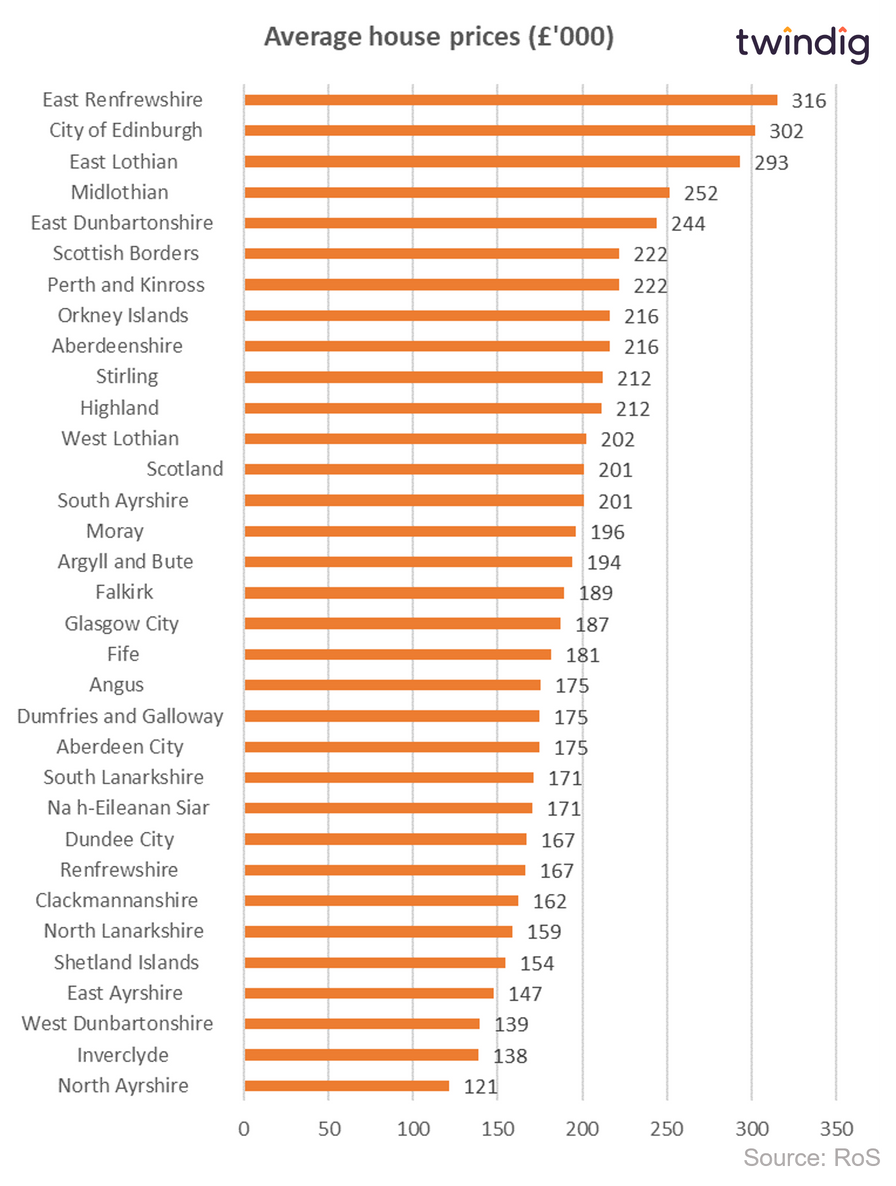 To find our which of Scotland's housing markets saw house prices rise by £47,000 last month and which one sale house prices fall by almost £20,000 click read more below:
Twindig Housing Market Index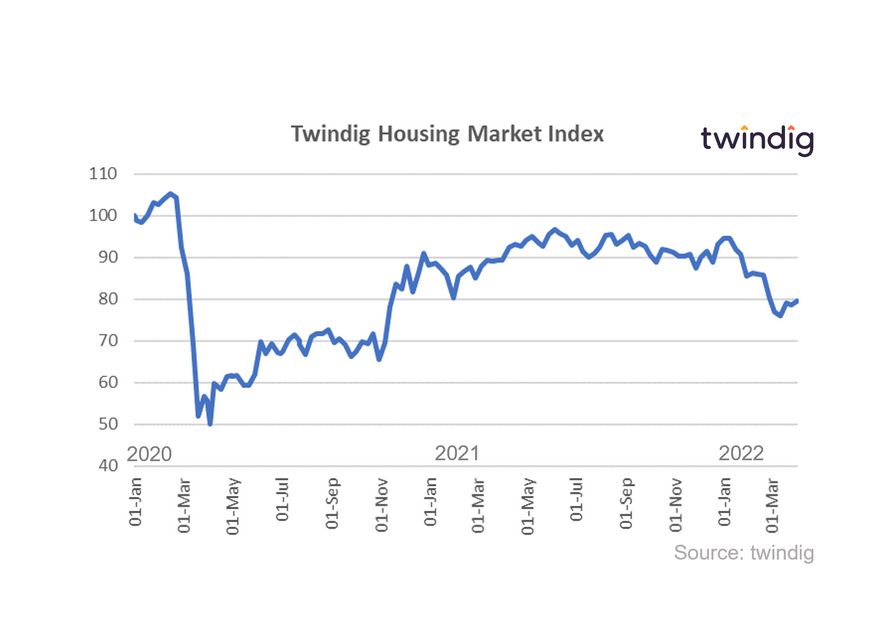 In the week where the Nationwide House Price Index hit another high and house price inflation reached its highest rate since November 2004, the Twindig Housing Market Index nudged up by 1.4% to 79.6.
In our view, the pace of house price inflation is quite astounding and house prices, for now, appear to be defying gravity, but how long can this last in the face of increases in costs of living and rising mortgage rates? Post lockdown savings remain high for many and employment prospects are robust, so the housing market may not run out of steam for a while yet.
Subscribe to Market Views