House prices rising at fastest rate since Nov 2004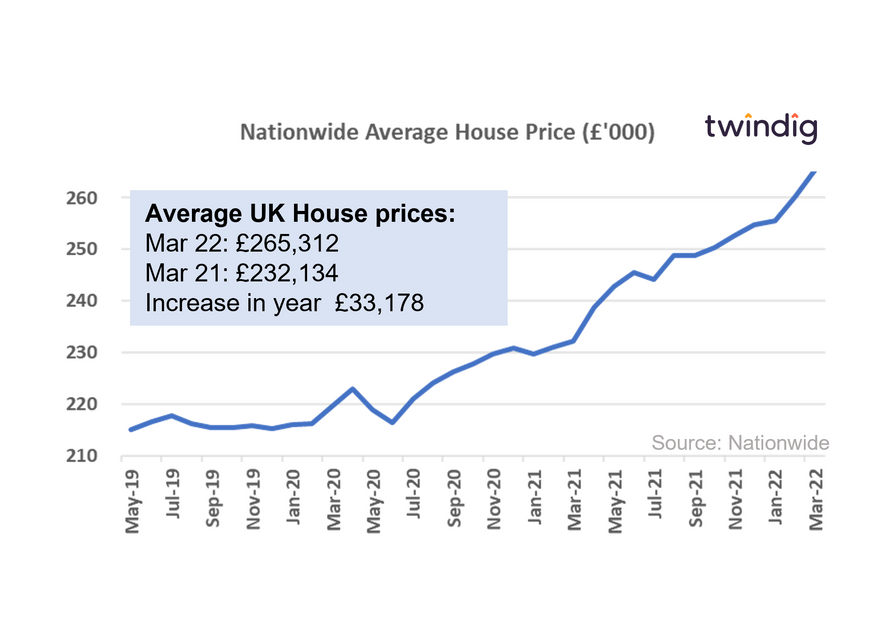 The Nationwide released their house price index for March 2022 this morning
What they said
Average UK house prices £265,312
Annual house price inflation 14.3% - its highest since November 2004
Average house prices up almost £50,000 since the first lockdown
Twindig take
House price growth has reached its highest rate since November 2004 as average house prices increased by 14.3% in the year to March 2022.

House prices in the UK are now almost £50,000 higher than they were before the start of the pandemic in 2020.

The Halifax notes in its latest house price index that 'The housing market has retained a surprising amount of momentum given the mounting pressure on household budgets and the steady rise in borrowing costs."

The strong employment market coupled with enforced savings during the COVID lockdowns has certainly put money in the pockets of home buyers and it appears that they are very willing to spend that money on houses.

Despite the savings and wages boost, the Halifax expects the housing market to slow in the coming quarters as inflation and mortgage rates rise.


A regional picture
The Halifax also reported on the regional house price patterns.
Wales remains the strongest performing region with house prices up 15.3% year on year, followed by the South West of England up 14.4% closely followed by East Anglia up 14.2%.

London saw the wea\kest house price growth up just 7.4%
You can read our full break down of regional house prices on a local authority level here
A house type picture
Following the much talked about race for space as households seek more space for working from home and bigger gardens, it is not surprising that detached houses have seen higher relative rates of house price inflation than flats. The Halifax found that between Q1 22020 and Q1 2022 the average detached house price increased by 22.6% (almost £68,000) whereas flats increased by 14.4% (around £24,000).

Whilst this is perhaps good news for first-time buyers, it is not so good for those looking to trade up as the gap to the next rung on the ladder has widened. As a result, those trading up may have to move to a relatively less expensive area to secure a home with the extra space they need.
Subscribe to Market Views