Twindig Housing Market Index (HMI) - 29 January 22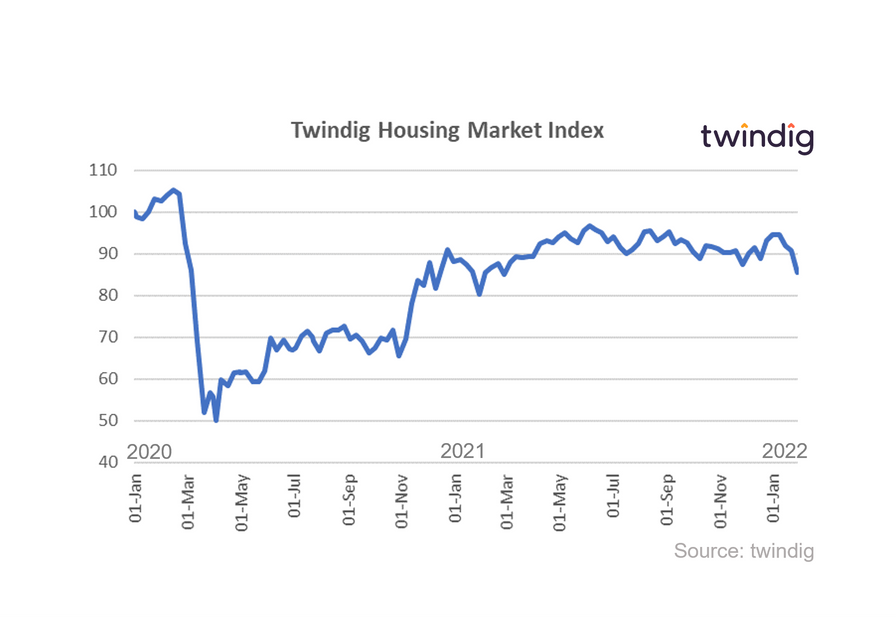 The Twindig Housing Market recorded its biggest fall for a year this week as it dropped by 5.9% to 85.4 its lowest level since 27 February 2021. In the week where parties have repeatedly received a bad press, is the housing market party about to come to an abrupt end?
The Halifax reported this week that the number of first-time buyers reached a record high in 2021 up 35% in the year to 409,000. However, in the same week, the Nationwide reported that there was a growing affordability crisis. At first glance, these two findings appear to be at odds with each other, but on a closer look, they are likely to be linked.
Those lucky enough to keep their jobs during lockdown saw their savings rise as opportunities to spend money outside of the home were severely constrained. First-time buyers and the Bank of Mum and Dad saw their deposits rise and the stamp duty holiday provided a catalyst for the so-called race for space and the number of housing transactions rose significantly.
House prices rose as the housing market activity increased and as first-time buyers and the Bank of Mum and Dad piled more money into the housing market.
When lockdown eased, savings rates fell as holidays, going out and eating out were back on the agenda. First-time buyers had made hay whilst the sun shone, but now they and the Bank of Mum and Dad had less firepower to through at the housing market. Supply shortages are however underpinning house prices meaning that we have entered 2022 with housing affordability unusually stretched.
Interestingly LSL one of the UK's largest estate agency groups reported on Thursday that whilst its FY2021 results will be in line with the market's expectations, its estate agency sales pipeline conversion slowed in the second half of 2021 as the stamp duty holiday drew to a close and that its year-end sales pipeline was 7% lower than the year before.
London based estate agency Foxtons also reported on trading this week stating that it expects FY2021 profits to be at the higher end of expectations and is looking for its rentals business to drive further profit growth in the coming year. Commentary on the underlying housing market was noticeable by its absence.
It seems that investors believe that all the low hanging fruit in the housing market has been picked and the helpful stamp duty holiday ladder has been taken away just at the point it is needed. Time will tell if homebuyers can stretch to reach the higher housing fruits or if the house price apples will have to fall in order to be bought.
Subscribe to Market Views