Halifax First Time Buyer Review 2021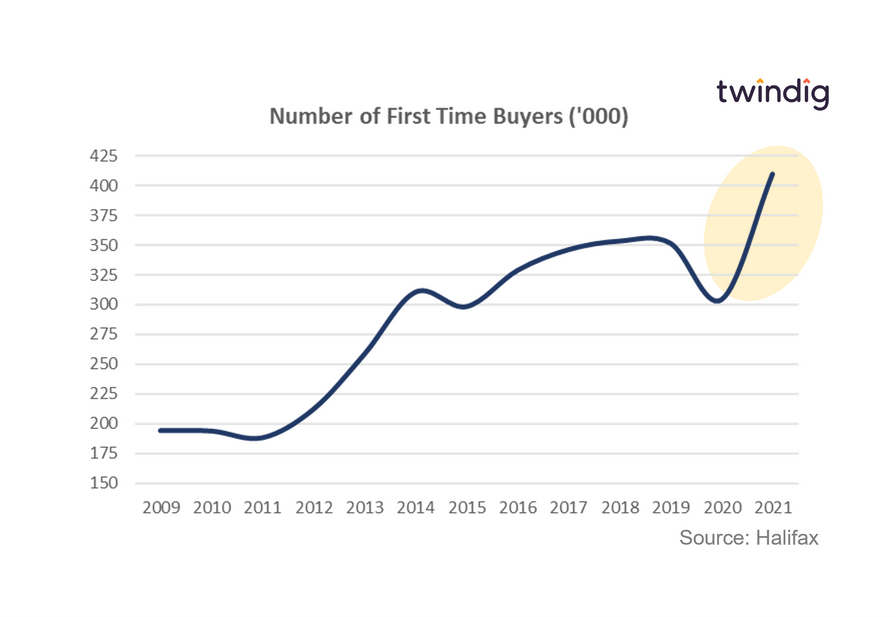 The Halifax 2021 First Time Buyer review revealed that the number of First-Time Buyers shot up dramatically by 35% in 2021, which equates to 300 more first-time buyers per day than in 2020. This is all the more surprising given the surge in house prices in 2021 when house prices increased, on average, by more than £2,000 per month, much, much faster than the wages of the army of stretched first-time buyers. With the cost of living rising and mortgage rates likely to follow suit, it is difficult to see how the high level of first-time buyer activity will be maintained. However, with Help to Buy closing in 2023, 2022 could be a great year for those looking at new builds as developers won't want to be left with Help to Buy focused stock when the music stops in 2023.
With average first-time buyer deposits coming in at £53,935, we ask: Can first-time buyers keep buying?
Why first-time buyers reached new highs in 2021?
The strength of the first-time buyer housing market during the pandemic caught us off guard. However, uncertainty often brings opportunity, which was the case for first-time buyers. Lockdowns and Working From Home led to a race for space, and first-time buyers seized on the opportunity of those looking for a quick sale to escape to the country (or to buy a slightly bigger home).

Lockdown also led to a period of forced saving, as holidays, eating out and most other forms of entertainment were off-limits. During lockdown, the savings of aspiring first-time buyers received an unexpected boost, as did the saving pots of their parents. Combining their savings with the growing deposits in The Bank of Mum and Dad gave many aspiring first-time buyers the deposit boost they needed to get a foot on the housing ladder.
Did the first time buyer activity come at the expense of home movers?
No, although the number of first-time buyers saw a record rise in absolute numbers (an additional 300 first-time buyers a day), the number of overall housing transcations also increased significantly. We plot in the graph below the share of first-time buyer housing transactions as a percentage of all residential housing transactions as reported by the HMRC.
At 27.5% 2021 is still comfortably ahead of the long-run average of 25.7% but below the peak of 28.9% in 2019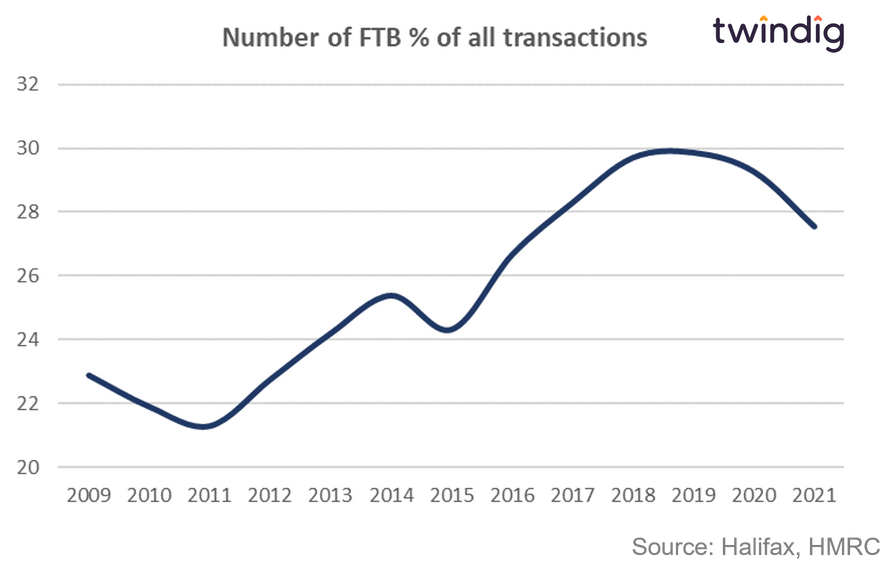 How much deposit does a first-time buyer need?
In theory, a first-time buyer needs a minimum deposit of 5% of the price of the home. Mortgage lenders are keen for first-time buyers to have some skin in the game. With a 5% deposit, a first-time buyer can then secure a home with a 95% loan to value (LTV) mortgage.
Unfortunately, the theory often differs from practice. The Halifax reported that in 2021 the average price of a house purchased by a First Time buyer was £264,140. Therefore a 5% deposit would equate to £13,200, however, the average deposit put down was £53,935, just over 20% or 4x more than a 5% deposit.
Whilst the average deposit is £53,935, deposit sizes vary significantly by region as highlighted in the chart below, ranging from £26,800 in the North to £115,800 in London.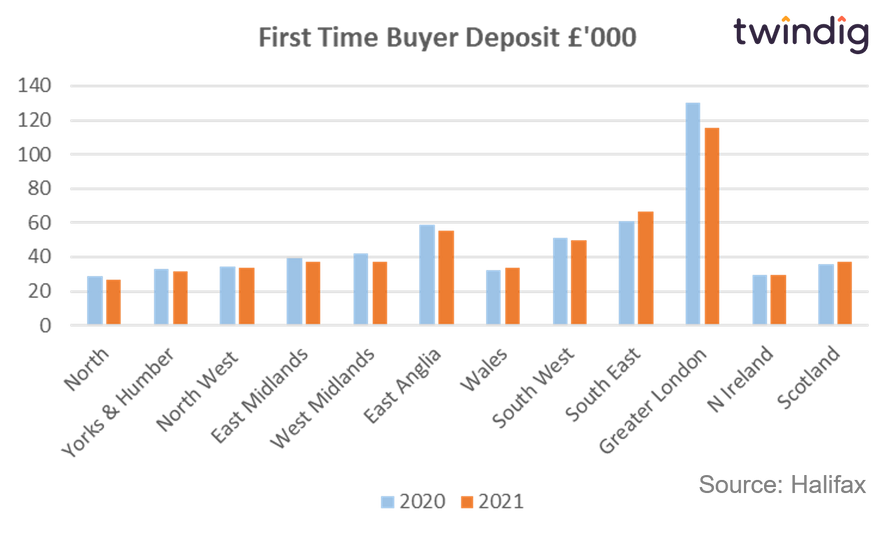 Whilst the absolute level of first-time buyer deposit varies significantly the relative size of the deposit is found in a much tighter range. The average level of first-time buyer deposits in 2021 was 19.3% ranging from 17.6% in Yorkshire and Humberside to 24.3% in London.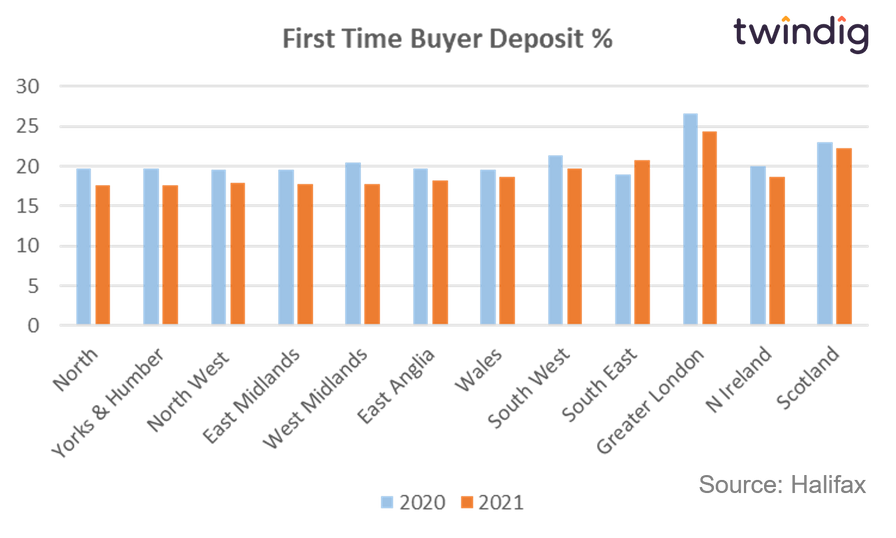 Why are first-time buyer deposits so high?
The problem facing first-time buyers is the gap between their wages and house prices. The Bank of England restricts the number of mortgages above 4.5x income a lender can sell to just 15% of all the mortgages they sell in any rolling 12-month period.

The average house purchased by a First-Time Buyer in 2021 was £264,140, therefore, if the mortgage Loan to Income (LTI) is to be below 4.5x then the homebuyer needs an income of at least £58,700.

If they have an income of less than £58,700 then any gap between the mortgage as defined by the maximum LTI multiple must be made up by a deposit.

The problem is how does the average first-time buyer with an average income of £30,000 save the average deposit of £53,935?


The Housing Affordability Problem
We show in the chart below the range of House Price Earnings Ratios across each local authority in each region. The stark message is clear: most homes, in most parts of the country have a House Price Earnings Ratio of above 4.5x meaning that to buy a home a first-time buyer is going to need a substantial deposit to turn their homeownership dreams into reality.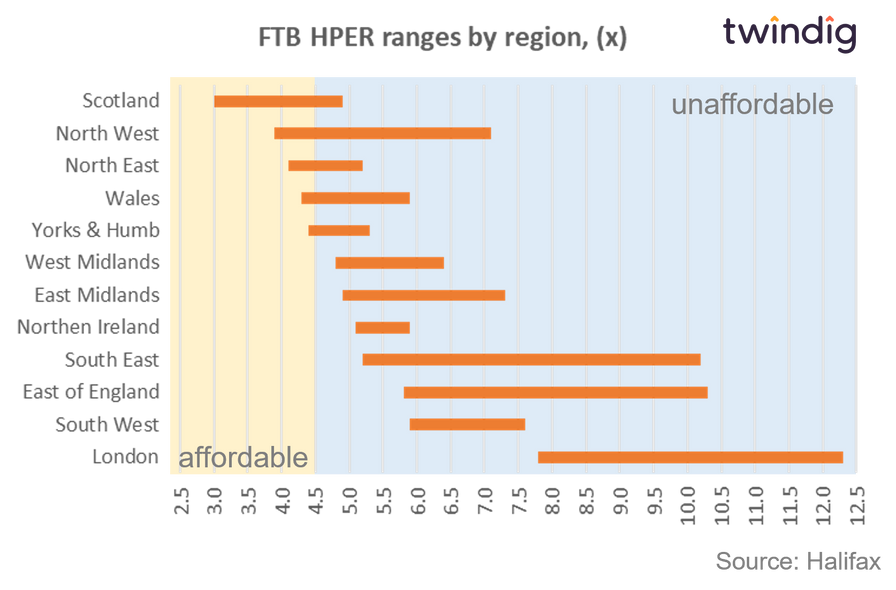 Enter Stage Left The Bank of Mum and Dad
It is clear to us that the ability of a first-time buyer to get a foot on the housing ladder has more to do with the wealth of their parents than their income. If your parents don't own their home, you are unlikely to be able to afford a home of your own.
Will First Time Buyer Numbers be as high in 2022?
Whilst that would be great news, we do not think so and we expect the number of first-time buyers to fall 2022. Following two years of lockdowns and staycations, many are looking to make up on missed time and fit two years of holidays and socialising into the next twelve months, and this also goes for their parents. It is our assessment therefore that savings pots will be diverted away from property this year and that deposit balances at The Bank of Mum and Dad will also fall as holidays are booked and social plans made.
How much does the average first-time buyer spend on their first home?
We show in the chart below the average first-time buyer house price and deposit by region. The data comes from the 2021 Halifax First Time Buyer Review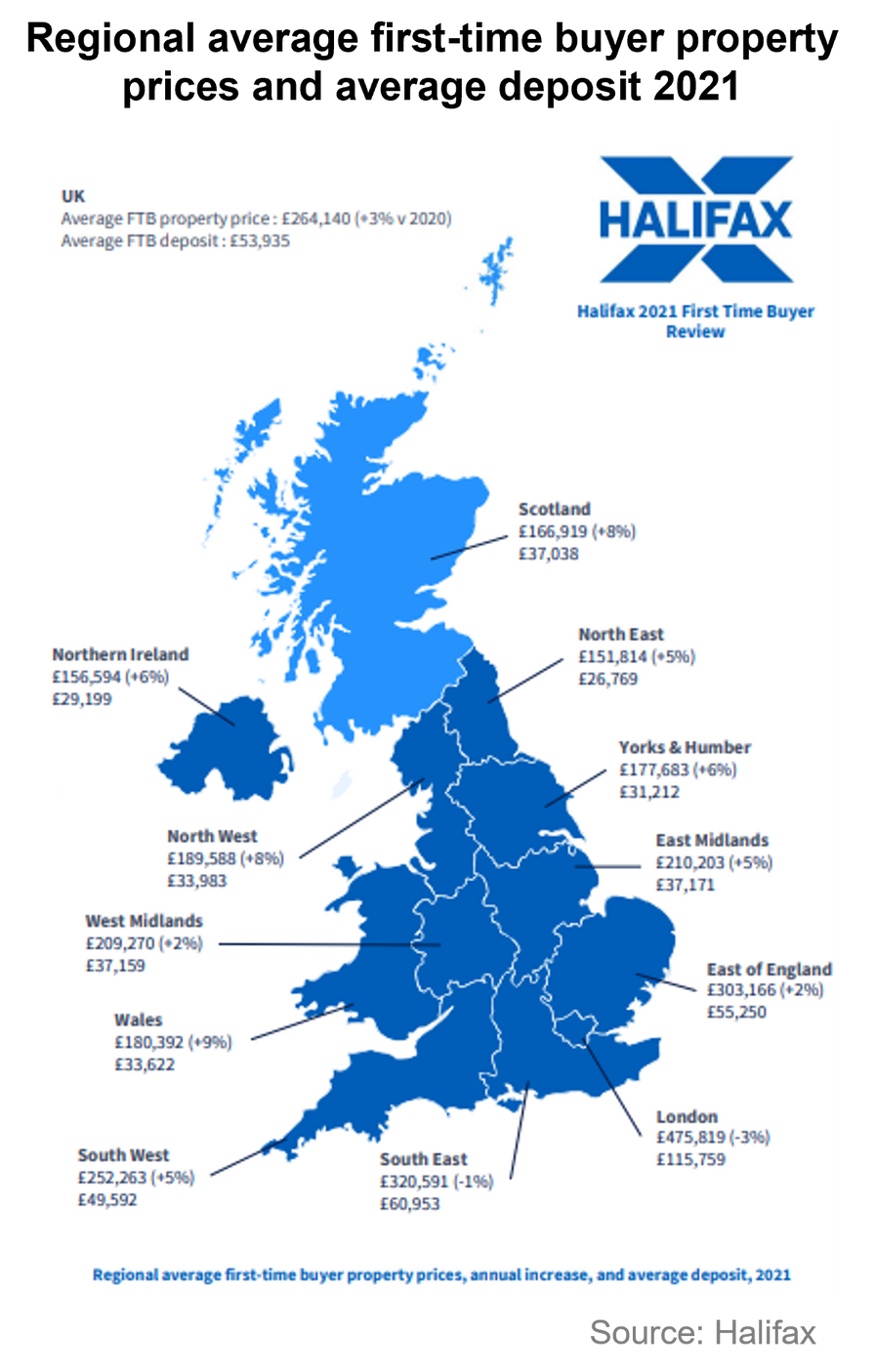 Subscribe to Market Views