Twindig Housing Market Index (HMI) 23 July 22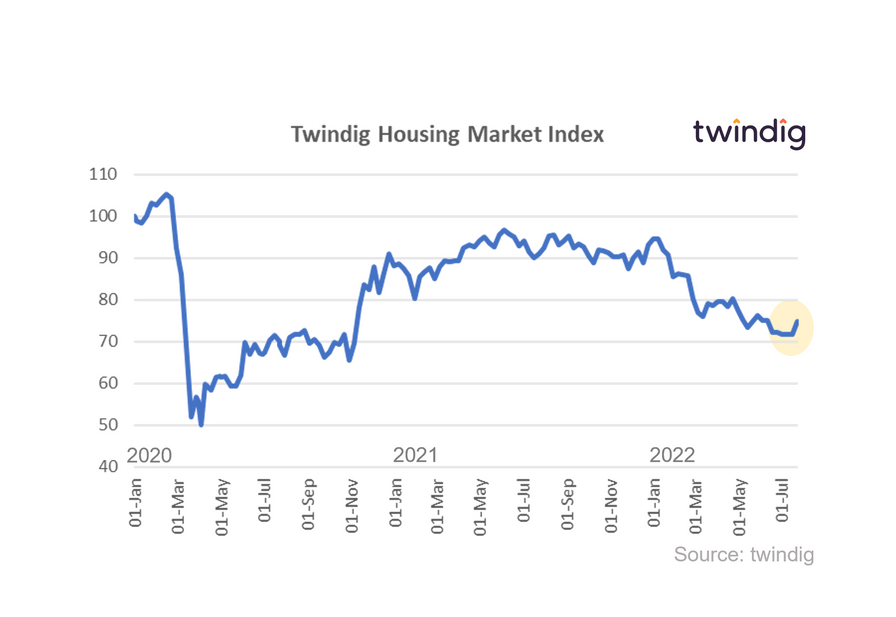 In the week that saw house prices rise by £3,412, housing transactions fall by almost 8%, and the choice for our next Prime Minister whittled down to two, the Twindig Housing Market Index increased by 4.2% to 74.8, its most significant percentage increase since 25 December 2021.

We were surprised at the scale of the leap in investor confidence following the significant fall in housing transactions in June 2022. For the first time this year (on a seasonally adjusted basis) housing transactions fell below their long-run average. Is this perhaps the first sign that the cost of living crisis is beginning to impact homebuying decisions?

Meanwhile, house prices continued to rise across much of the country, with eight regions posting house price gains and only two falling. House price growth in London slowed to 0.2%, with 10 London boroughs seeing house prices fall. This adds weight to our view that housing transactions will act as a shield for house prices and we continue to expect to see housing transaction volumes fall before house prices wither.

Perhaps the gains in investor confidence reflects the reduction in uncertainty surrounding our next Prime Minister, although one wants tax cuts today and the other tax cuts tomorrow both 'signed up' to the current manifesto, and both have experience in Government at the highest level. However, given the speed at which the tory party gets through housing ministers, it is perhaps a surprise that neither Rishi nor Liz have spent time with the housing brief.
Subscribe to Market Views