Twindig Housing Market Index (HMI) - 22 January 22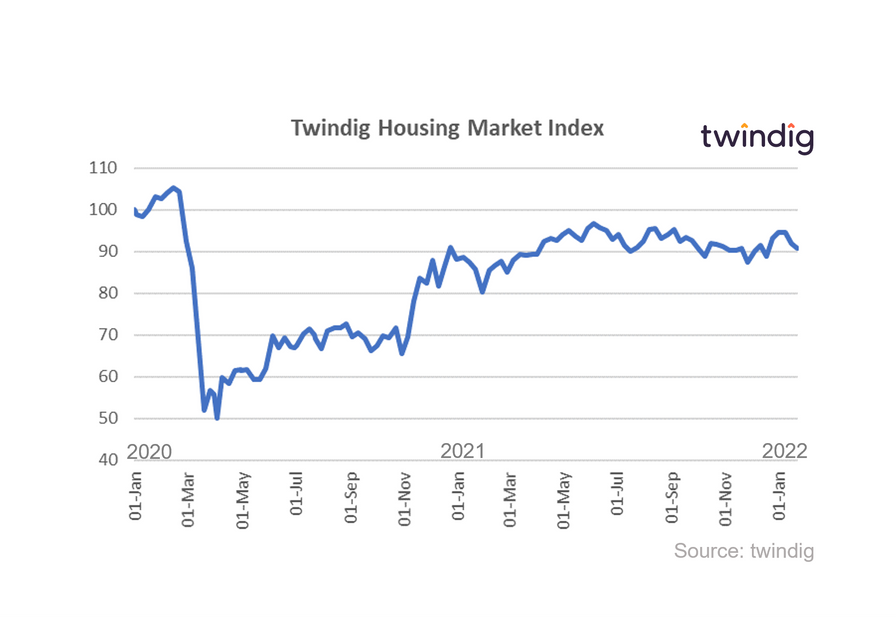 In the week that confirmed 2021 had been a bumper year for UK housing transactions, which reached a 14 year high, the Twindig Housing Market Index fell by 1.4% to 90.8.
Housebuilders Crest Nicholson and Taylor Wimpey, and Watkin Jones, the Build to Rent specialist, all reported strong trading and a rosy outlook for the year ahead. Demand for new homes for purchase and rent remains high as we enter 2022.
The Land Registry reported that house prices had increased, on average, by more than £2,000 per month in the year to November 2021. However, London house prices only nudged up a touch leading some to ask are London house prices on the turn?
Meanwhile, RICS reported that increasing numbers of homebuyers are coming to the market, but that supply has not yet reacted to the increasing demand. This should underpin the recent growth in house prices, however, we expect supply to pick up as the Spring selling season gets underway and the UK economy continues to open up.
Rising inflation was on the minds of many housing market investors this week raising concerns about affordability in the housing market (the flipside to house price growth). Stringent, yet sensible affordability tests look at disposable income rather than headline salary statistics, and as day to day expenses take an ever bigger slice of the salary pie, there is less money available to secure and pay a mortgage. However, the concerns voiced by housing market investors are yet to be echoed by the homebuyers themselves and we remain confident on the outlook for the UK housing market.
Subscribe to Market Views