Twindig Housing Market Index (HMI) - 13 August 22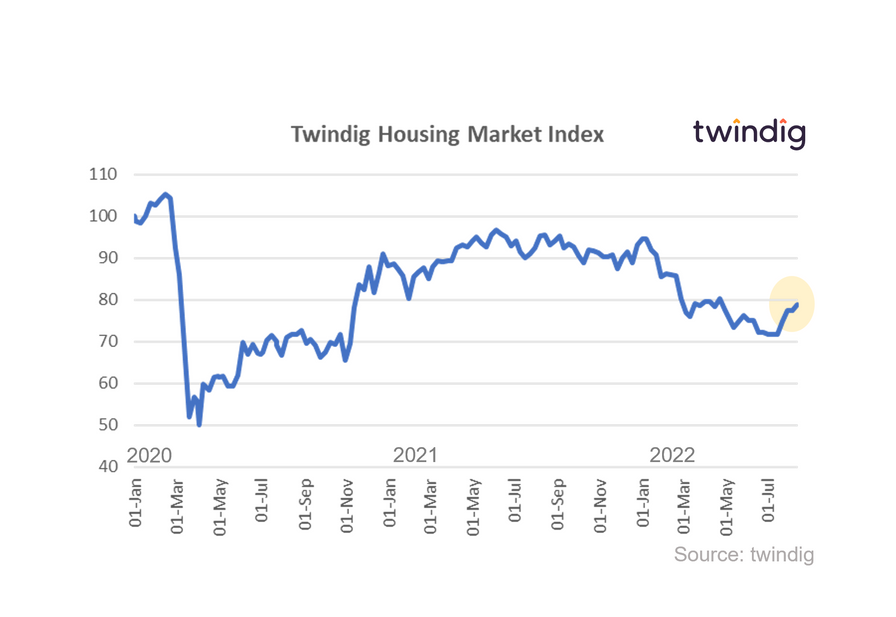 In the week that housebuilder Bellway delivered record revenues and Savills results laid bare the impact of last year's stamp duty holiday the Twindig Housing Market Index rise by 1.6% to 78.7. The consensus remains among residential investors that last week's Bank Rate rise will not cause the housing market to stall. The number of housing transactions may ease back, but demand still outweighs the supply of homes for sale underpinning house prices.
Housebuilder Bellway delivered record revenues, a record number of homes completed and a growing forward order book, if the rises in the costs of living and mortgage rates are about to cause the housing market to turn, no one has told Bellway. The challenge for the UK housing market seems to be a shortage of homes for sale rather than a shortage of buyers which is welcome news for those building houses.

However, Help to Buy, which has previously boosted housebuilder's sales was starting to wane, only helping 5,395 first time buyers in Q1 2022 down from 8,949 in the previous quarter and 15,351 in Q1 2021, in the week that the BBC stopped presenting the football scores, a case of Help to Buy 'nil' : Generation Rent 'one' Read more

Turning to estate agency, Savills UK estate agency business has had a robust first half to 2022, although revenue and profits are down 8% and 34% respectively after a bumper stamp duty holiday fuelled 2021, they are considerably ahead of the fairer comparison of the pre-pandemic levels of 2019. With the average price of homes sold in London at £2.2m and £1.4m in the regions, it will be fascinating to see how the cost of living crisis and rising mortgage rates impact Savills and those wealthier households higher up the UK housing ladder.

Finally, in this RICS UK Residential Market Survey it seems that demand from homebuyers is starting to soften after a frenetic couple of years, but that continued shortages in the supply of homes for sale mean that despite activity levels starting to fall, house prices are continuing to rise read more.

Subscribe to Market Views