Houselungo 15 May 22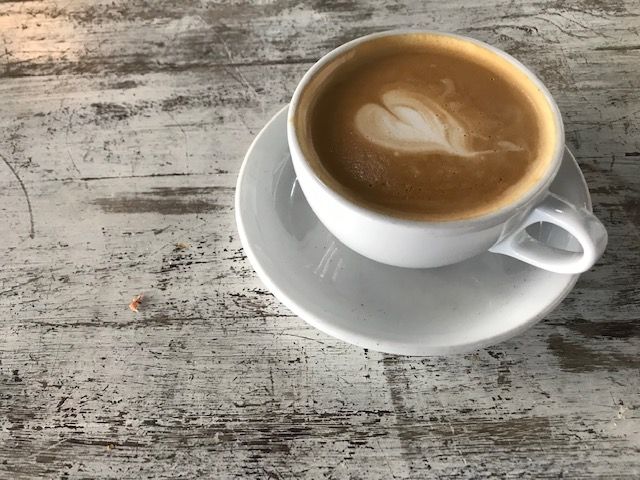 Will house prices fall as down valuations rise?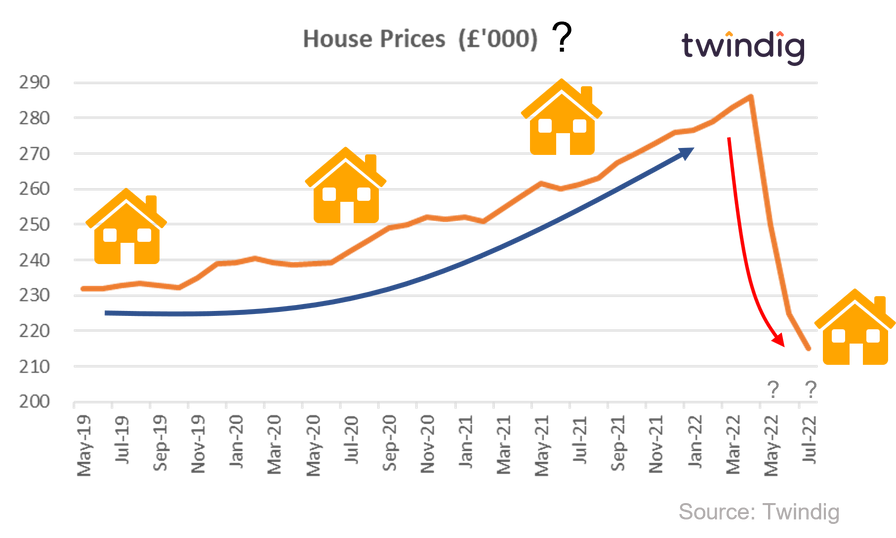 Why are lenders downvaluing houses?
There are several factors weighing on lender's minds when it comes to the current level of house prices:
No one expected strong house price inflation during the COVID-19 lockdowns.
Many thought that the stamp duty holiday would fuel house price inflation.
Very few thought house price inflation would be so strong once the stamp duty holiday came to an end
The cost of living crisis is putting pressure on household budgets, which negatively impacts housing affordability
Rolling annual house price growth has been significantly ahead (at times almost double) the long term trend and this 'outperformance' is unlikely to be sustainable in the longer term.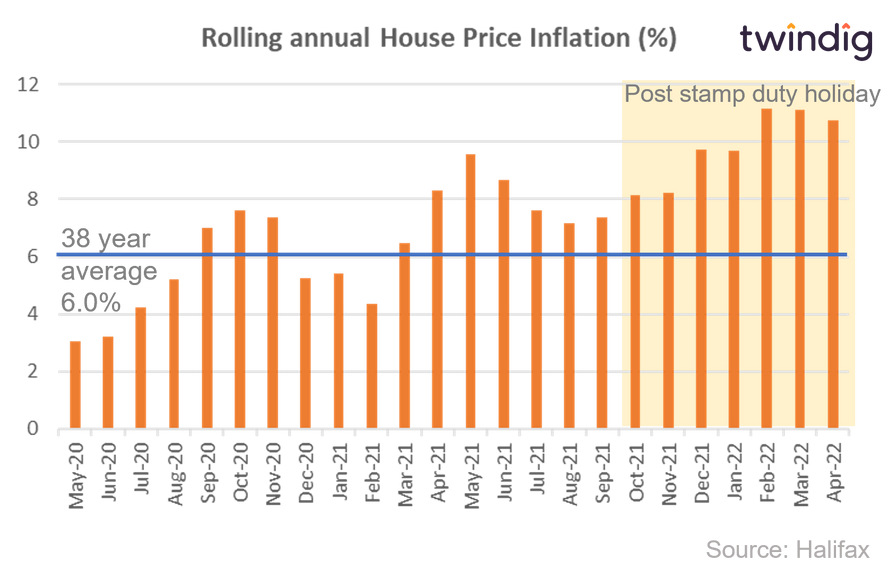 Basically, lenders don't want to risk lending today if they think that house prices may fall tomorrow. A down valuation provides them with some downside risk protection. But are these down valuation concerns justified?
Fertile ground for further house price growth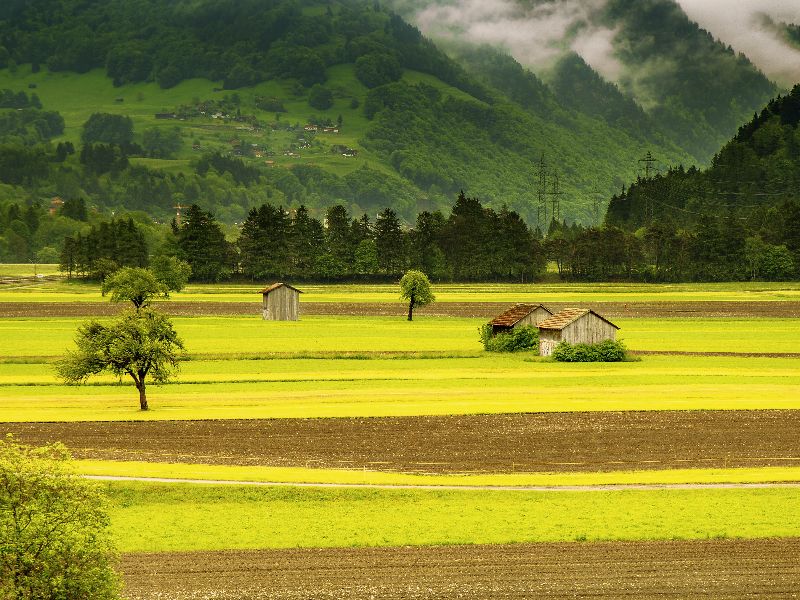 RICS released its latest UK Residential Market Survey for April 2022 this week
What they said

The stock of homes for sale remains scarce

New buyer demand continues to rise
House price growth remains firm across the UK

Twindig take
RICS reported today that new buyer enquiries increased for the eighth successive month. Demand continues to outweigh supply, which in turn will underpin house prices and provide fertile ground for continued house price growth.
New stock coming on to the market remains scarce, overall agents reported a slightly lower number of homes being listed for sale in April 2022 than in March 2022

With the continued imbalance between supply and demand, the latter outweighing the former, house prices continue to rise, a net balance of +80% of agents reported increasing house prices in April, up from +74% in March. Overall a net balance of +62% of agents expect house prices to continue to rise over the next 12 months.

RICS also reported that lettings demand continues to outweigh supply, implying that rents are also likely to rise in the coming months.
Mortgage rates rise again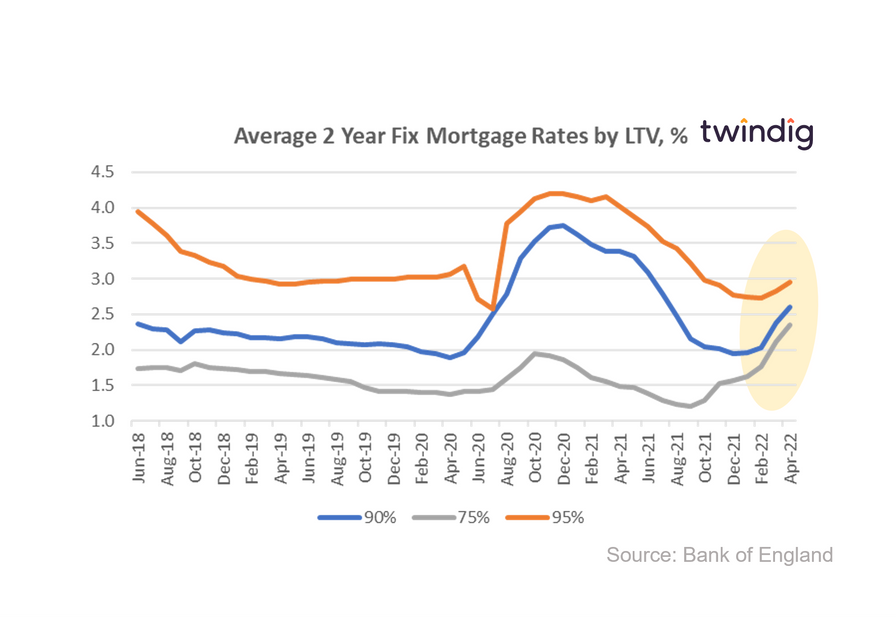 The Bank of England released average mortgage rates by Loan to Value (LTV) this week

What they said
Average mortgage rate for 75% LTV 2-year fixed rates mortgages 2.35%
Average mortgage rate for 90% LTV 2-year fixed rates mortgages 2.61%
Average mortgage rate for 95% LTV 2-year fixed rates mortgages 2.95%
Twindig take
There can be little doubt now that mortgage rates are on the rise. The average new business mortgage rate for 75% LTV two year fixed rate mortgages has risen for the last seven months in a row, almost doubling, from 1.20% in September 2021 to 2.35% in April 2022.
We expect Bank Rate to continue to rise, and the Bank of England hs said that it could increase to 2.5% from its current 1.0%.
You can see how changes in mortgage rates will impact your mortgage payments by using our mortgage calculator
In a historical context mortgage rates still remain very low and good deals can be struck in the coming months, but the lowest rates are now behind us.
Is Help to Buy running out of steam?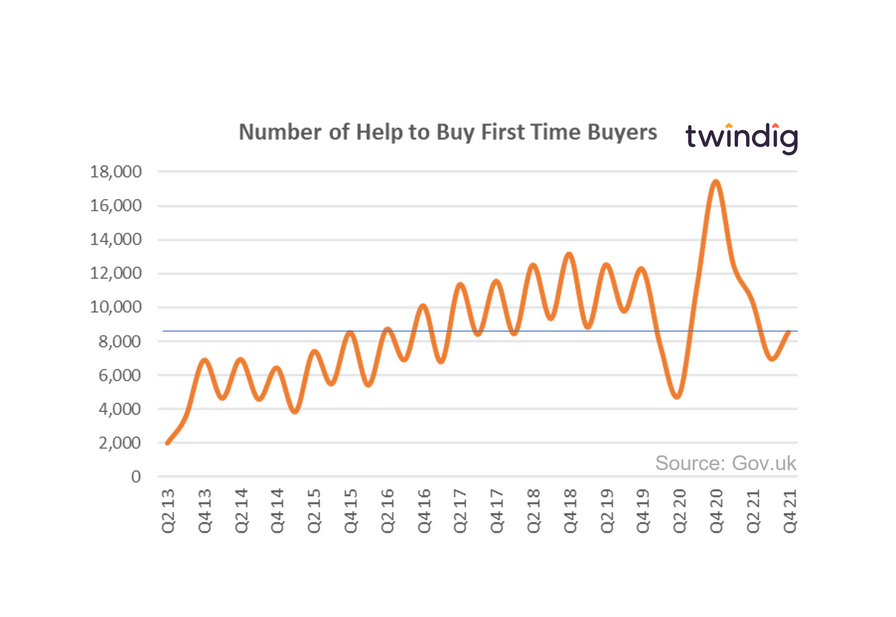 The UK Government released the Q4 2021 Help to Buy Statistics this morning
What they said

Between 1 October and 31 December 2021 8,913 properties were purchased with a Help to Buy equity loan

This was 58% lower than the same period last year, but 22% higher than in the previous quarter

The value of Help to Buy Equity loans in Q4 2021 was £603.6m this was 60% lower than in the same period last year and 20% higher than in the previous quarter.

Twindig take

The good news is that Help to Buy helped more homebuyers in the last quarter of 2021 than it did in the third quarter. However, the number of homebuyers helped and the number of first-time buyers helped remains significantly below pre-pandemic levels. This will not be pleasant reading for a Government keen to turn generation rent into generation buy.
Twindig Housing Market Index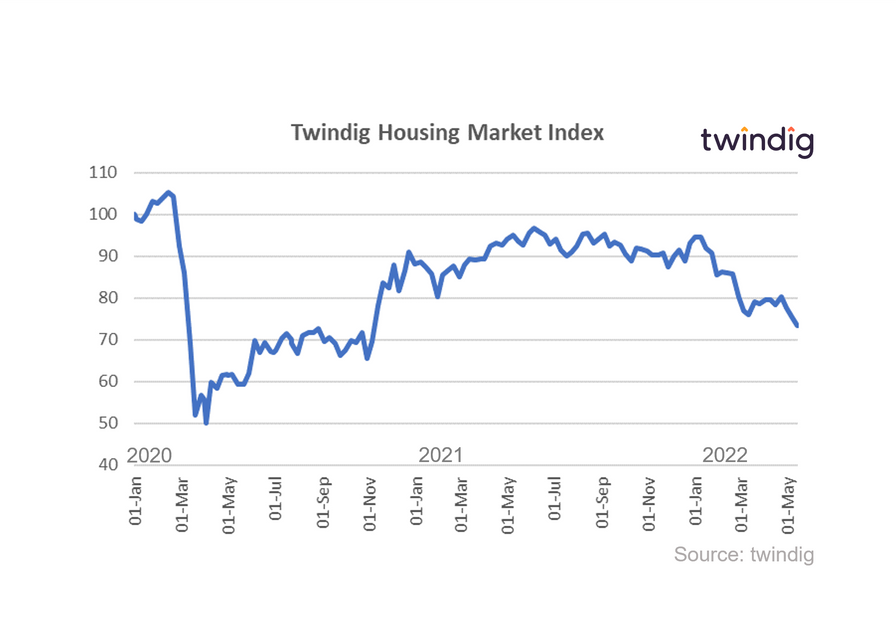 The Twindig Housing Market Index fell by 2.4% to 73.4 this week as reports of increasing mortgage down valuations weighed on housing market investor's minds. After month after month of increasing house prices since the start of the pandemic, it seems that some lenders and some investors are asking how long can the house price party last?
We understand their concerns. The 12-month rolling annual rate of house price inflation has remained stubbornly above the long term trend of 6.0% for more than a year, and this is causing concern for some that the next move will be down.
Subscribe to Market Views