Thinking of selling your home, you'll need these documents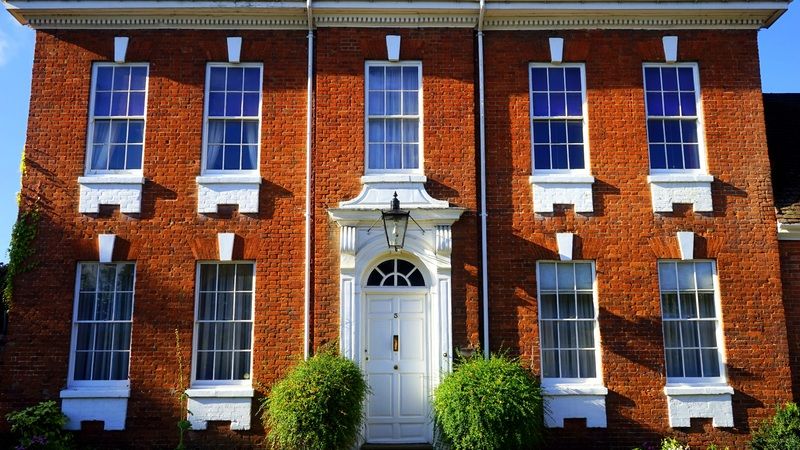 If you are looking to sell your home, Twindig can help you get sale ready so that you can transact quickly and not miss out when you find your dream home. Some have said that we are to homeowners what LinkedIn is to people, a chance to showcase your home and its credentials to make it stand out in the crowd to provide more information about your home so that more homebuyers will be want to buy it
To make your home sale-ready we discuss below the key documents, you need to get ready to help ensure your sale process is as smooth as possible.
Many of the documents can be in place before you put your home on the market and planning ahead now could save you a lot of time, stress and hassle in the future.
Let Twindig help save you some of the strain and pain of moving home.
If you would like to quickly see how much your house is worth you can do so by visiting twindig.com we have details of every house across the country, all 28 million, not just the one million or so that are currently for sale or rent.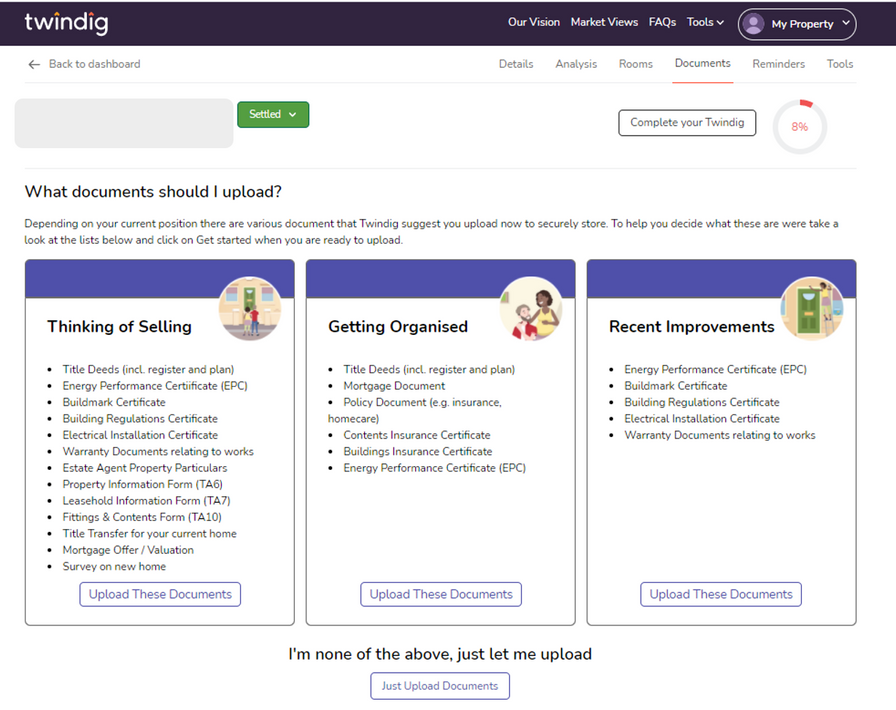 1. Title Deeds
Title Deeds are paper documents showing who currently owns specific land and property and the history of who owned it in the past. The Land Registry's Land Register is the definitive record of land and property ownership in England and Wales. Specifically, you will need:
a copy of the title register which shows who owns the land and property and any rights of way

your title number - the unique number given to your land and property

your title plan - the property and land's exact location and boundaries
2. Energy Performance Certificate
Energy Performance Certificates or EPCs are certificates which summarise the energy efficiency of your home. Your home will be awarded a rating between A (very efficient) to G (Inefficient).
The EPC will also include recommendations on ways to improve your homes' energy efficiency. Making your home more energy-efficient will help you save money because your home will use less energy.
You cannot sell or market you home for sale without one. For more information, you can read our Energy Performance Certificate guide
3. Buildmark Certificate
If your home is a new home, built within the last 10 years you will need to keep a copy of your Buildmark Certificate or new home warranty.
In the first 2 years after completion, the warranty covers repairs to defects that do not relate to general wear and tear or maintenance issues. Buildmark provides an independent resolution service and guarantee should the builder not complete the work required.
In years three to ten Buildmark provides warranty cover to protect you if there is damage to your home because the builder failed to meet the NHBC standards and/or Building Regulations. The warranty also covers for remediation relating to statutory notices about contaminated land.
4. Building Regulations Certificate
If you have had an extension or other major works completed at your home these will likely have been covered by Building Regulations. Any works which fall under the remit of Building Regulations will need to have a certificate to demonstrate that they had the necessary permissions for the work to be carried out.
In addition to major works, you may also need Building Regulations Certificates and approval for many of the following:
replace fuse boxes and connected electrics

install a bathroom that will involve plumbing

change electrics near a bath or shower

put in a fixed air-conditioning system

replace windows and doors

replace roof coverings on pitched and flat roofs

install or replace a heating system

add extra radiators to a heating system
This is not an exhaustive list so it is worth checking with your builder or a building control body before you start to get works such as these done.
5. Electrical Installation Certificate
Any alterations or additions made to the electrics in your property since 2005, they must meet the requirements of 'Part P of the Building Regulations', whether the work was completed professionally or by yourself.
The legislation applies to new homes and any alterations – such as partial or full rewires – or additions (for example, an extension) to the electrical installations in an existing property. Your local authority has the power to force you to alter or undo the work if it does not meet Building Regulations standards.
You do not need a certificate if you have completed minor works, where a new electrical circuit was not required, such as adding a new socket to your kitchen, installed a new cooker or putting up a security light in your garden.
You will need an Electrical Installation Certificate if:
A new electrical circuit has been installed – even if it is a low or extra-low voltage

A fuse box has been replaced

An existing circuit in a special location such as a shower or bathroom has been altered or added to

You should receive two certificates

An Electrical Installation Certificate or, where applicable, a Minor Electrical Installation Works Certificate that confirms the work meets BS 7671.

A Building Regulations Compliance Certificate to confirm the work meets the Building Regulations.
The Electrical Installation Certificate is a safety Certificate that is issued by a qualified electrician as confirmation that the electrical installation work which has been completed complies with the BS 7671 (IEE Wiring Regulations).
An Electrical Installation Certificate is legally required on any type of building where electrical installations have been fitted.
What should I do if I don't have a completion certificate?
If you wish to sell your house but do not have the necessary documentation to prove that work has been carried out following Building Regulations, there is a solution. During the conveyancing process, your solicitor should identify the problem and propose an indemnity insurance policy.
The right indemnity insurance policy will cover any costs incurred if the local authority forced you to revert the electrical works to the previous state. The extent of cover can vary, but the policy should also cover any subsequent diminution of value in the property.
Many conveyancing solicitors routinely ask for indemnity insurance policies on behalf of the purchaser, so it is wise to look into whether you need one or not, before putting your house on the market.
6. Electrical Installation Condition Report
Electrical Installation Condition Reports (EICR) are not the same as an Electrical Installation Certificate. The Certificate is issued when a new piece of work has been completed. Whereas an Electrical Installation Condition Report is similar to an MOT, it is a report about the condition of the existing electrical installations.
Homeowners do not have to have an EICR, however, landlords have to an Electrical Installation Condition Report produced by a person who is qualified and competent at least every five years. Landlords have to provide a copy of the electrical safety report to the tenants.
7. FENSA Certificate
FENSA stands for the 'Fenestration Self-Assessment Scheme and is a form of regulation for companies providing double glazing services to residential properties. A FENSA certificate provides proof that your windows and door installations comply with building regulations, use energy-efficient products and are registered with the local council.
FENSA covers the replacement of external windows, doors, roof windows and roof lights fitted from 1 April 2002. If you do not have a FENSA certificate you can either apply to your local authority for a
Retrospective Building Regulation Compliance Certificate, or if the work was completed more than one year ago you can take out double glazing building regulations indemnity insurance.
CERTASS and ASSURE Certificates
CERTASS and ASSURE are also UK bodies accredited by the Ministry of Housing, Communities and Local Government which provide certificates relating to the installation of replacement windows and double glazing.
8. Property Information Form (TA6)
The Property information form TA6 is for the seller of the property to provide detailed information about the property to the buyer such as information about the boundaries, alterations made to the property and rights of way
9. Leasehold Information Form (TA7)
If the property is a leasehold property you will need to complete a TA7 which provides the key terms and details of the lease such as the length of the lease, the ground rent charged and maintenance and service charges
10. New home information form (TA8)
This is a form you require from the developer as part of the purchase process for buying a new home. It covers a range of areas from which services such as gas, electricity and mains water are connected to the property and details of guarantees provided with the property
11. Commonhold Information Form (TA9)
If your property is structured as a Commonhold you will need to complete this form, which sets out the key details of the commonhold, to sell your property.
12. Fittings & Contents Form (TA10)
The TA10 Fixtures and Fittings form is a detailed form which outlines which fixtures and fittings such as curtains, kitchen appliances are included in the sale of the property and which are not.
13. Estate Agent Property Particulars
It is always good to keep a copy of the estate agency particulars from when you purchased your home to remind yourself how the property was marketed when you purchased it.
14. Don't forget to complete your Twindig
You can use your twindig as the ultimate sales particulars you can add your own photos and you have space for a much fuller description of your home that can fit on a page of a property portal or the estate agents particulars. Explain to potential buyers what you love most about your home, tell them where the best schools, cafes and restaurants are. Use your twindig to help them see themselves living in your lovely home.
Don't have your Twindig yet?
Twindig offers every household a free property logbook (or Twindig as we call - a digital twin of your home) Your twindig is there to help you manage your home.
You can register for your twindig here
What is Twindig?
Whilst property portals are there to transact, we are here to help. By putting everything you need to manage your home at your fingertips, be it floor plans, appliance manuals, the type of bulb in your bedside lamp, trades people or advisors.
We take the strain and pain out of admin, storing documents so important things they won't get lost, setting reminders so important things won't get forgot, providing tools and guides so that you can maximise the value of your home and linking you to experts as required
If you are looking to buy, we have details of all 28 million homes across the country, not just the 1 million the portal have that are currently for sale or rent. If your dream home is not for sale you can follow it on Twindig to be kept up to date of its sale status and value.
If you are looking to sell, we help you get sale ready so that you can transact quickly and not miss out when you find your dream home. Some have said that we are to homeowners what LinkedIn is to people, a chance to showcase your home and its credentials to make it stand out in the crowd to provide more information about your home so that more homebuyers will be want to buy it