Twindig Housing Market Index (HMI) - 19 February 22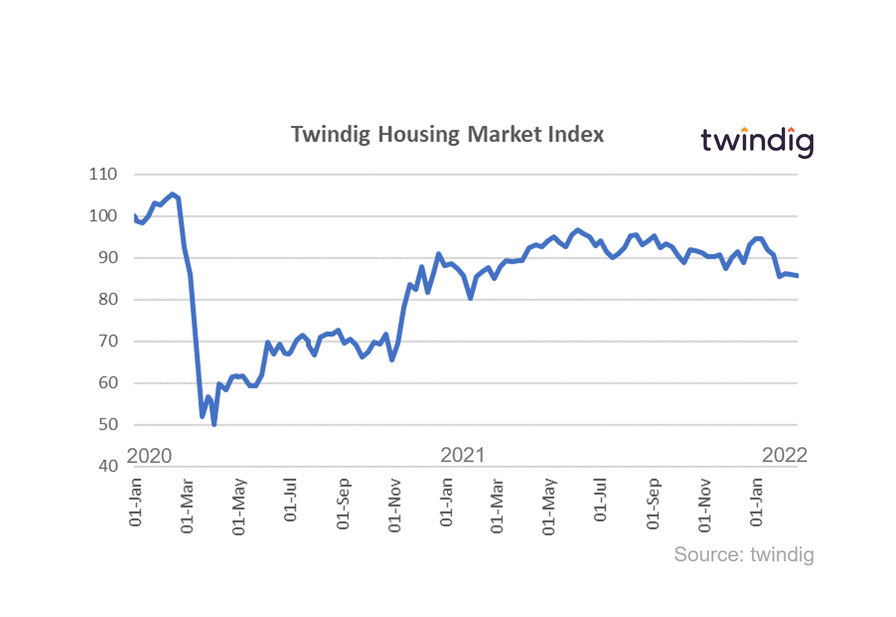 In the week where the Land Registry reported rising house prices, the Twindig Housing Market Index nudged down for a third week in a row falling by 0.8% to 85.8.
The prospect of additional cladding taxes on the large housebuilders coupled with the prospect of further Bank Rate rises saw investor confidence dip with respect to housebuilders and mortgage lenders. Cost of living increases remains a theme being pondered and investors were slightly subdued as they headed off for the half term and filled their cars with incredibly expensive fuel.
The Help to Buy statistics released on Thursday were a mixed bag, the rule changes are having an impact. The average price of homes purchased through the scheme is falling as the regional price caps bite, and first-time buyers no longer have to compete against existing homeowners when trying to get a foothold on the Help to Buy housing ladder. However, the number of first-time buyers actually fell, suggesting that the rule changes may not actually have helped to turn generation rent into generation buy.
The ONS reported that rents continue to rise, causing further misery for aspiring homeowners. Less than three weeks after the launch of the levelling up white paper, it appears that the Government will need more than rhetoric to achieve its goals for its efforts to 'quickly turn Generation Rent into Generation Buy'
We have some thoughts on how they might achieve these goals and you can read about them here, we'd love to know what you think of our proposals.
Subscribe to Market Views