Twindig Housing Market Index 18 Mar 23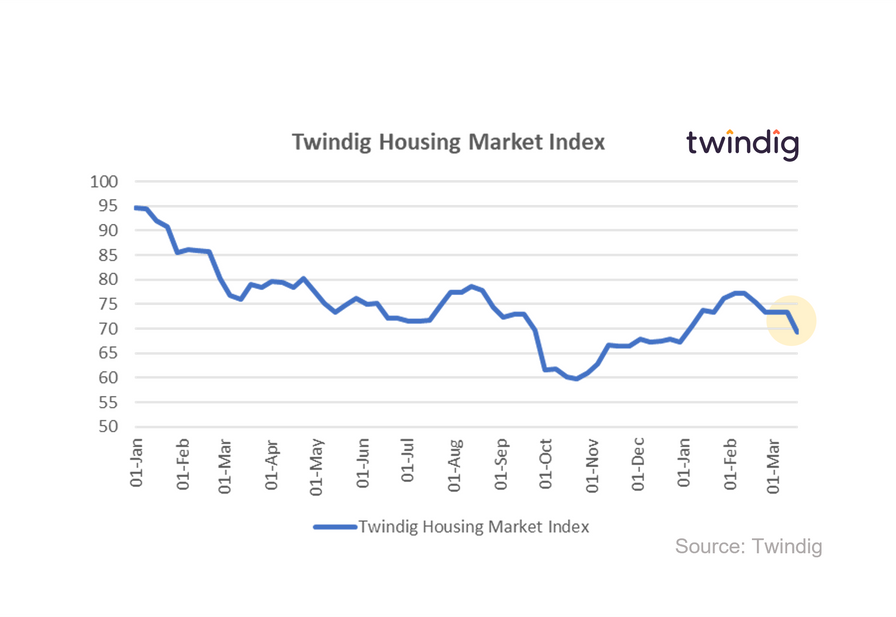 In the week that saw Silicon Valley Bank crash, a budget rather silent on housing, the Bank of Mum and Dad lend £8.8bn and The Halifax report that homeownership costs are lower than rents, the Twindig Housing Market Confidence Index fell by 5.3% to 69.4.
Banking fears
Although Silicon Valley Bank is a specialist lender to specialist companies attracting specialist investors, its demise has shaken residential investors in the UK. In our view, this is a classic market overreaction, but concerns about the impact on mainstream banks and mortgage lenders led to investor confidence in the UK housing market to fall by 5% this week
Savills solid
This week Savills posted a robust set of financial results for 2022 this week, whilst the profits were down on the unusually buoyant 2021, they were ahead of the expectations of the market. Savills plays at the higher end of the UK residential property market and although the number of homes it sold was down 17% in the year from 7,412 to 6,124, revenue only fell by 5% because the average price of the homes sold increased from £1.48m to £1.68m in 2022 - nice work if you can get it.
Not surprisingly, Savills outlook statement is rather cautious, mindful of the challenging high inflation and rising path of interest rates, suggesting that at this stage predictions for the year are "characterised by a wide range of possible outcomes".
Purplebricks volatile
Since announcing the launch of its strategic review, Purplebricks share price graph looks might be confused with the landscape of the alps, such are its spiky ups and downs. Speculation of a potential buyer earlier this week saw the share price soar, but it has since fallen again. The price of Purplebricks share is certainly more volatile than the price of houses at the moment.
Boring budget
Our budget headline might be a little harsh, but reflects the fact that housing did not play a major part in Jeremy Hunt's first Spring Budget. Changes to pension pot limits may see an increased flow of money into pensions and away from property from the most wealthy, but more generous childcare provisions may ease affordability issues (a little) allowing some to save more for a deposit and others the opportunity to buy.
Bank of Mum and Dad still big
Savills latest research on the Bank of Mum and Dad confirmed what we already knew. THe Bank of Num and Dad is big business and creates a real divide in the first-time buyer housing market.
Subscribe to Market Views