Twindig Housing Market Index (HMI) - 6 November 21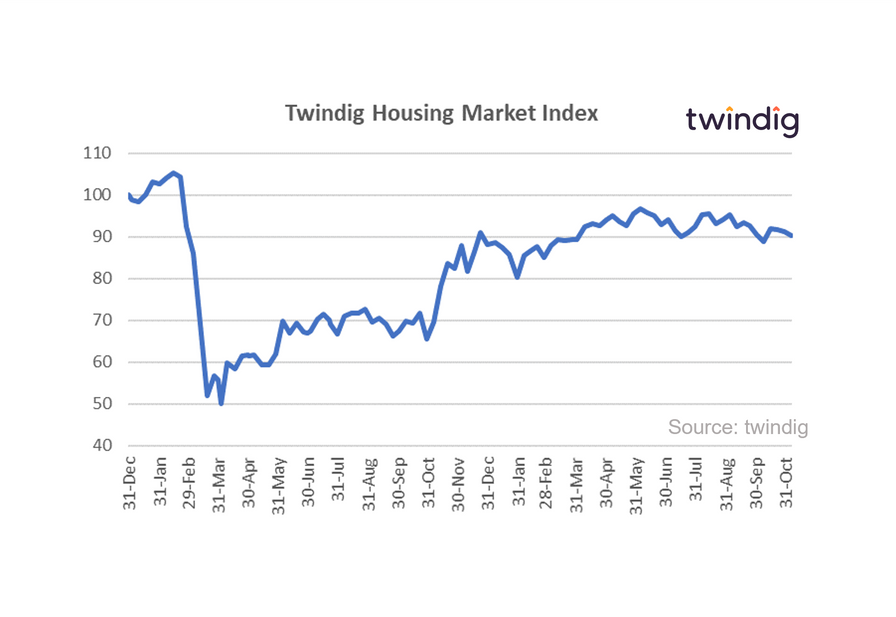 The Twindig Housing Market Index fell by 1.2% to 90.2 this week as both the Nationwide and the Halifax reported that house prices reached record highs in October and the Bank of England held Bank Rate at 0.1% for at least another month. Fear of rising mortgage rates was on the minds of some investors and they had concerns that the combination of the end of the Stamp Duty holiday, rising living costs and rising mortgage rates could lead to the softening of the housing market and house prices retracing their recent steps.
We continue to believe that whilst housing transactions may fall in the short term as the impact of the stamp duty holiday unwinds, house prices will not as demand will continue to outstrip supply, in our view.
Investor confidence was shaken in Purplebricks (the challenger estate agent) but hardly stirred in those operating the traditional, success fee-based estate agents. A trading update issued by Purplebricks on Thursday reported that a challenging last six months has led them to significantly reduce their financial guidance to investors (code for a profit warning). The price of the shares fell by 37% on the day. Investors took fright that Purplebricks could have performed so poorly when all those around them have performed so well, causing some to ask whether Purplebrick's business model being challenged by changes in the wider housing market or is it just challenged? You can read our full report Can you polish a brick here.
Both the Nationwide and Halifax reported record high UK house prices in October 2021, suggesting that there is life in the housing market after the end of the Stamp Duty Holiday. Stock shortages and the continued race for space appear to be the drivers for continued house price growth, which, for now, are overpowering any concerns about the future direction of the UK economy. House price growth is not good news for everyone, and as the Halifax pointed out that annual house price inflation for first-time buyers is running at almost 10% it highlights the increasingly important role of the Bank of Mum and Dad as the gap between wages and house prices continues to increase.
Subscribe to Market Views