Twindig Housing Market Index (HMI) - 4 September 21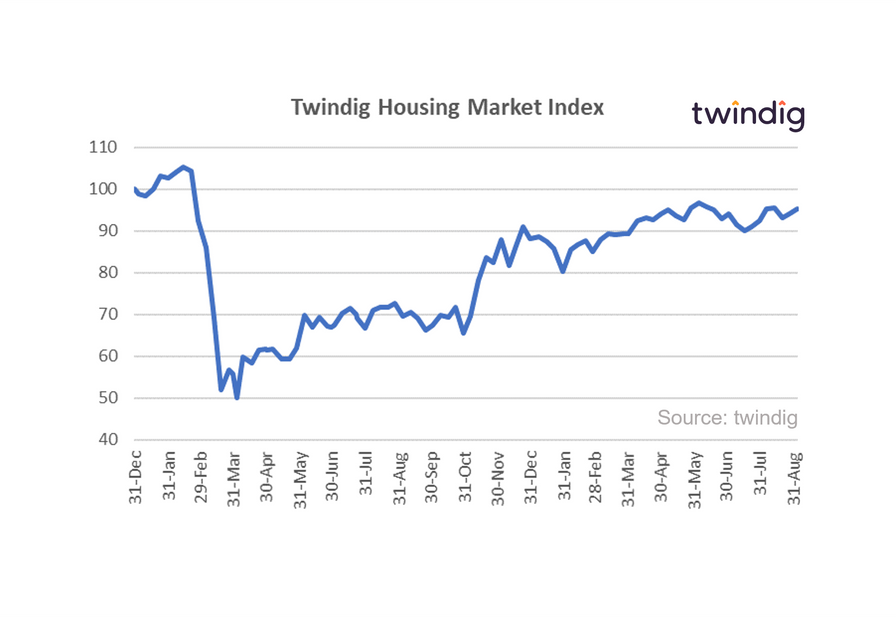 The Twindig Housing Market Index increased by 1.3% to 95.3 this week as house prices continued to rise in August and Barratt Developments delivered results that show there is plenty of life left in the housing market as the Stamp Duty Holiday rachets down.
The rise in house prices following the first taper of the stamp duty holiday was a surprise to us as we thought the reduction in stamp duty benefit would have dampened down rather than woken up house prices. We suspect that even the reduced rate of stamp duty holiday is enough to drive activity, but the accuracy of our hypothesis will not be seen until we receive the house price data for October 2021.
If house prices continue to rise in October and beyond we would suggest that the structural shifts caused by the wide adoption of working from home is underpinning demand (coupled with a shortage of available homes for sale).
Mortgage approvals, however, fell by 6.4% following the first reduction in the stamp duty holiday, but remain 16% above their 10-year average. The Stamp Duty holiday still has one month to run, so we expect another spike in activity in September.
One emerging pattern that is clear is that the stamp duty holiday benefitted the rich cash buyers more than those buying with a mortgage. The housing market saw an influx of cash buyers in both March and June coinciding with the original and extended deadlines for the up to £500,000 Stamp Duty Holiday. Those buying with a mortgage were not as fleet of foot as those buying without.
Subscribe to Market Views