Twindig Housing Market Index (HMI) - 1 January 22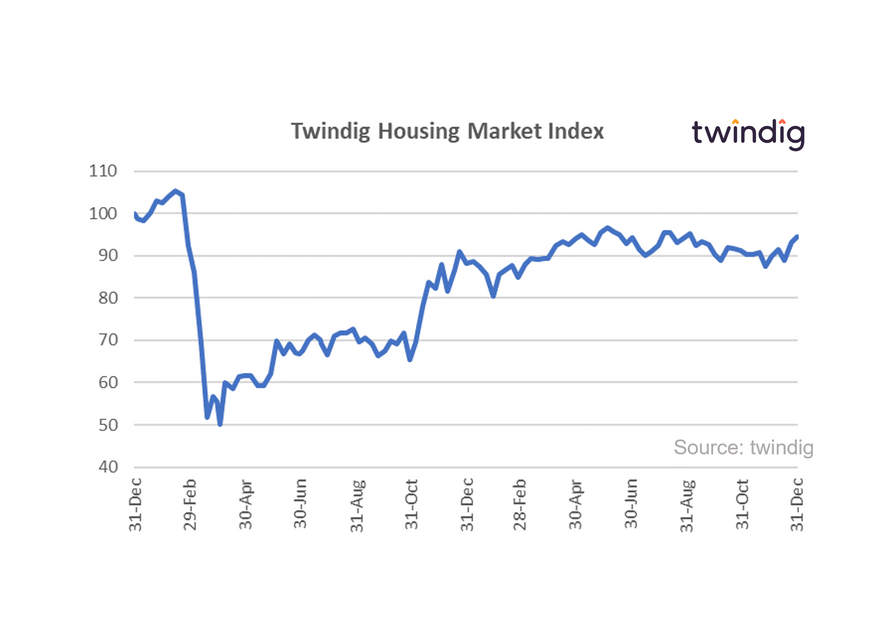 The Twindig Housing Market Index increased by 4.6% in the last week of 2021 to start 2022 at 94.6, its highest level since 14 August 2021.

Housing market investors were in high spirits as we closed out 2021, as house prices hit record highs of £254,822 in December according to the Nationwide and housing transactions bounced backed strongly in November.

The last two years have been challenging for many people and most parts of the UK economy, few predicted the resilience of the housing market in the face of a global pandemic and fewer still thought we would be ending 2021 on a housing market high.

At 94.6, the Twindig Housing Market Index is only 10% below its pre-pandemic high of 105.3 recorded on 14 February 2020 and momentum is with the UK housing market as we start the new year. If the early indications of the severity of the Omicron variant hold, 2022 could be a year without lockdowns and if the economy remains open in January we could set the scene for a robust spring selling season. Yes, mortgage rates are likely to rise this year, but they are currently at historic lows and we do not believe that rising mortgage rates will impact transactions levels in 2022 which we expect to come in between 1.0 to 1.1 million.

If the current momentum is maintained we could see the Twindig Housing Market Index reach a new high in 2022.
You can read Twindig's full housing market predictions for 2022 here.
Subscribe to Market Views