Mortgage rates: we have lift off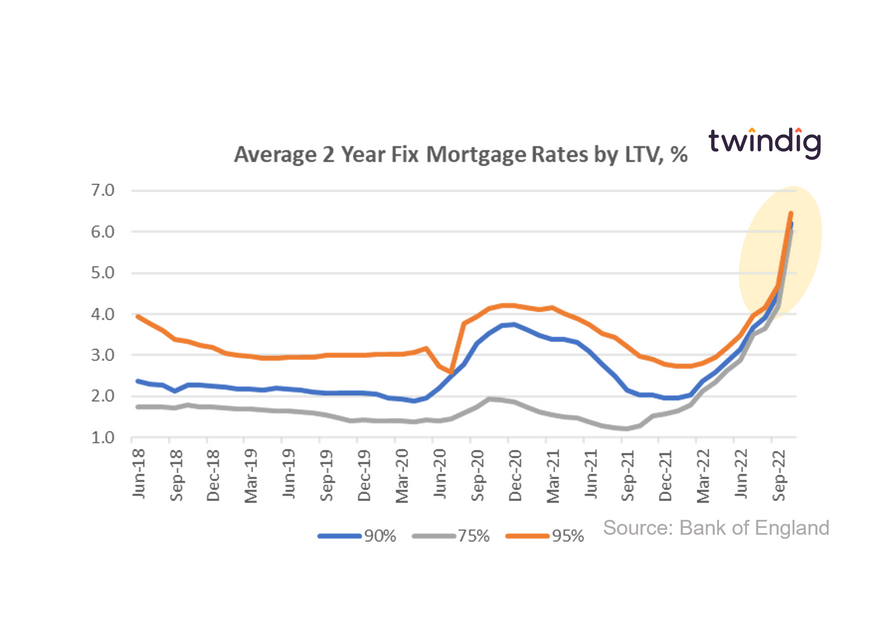 The Bank of England released average mortgage rates by Loan to Value (LTV) today

What they said
Average mortgage rate for 75% LTV 2-year fixed rates mortgages 6.01%
Average mortgage rate for 90% LTV 2-year fixed rates mortgages 6.21%
Average mortgage rate for 95% LTV 2-year fixed rates mortgages 6.44%
Twindig take
It is difficult to explain the scale of the jump in average mortgage rates in October apart from 'we have lift off', or that with each of the three main mortgage rates now starting with a '6' mortgage rates have now become 'beastly'.
In October the average mortgage rate for a 2-year 75% LTV fixed-rate mortgage increased by a staggering 44% from 4.17% to 6.01%. If we look back just one year, it seems almost unbelievable that the average mortgage rate for the same mortgage was just 1.29% a leap of more than 4.5x.
Not surprisingly, mortgage rates also increased for 90% LTV and 95% LTV 2-year fixed-rate mortgages, up 39% and 38% respectively in the month to 6.21% and 6.44%. Just one year ago the same mortgage products were on offer for an average rate of 2.04% and 2.98% respectively.
The most surprising feature of the latest mortgage rate data is just how close the mortgage rates have become. The big leap in 75% LTV mortgage rates suggests that lenders are thinking more about house price falls than house price rises.
A silver lining?
If we squint, there might be a slither of a silver lining, Rishi Sunak had only been Prime Minister for a week when the latest mortgage rate data was collected, and so far the financial markets are giving him the benefit of the doubt. Mortgage rates have ticked down over the last few days and the financial markets like what they hear in the Autumn Statement the trajectory of mortgage rates, like house prices, might soften. However, although the rate of increase in mortgage rates may slow, we still expect average mortgage rates to rise in the coming months.
More rate rises to come
Even though most of the measures of the mini-budget have been reversed we still expect mortgage rates to continue to rise until at least the third quarter of 2023. The Bank of England increased Bank Rate from 2.25% to 3.00% on 3 November, the biggest rise for 33 years, and we expect that Bank Rate will peak during Q3 2023 at around 5.25%. The next interest rate decision will be announced at 12 noon on 15 December 2022 and we doubt that it will bring much Christmas cheer.
To see how much your mortgage payments might change you can use our mortgage calculator

How to lower your mortgage payments
Understandably, increasing numbers of homeowners are worried about how they will be able to afford their mortgages as interest rates rise. To find out how to lower your mortgage payments you can read our article below:
Subscribe to Market Views