Are mortgage rates about to fall?
The Bank of England released average mortgage rates by Loan to Value (LTV) today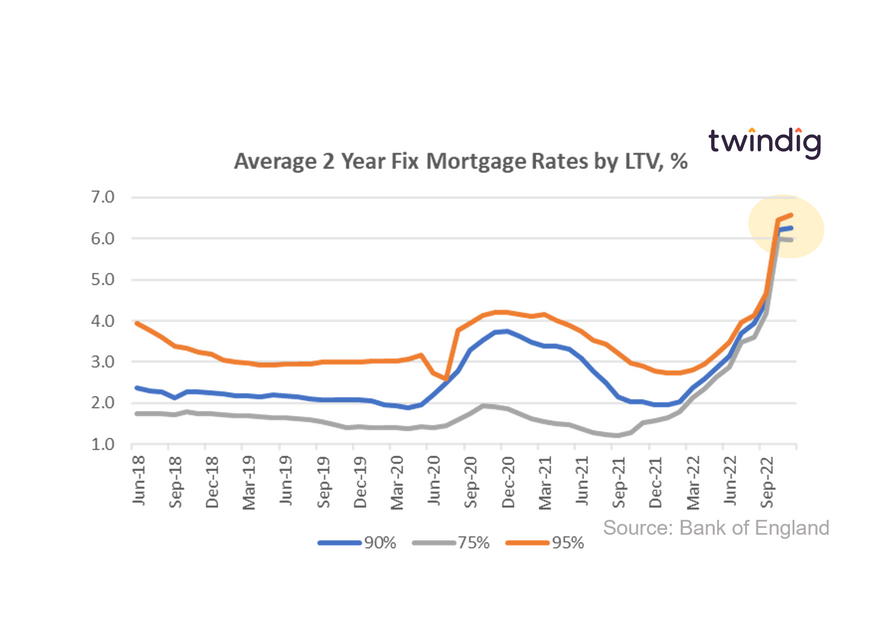 What they said
Average mortgage rate for 75% LTV 2-year fixed rates mortgages 5.97% (down 3bp)
Average mortgage rate for 90% LTV 2-year fixed rates mortgages 6.25% (up 3bp)
Average mortgage rate for 95% LTV 2-year fixed rates mortgages 6.57% (up 12bp)
Twindig take
Good news for homebuyers the average rate for 75% 2-year fixed-rate mortgages fell (slightly) in November by 3 basis points from 6.00% to 5.97%.
At other key 'loan-to-value' (LTV) points, whilst mortgage rates still ticked up, the rate of increase slowed dramatically. During October 2022 the average mortgage rate for 2-year fixed rate mortgages at 90% LTV and 95% LTV increased by 40%, but in November it was just 0.5% and 1.9% respectively.
As house prices fall and mortgage rate growth slows could 2023 become a homebuyer's, rather than a home-seller's market?
Be careful what you wish for
Whether falling mortgage rates and falling house prices are a good or a bad thing depends on whether you are a buyer, seller or a homeowner. Falling house prices are good news for buyers, but less welcomed by home sellers and homeowners. At first glance falling mortgage rates are good for everyone, but be careful what you wish for. Lower mortgage rates reduce monthly payments, but they also increase the amount you can borrow, which may lead to further increases (or smaller reductions) in house prices.
In our view, the change in the trajectory of mortgage rates reflects the undoing of the mini-budget and the stabilising impact of November's Autumn Statement. However, we are not out of the mortgage rate woods yet.
More rate rises to come
Even though most of the measures of the mini-budget have been reversed we still expect mortgage rates to continue to rise until at least the third quarter of 2023. The Bank of England increased Bank Rate from 2.25% to 3.00% on 3 November, the biggest rise for 33 years, and we expect that Bank Rate will peak during Q3 2023 at around 5.25%. Bank Rate impacts all other interest rates and therefore a rising Bank Rate will both, directly and indirectly, put upward pressure on mortgage rates, especially those that are linked to Bank Rate.
The next interest rate decision will be announced at 12 noon on 15 December 2022 and we doubt that it will bring much Christmas cheer.
To see how much your mortgage payments might change you can use our mortgage calculator

How to lower your mortgage payments
Understandably, increasing numbers of homeowners are worried about how they will be able to afford their mortgages as interest rates rise. To find out how to lower your mortgage payments you can read our article below:
Subscribe to Market Views