Mortgage approvals leap in February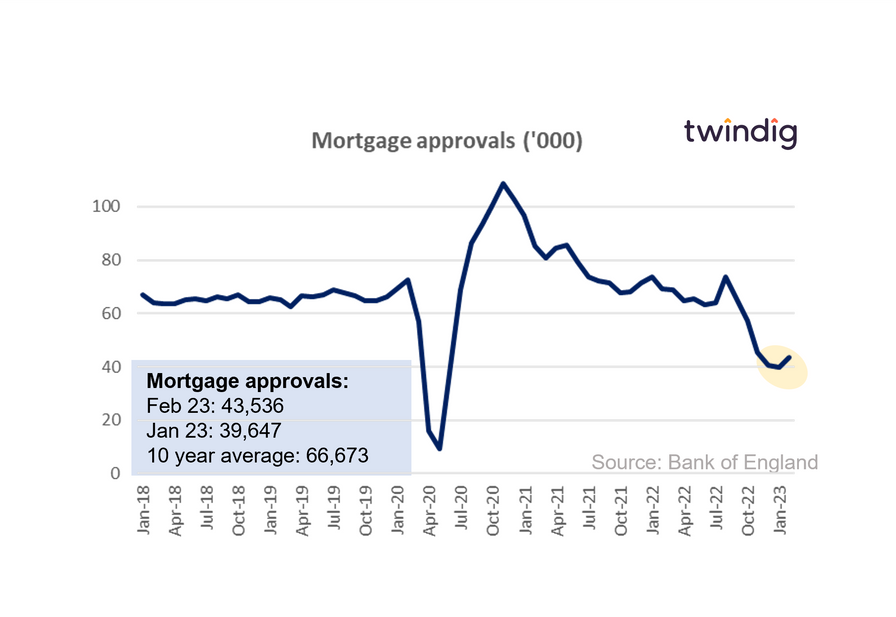 The Bank of England released mortgage approval data for February this morning
What the Bank of England said
Mortgage approvals for February 2023 were 43,536
This was 9.8% higher than the 39,647 mortgages approved in January 2023
This was 37.0% lower than the 69,135 mortgages approved in February 2022
Twindig take
It seems that mortgage approvals have started to improve. Following five months of declines following the mini-budget, mortgage approvals increased by 9.8% in February. We hope that this means that the worst is now behind us and that the mortgage market has once again found its mojo as lenders and homebuyers adjust to a higher mortgage rate environment.
Mortgage approvals do however remain 34% below their ten-year average, but the increase in February suggests to us that the trough is behind us.
Housebuilder Bellway reported this week that homebuyer demand had increased during 2023 and hinted that normal seasonal home buying patterns were emerging. We might see a spring selling season this year if the current trajectory is maintained.
We will have to wait and see if the fall out from the collapse of Silicon Valley Bank has impacted the UK mortgage market, but our initial view is that it hasn't had a material impact and we expect to see mortgage approvals rise again in March.
Subscribe to Market Views