Housing transactions more robust than Truss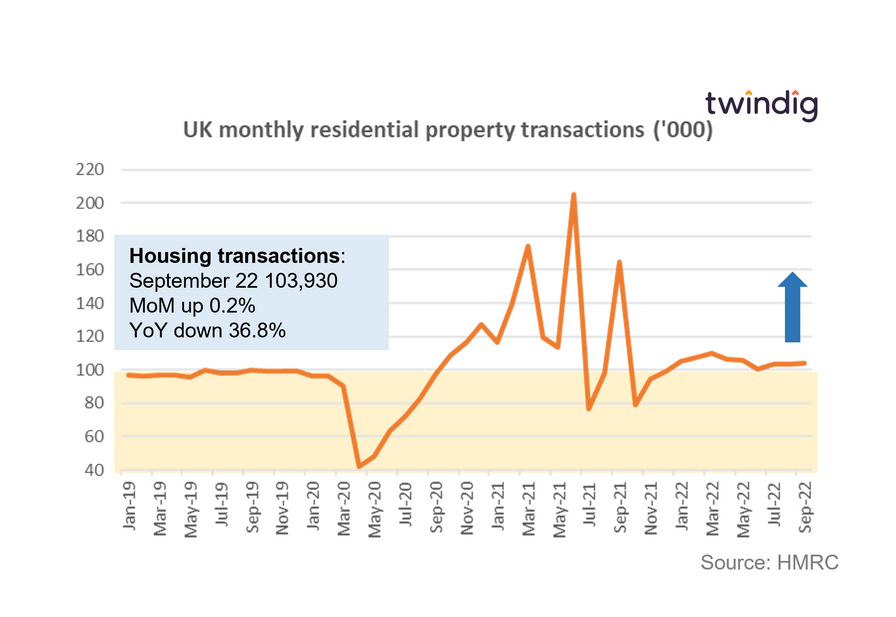 HMRC released provisional housing transaction data for September 2022 today
What they said
Housing transactions in September 2022 were 103,930
This is 0.2% higher than in August 2022
This is 36.8% lower than in September 2021
Twindig take
It is fascinating that despite strengthening headwinds challenging the UK housing market we saw housing transactions hold firm in September, up slightly on the previous month. Yes, conditions have worsened since the housing transactions were initiated, but they were seen through to completion, the chain did not collapse, and the buyer and seller did not lose faith. Faith in the housing market seems to be much firmer than our faith in our politicians at the moment.
The big drop in housing transactions year on year down 36.8% is due to the rush of transactions in September 2021 looking to complete before the end of the stamp duty holiday.
Whilst many are talking the housing market down, it isn't listening and for now, its resolve is to be a fighter, not a quitter.
However, we do expect the housing market headwinds to get stronger, but that does not mean that housing transactions should fall off a cliff. Mortgage rates are rising and are likely to rise significantly in the coming months, for many the impact of rising mortgage rates will outweigh the impact of falling house prices.
You may well be better off completing today at a higher price than tomorrow with a lower price but a higher mortgage rate. You can read our full analysis here
If you are concerned about mortgage rates you can use our mortgage calculator to see the impact of rising rates on your mortgage payments.
Subscribe to Market Views