Housing transactions nudge up in November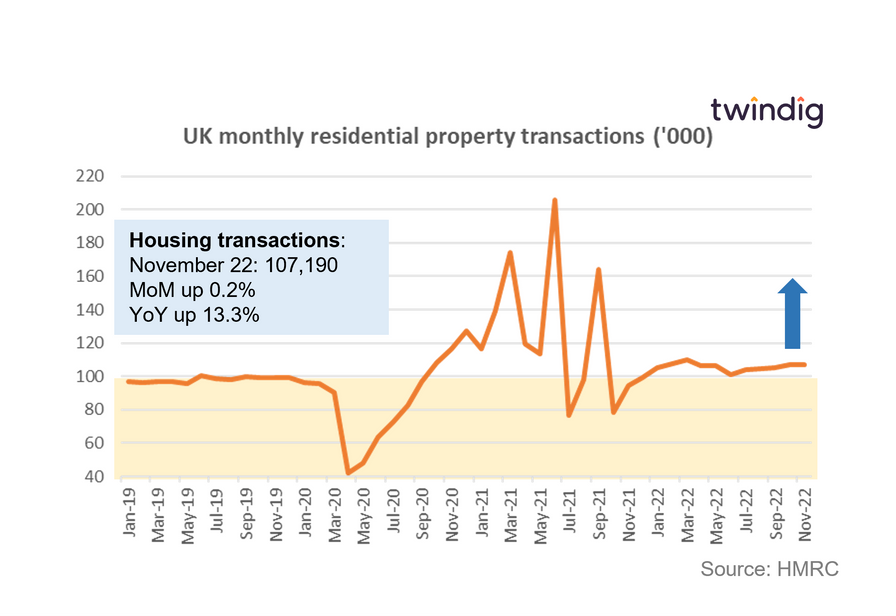 HMRC released provisional housing transaction data for November 2022 today
What they said
Housing transactions in November 2022 were 107,190
This is 0.2% higher than in October 2022
This is 13.3% higher than in November 2021
Twindig take
It was a surprise that housing transactions nudged up in November. Following the drama of the mini-budget, and the shock of rising mortgage rates we had expected the housing transactions to have fallen rather than risen in November.
That said, the overwhelming majority of those households completing their house purchase in November would have secured a mortgage before the mini-budget and were no doubt keen to get their move done to take advantage of the last of the ultra-low mortgage rates.
Time will tell if the current momentum can be maintained with housing transactions 9.2% ahead of their long-run average. We suspect not. In our view, housing transactions will take a hammering in 2023 perhaps falling by as much as 20%. However, if the new year brings in peace in Ukraine and falling inflation, the performance of the UK housing market may positively surprise us, again.
Mortgage calculator
If you are concerned about mortgage rates you can use our mortgage calculator to see the impact of rising rates on your mortgage payments.
Our latest article on mortgage rates
You can click on the link below to read our latest article on mortgage rates
Subscribe to Market Views