Houselungo 16 January 22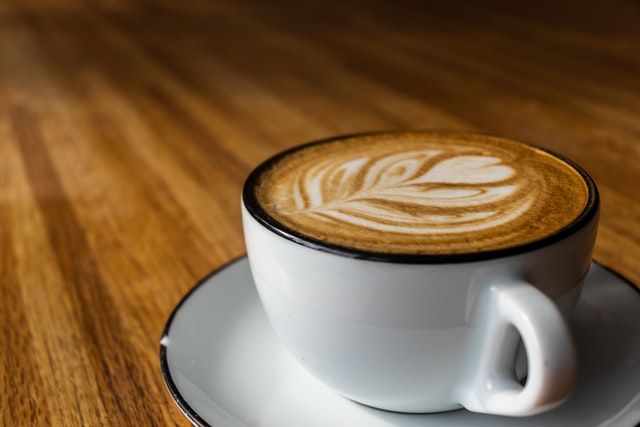 Housebuilders hit by cladding crisis u-turn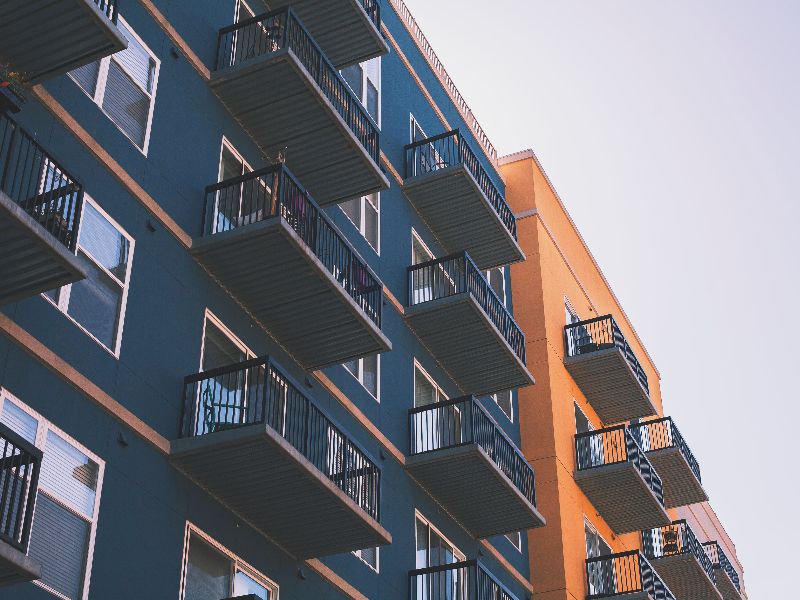 Michael Gove got tough on housebuilders this week and turned Government policy on its head taking aim at builders making big bucks and with big balance sheets to make buildings safe. The tough message on big builders certainly garnered support from leaseholders and the media and demolished housebuilders share prices in its wake. However, whilst it is right to take the penalty away from the leaseholders, is it right that builders should pay the bills for homes they did not build? Being tough may have done Mr Gove's leadership aspirations no harm, but his rhetoric may have also swung the cladding pendulum too far.

Cladding crisis u-turn
This week Michael Gove, the Secretary of State for the Department for Levelling Up, Housing and Communities (DLUHC) said that:
Leaseholders living in their own flats will not face any costs to fix dangerous cladding, with developers and cladding companies paying instead
The housing industry will be given two months to agree to a plan of action to fund remediation costs, currently estimated at £4 billion
There will be new measures to hold firms to account and restore common sense to the market.
Not a penny more, not a penny less
The DLUCH this week guaranteed that no leaseholder living in their own flat will have to pay a penny to fix unsafe cladding. This is great news for all those affected by the cladding crisis and seems to us the only right thing to do. Homeowners purchased their homes in good faith and should not be responsible for rectifying the shortcomings of others.
Cladding cliff edge
The DLUCH have given the housing industry two months to agree on financial contributions to a scheme to fund all of the necessary work, otherwise, if necessary, the Government will impose a solution in law.
Those at fault to foot the bill
The Government has said that those at fault will be held properly to account: and is setting up a new team is to pursue and expose companies at fault, making them fix the buildings they built and face commercial consequences if they refuse.
Higher LTV mortgage rates continue to fall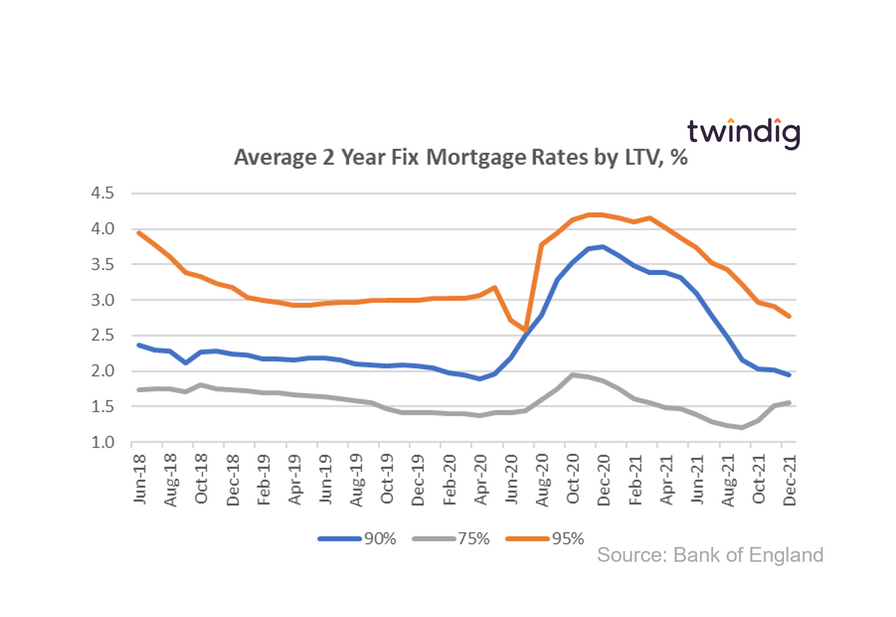 The Bank of England released data this week about mortgage rates by Loan To Values (LTVs)


What they said
Average mortgage rate for 75% LTV mortgages 1.56%
Average mortgage rate for 90% LTV mortgages 1.95%
Average mortgage rate for 95% LTV mortgages 2.77%


Twindig take
The average rate for a 75% LTV two-year fixed-rate mortgage has increased for the last three months in a row from its September 2021 lows of 1.20%. Despite the increase, the 75% LTV two year fixed rate is still 16.9% below the rate it was 12 months ago.
The average mortgage rates for the higher LTV mortgages continue to fall. The average two-year fixed rate for a 90% LTV mortgage fell below 2.0% in December 2021.
It is unusual for high LTV mortgage rates to fall as Bank Rate rises and we would not expect this situation to continue in the face of further Bank Rate rises. We would therefore encourage those households in the re-mortgaging window to seize the day and lock in the current attractive mortgage rates whilst they last.
Savills finishes 2021 at full pelt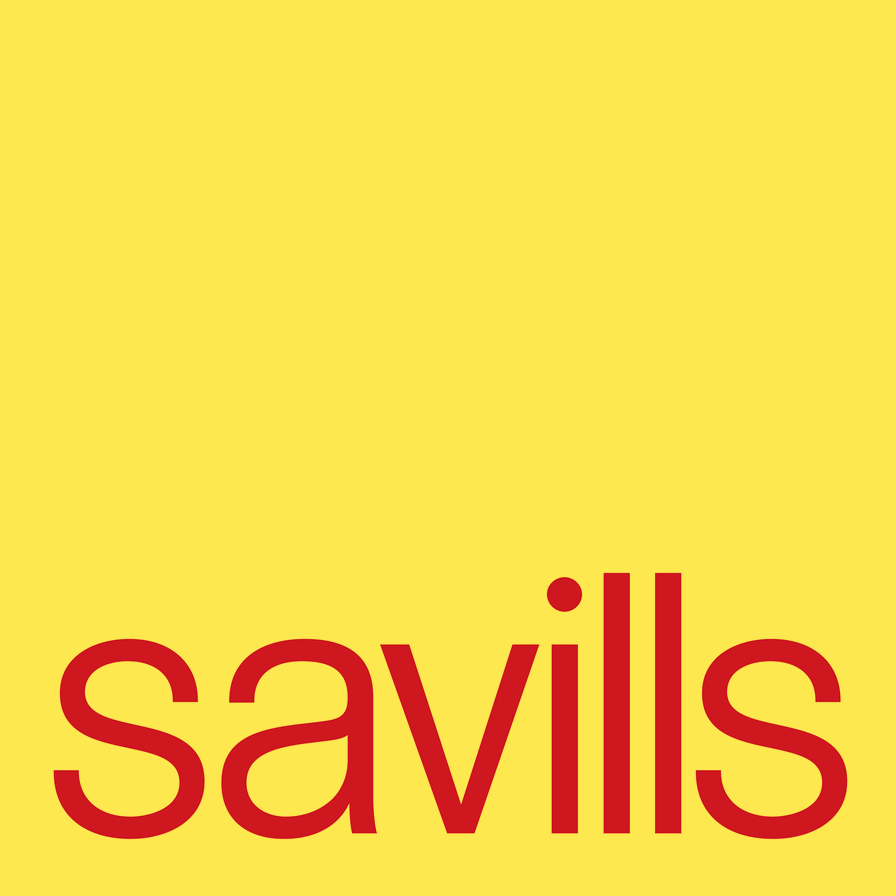 Savills described their 2021 full-year performance as 'very significantly ahead of expectations' having experienced a much stronger finish to 2021 than they expected at the time of their previous trading update on 9 November 2021. However, the Group is cautious in its outlook for 2022. The housing market made hay during lockdown, but the opening up of the economy and relaxing of travel restrictions this year is likely to lead to more normal patterns of activity in the UK housing market, therefore, this year hay may be taken out rather than put in Savills barns.
Bank of England Q4 2021 Credit Conditions Survey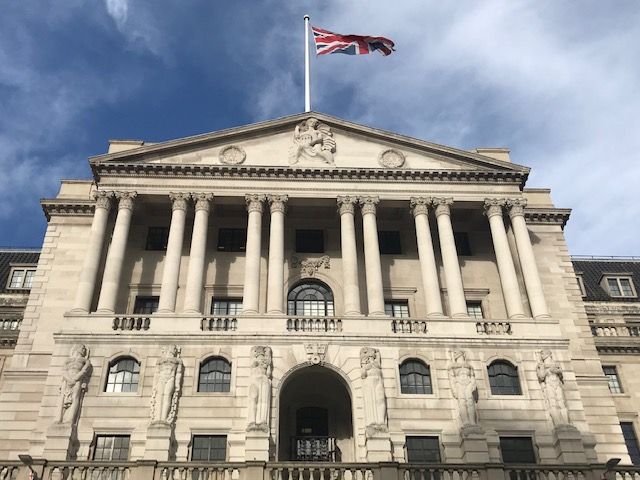 The Bank of England published its Q4 2021 Credit Conditions Survey on Thursday
What they said
The availability of secured credit to households (mortgages) increased in the three months to end-November 2021 and lenders expect the availability of secured credit to increase over the next three months to end-February 2022
Demand for secured lending for house purchase decreased in the last quarter, and is expected to decrease in the first quarter of 2022.
Remortgaging activity increased in Q4, and is expected to decrease slightly in Q1
Lenders reported that overall spreads on secured lending to households (mortgage prices) relative to Bank Rate or the appropriate swap rate – narrowed (fell) in Q4, and were expected to be unchanged in Q1
The net percentage balance for changes in default rates on mortgages decreased in Q4 and was expected to increase in Q1.
Twindig take
It is good news for homebuyers that mortgage lenders expect the supply of mortgages to increase in the coming three months. In our view, more supply means increased competition, which should help a lid on mortgage rates.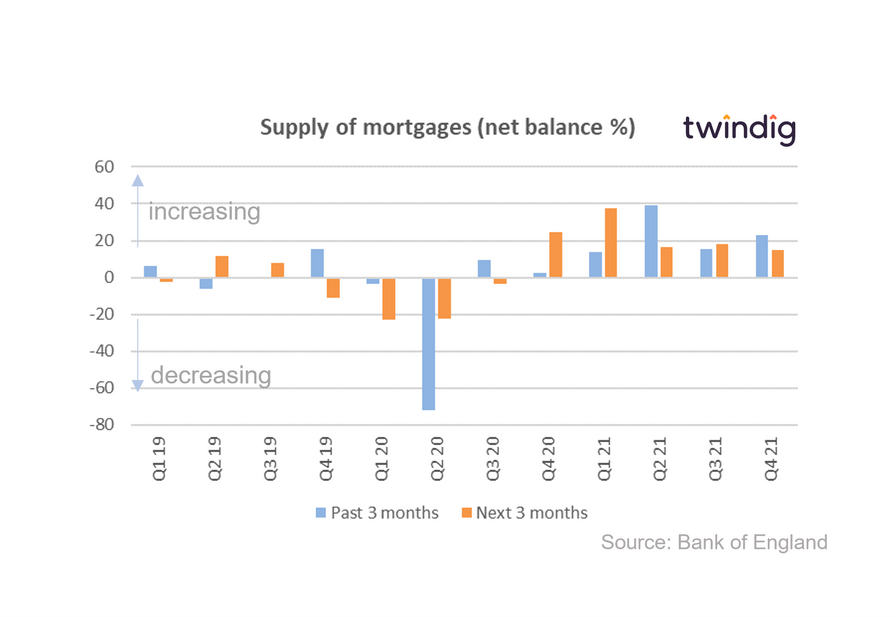 In fact mortgages costs (mortgage rates) did fall in the previous quarter and are expected to be unchanged in the coming three months, this is good news for borrowers, because although mortgage rates are expected to rise in line with changes in the underlying Bank Rate increased competition will keep them from getting too far ahead of it.
Twindig Housing Market Index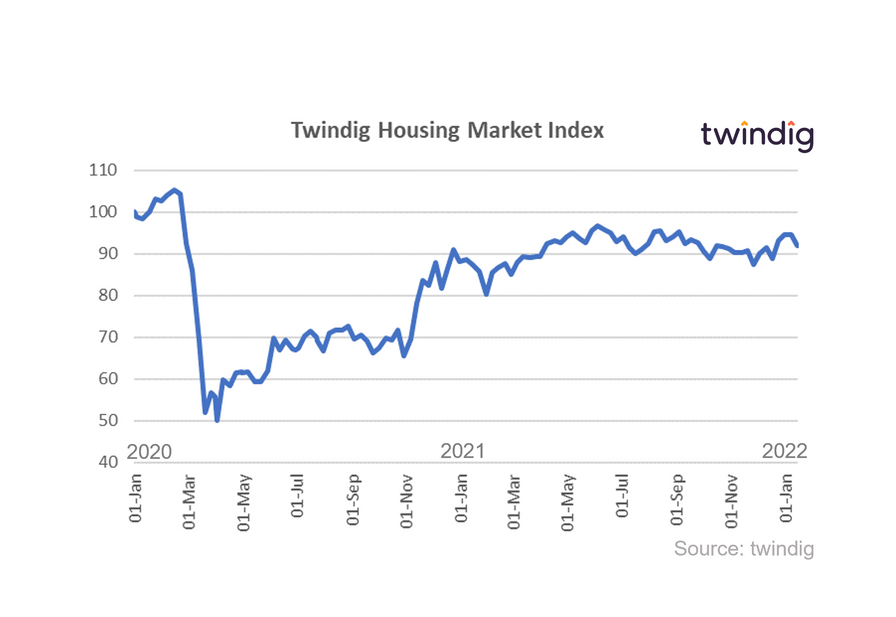 The Twindig Housing Market Index fell by 2.6% to 92.0 this week as concerns about the costs of the cladding crisis spooked investors. Investor confidence with respect to housebuilders was particularly hard hit as investors feared that housebuilder profits might be raided.
Housebuilder bashing aside, housebuilders had a good week as both Persimmon and Vistry reported that they had finished 2021 well and started 2022 even better. Both are building more homes, both are buying more land, both have improved their levels of customer satisfaction. Countryside Properties however had a tough week, announcing in an unscheduled trading update that it's results would not meet the market's expectations. The CEO took responsibility for the poor performance and resigned with immediate effect, it is good to see that some leaders know where the buck stops.

Subscribe to Market Views