Twindig Housing Market Index (HMI) - 15 January 22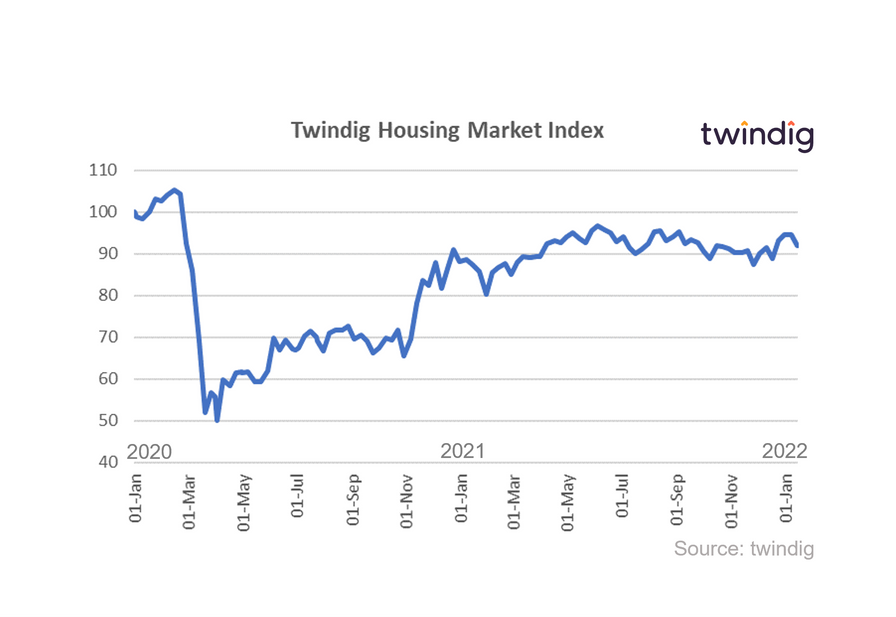 The Twindig Housing Market Index fell by 2.6% to 92.0 this week as concerns about the costs of the cladding crisis spooked investors. Investor confidence with respect to housebuilders was particularly hard hit as investors feared that housebuilder profits might be raided.
At the time of writing £2.7bn had been wiped off the value of the major UK housebuilders after Michael Gove announced he was going to come down like a barrel of bricks on the big builders making big bucks with big balance sheets. Whilst it is right that leaseholders should not foot the repair bills, and the rhetoric may have done Mr Gove's leadership ambitions no harm, in our view, it swung the cladding crisis pendulum too far in the opposite direction you can read our full article here: Housebuilders hit following cladding crisis u-turn
Housebuilder bashing aside, housebuilders had a good week as both Persimmon and Vistry reported that they had finished 2021 well and started 2022 even better. Both are building more homes, both are buying more land, both have improved their levels of customer satisfaction. Countryside Properties however had a tough week, announcing in an unscheduled trading update that it's results would not meet the market's expectations. The CEO took responsibility for the poor performance and resigned with immediate effect, it is good to see that some leaders know where the buck stops.
Meanwhile Savills the global estate agent topped the charts with its trading update revealing that its 2021 full-year results will be 'very significantly ahead of expectations', look forward to seeing some BYOB work meetings in Savills branches across the globe.
However, the Bank of England had a more sombre tone when it reported that although mortgage lenders expect mortgage supply to rise in the first quarter of 2022 and mortgage spreads to be broadly unchanged, their lenders expect to see demand for mortgages reduce in the coming quarter.
Subscribe to Market Views