Houselungo 13 February 22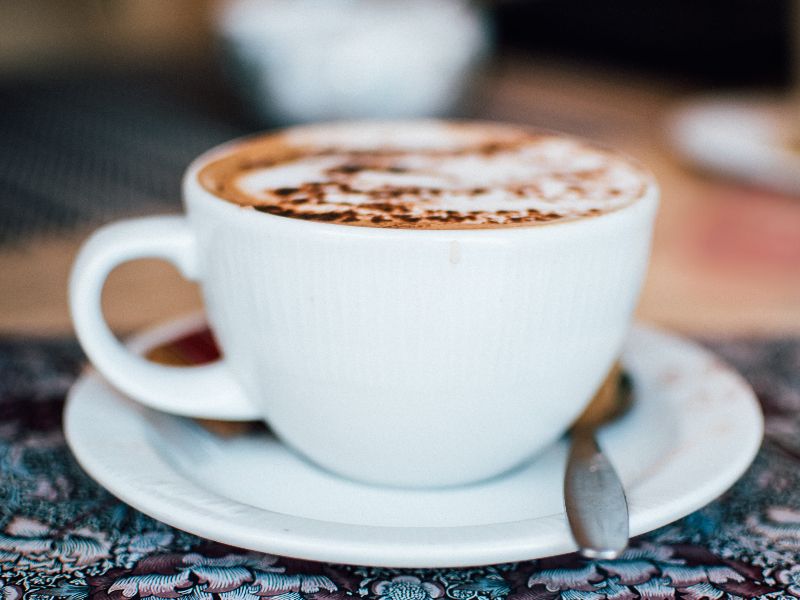 Level up with a logbook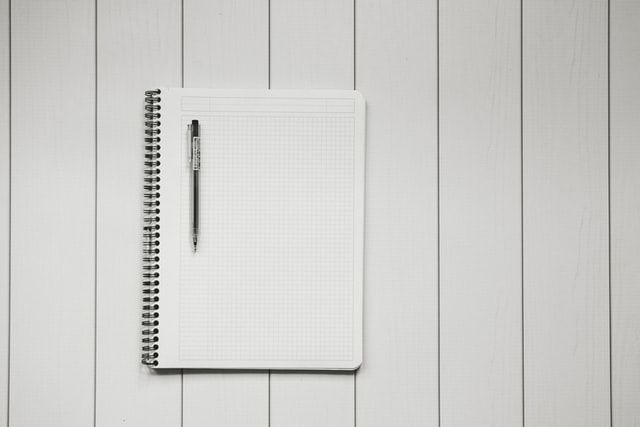 Last week the Department for Levelling Up, Housing and Communities released its Levelling Up White Paper, it made the case that upfront information was to be mandatory in the home buying and selling process. It said that the UK Government and the industry will work together to ensure the information buyers need to know – like tenure type, lease length and any service charges – are available digitally wherever possible from trusted and authenticated sources. The good news is that this critical information can be easily digitally provided with a twindig.
House prices nudge to new record high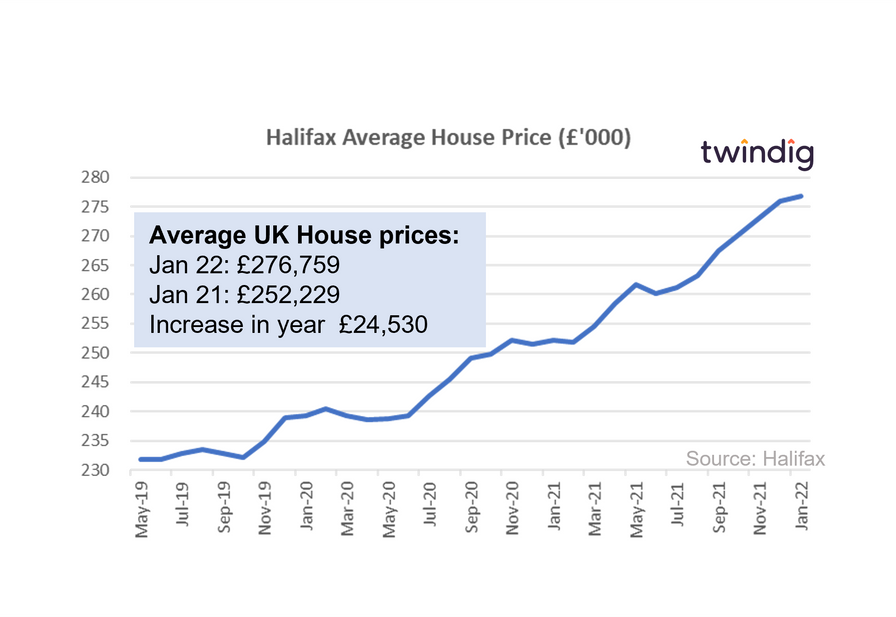 The Halifax released its house price index for January 2022 this week
What they said
Average UK house prices £276,759 a record high
Annual house price inflation 9.7%
Monthly increase slows to 0.3%
Twindig Take
House prices had a sluggish start to 2022 rising just 0.3% to £276,759 in January 2022 which came off the back of four consecutive rises above 1%. The Halifax believes it is likely that the rate of house price growth will slow considerably over the next year as the cost of living rises and mortgage rate hikes start to bite.
In our view, house prices are finely balanced. On the one hand, we agree that rising living costs and mortgage rates will temper house price growth, but on the other hand, supply shortages continue to underpin and put upward pressure on house prices.
Deposits will be key to the level of house price inflation this year. Those with a big deposit will be able to rise above the living and mortgage cost rises, those without will not and unfortunately, the deposit poor will also find it harder to save as living costs rise.
Housing Supply Stirring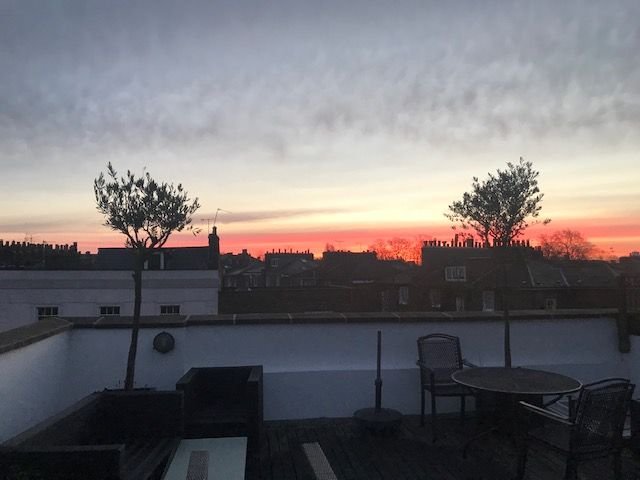 The Royal Institution of Chartered Surveyors published their latest UK Residential Market Survey this week
What they said
New buyer demand is rising
Sales steady in January but expected to rise in the coming months
Stock remains tight
Twindig Take
Although agents continue to report a shortage of homes to sell, it seems to us that supply is starting to stir. The balance of new instructions remained in negative territory, but at its least negative since April 2021 (the month following the initial stamp duty holiday deadline). The net balance for market appraisals came in at +3%, the first time it has been above zero since June 2021 (the month of the £500,000 stamp duty holiday deadline) and market appraisals invariably lead to instructions to sell.
Mortgage rates bottoming out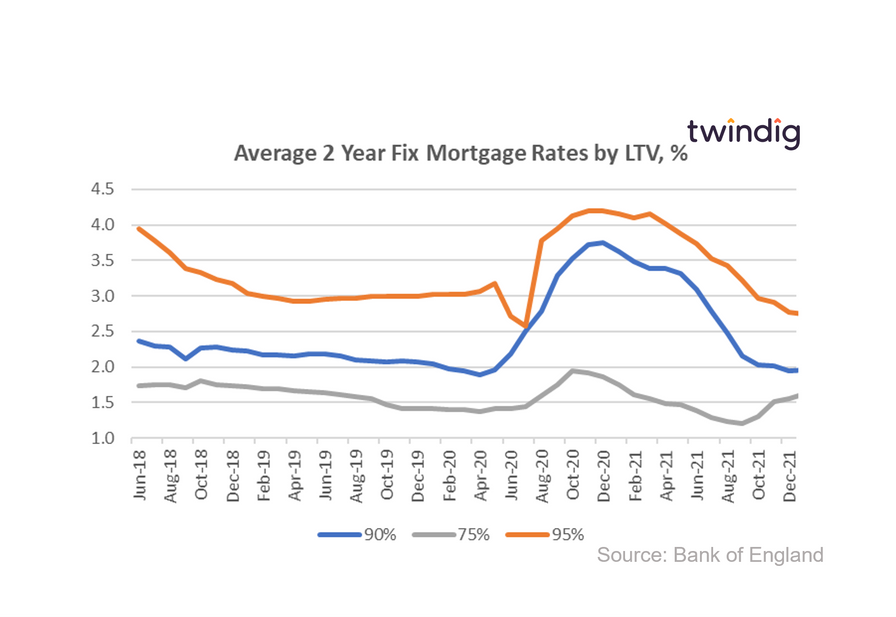 The Bank of England released average mortgage rates by Loan to Value (LTV) this week
What they said
Average mortgage rate for 75% LTV mortgages 1.62%
Average mortgage rate for 90% LTV mortgages 1.96%
Average mortgage rate for 95% LTV mortgages 2.75%
Twindig Take
It certainly seems to us that mortgage rates are bottoming out in the early stages of 2022. The average mortgage rate for a 75% LTV mortgage has now increased for the fourth month in a row, up from 1.20% in September to 1.62% in January 2022.
The average mortgage rate for a 90% LTV mortgage increased in January 2022 for the first time in over a year, the last increase was in December 2020. The rise itself was barely noticeable, a very small step from 1.95% to 1.96%, but this is likely, in our view, to mark the point of the turn.
Twindig Housing Market Index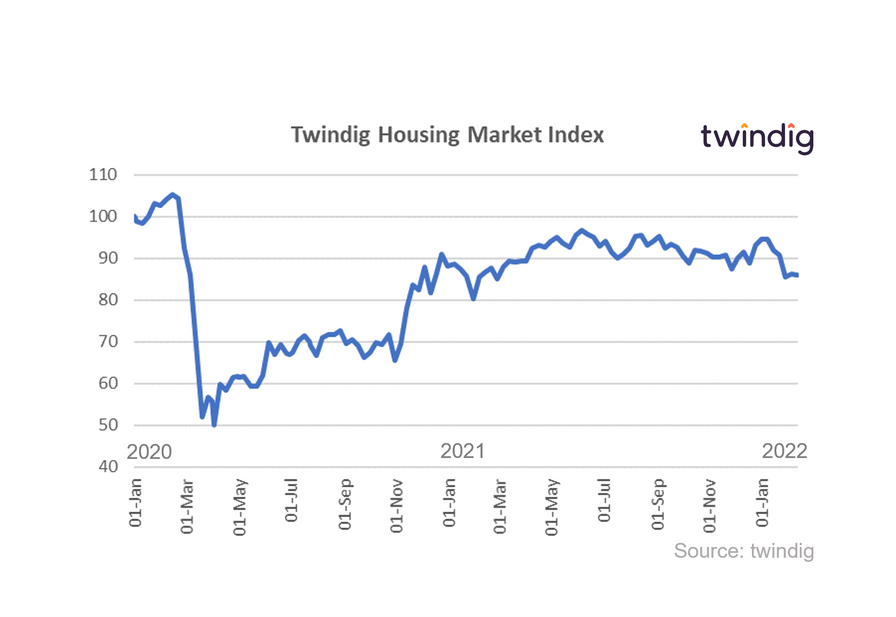 The Twindig Housing Market Index ummed and erred this week, and eventually ticked down by 0.2% to 86.0. Investor confidence appeared torn and conflicted between robust results and trading updates from housebuilders Barratt, Bellway and Redrow, further, albeit slowing, house price growth in January reported by the Halifax and continued to shortages of housing stock in the broader market. As a result, confidence in the housebuilders moved up by 3%, but fell by 2% for estate agents. Housebuilders have much more control over their supply of homes than estate agents. However, in our view, the stock shortages are on the turn and we are hopeful that 2022 will see a traditional spring selling season.
Subscribe to Market Views