What we learnt from housebuilders this week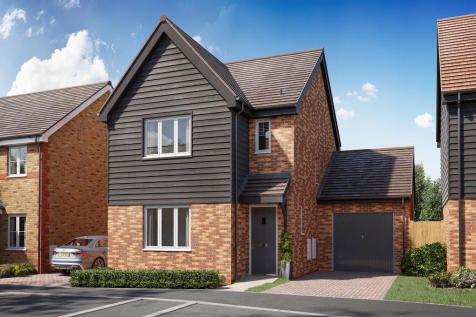 This week saw several housebuilders reporting trading updates for the period ended 31 December 2022 and providing an early look at UK housing market conditions so far in 2023
Here are the key themes:
A year of two halves
Sales rates and order books down
Mortgage market starting to return to normal
First-time buyers in short supply
Bye bye Help to Buy
A year of two halves
We can look at the housing market in 2022 as pre-mini-budget and after-mini-budget.

The mortgage market (and indeed the whole UK financial system) was spooked by the Kwarteng/Truss mini-budget. For a while, it looked like we might have a total collapse of the UK financial system as the £:US$ exchange rate hit a 40-year low.

The impact on the mortgage market was huge as illustrated in the graph below which shows the overnight swap rates - a proxy for offered mortgage rates.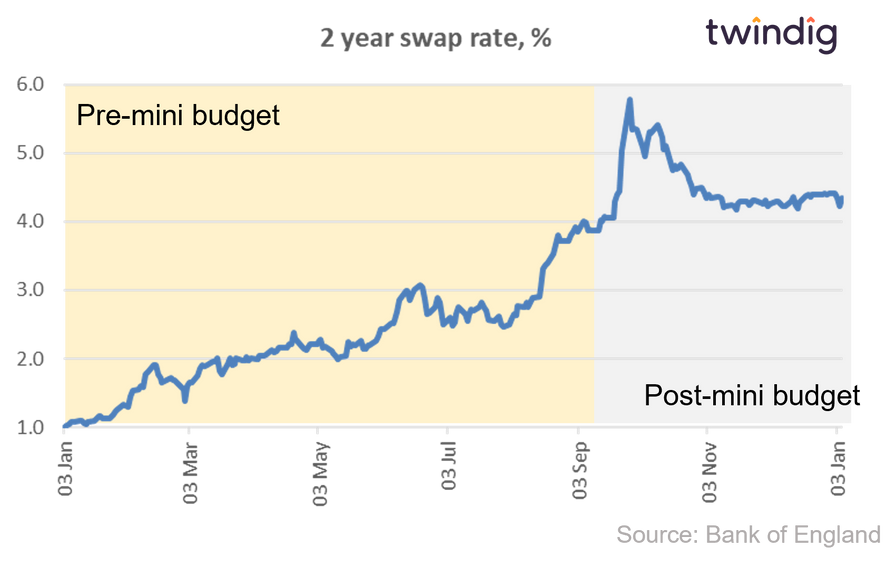 The concern was that the UK Government choose an economic policy which was completely at odds with the policy objectives of the Bank of England. Truss /Kwarteng wanted to grow our way out of inflation, whereas the Bank of England wanted to slow our way out of inflation.
Sales rates and order books down
Sales rates are a key performance metric for housebuilders, a measure of how many homes per site per week they are selling.
The mini-budget led to a hiatus in the mortgage market, as lenders did not know how high-interest rates would go they pulled hundreds (if not thousands) of mortgage products off the shelves and tightened their lending criteria which made it much harder for homebuyers to secure the mortgage they needed.
In the face of rising mortgage rates, many homebuyers put their home-buying plans on hold. This can be clearly seen when we look at the sales rates of housebuilders. We use Persimmon as an example, although all the major housebuilders experienced a similar pattern.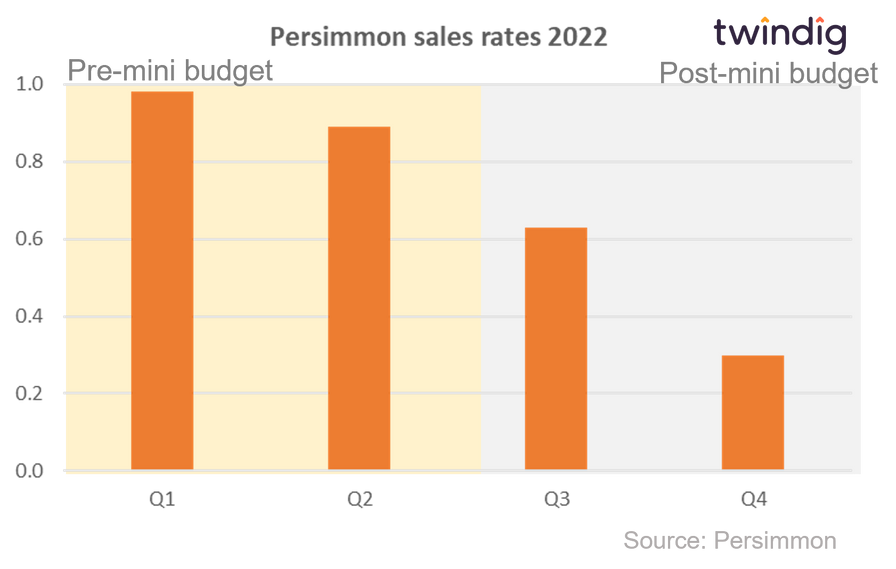 Housebuilders largely build to order, the reduction in sales rates will therefore lead to a reduction in the number of homes being built as well as sold. The UK already has a shortage of homes in many areas across the UK and the ongoing impact of the mini-budget will only make this supply and demand imbalance worse.
Land buying and housebuilding down
All of the housebuilders reported that they would be slowing down their land-buying activity. Land is the lifeblood of any housebuilder and to scale back land buying signals that they believe that housing market conditions may get worse before they get better.
If the pause in land buying is a long one, the medium-term housebuilding capacity of the major housebuilders could be significantly reduced. This would exacerbate the current shortage of homes we already have.
In the short term as sales rates fall so will the number of homes built so we will see fewer homes built and sold in 2023 than we saw in 2022
Mortgage market starting to return to normal
Following the exit of Truss and Kwarteng, the arrival of Sunak and Hunt to some extent steadied the nerves of the financial markets as they signalled they would work with rather than against the Bank of England and mortgage rates have started to fall from their highs. This is welcome news for anyone trying to secure a mortgage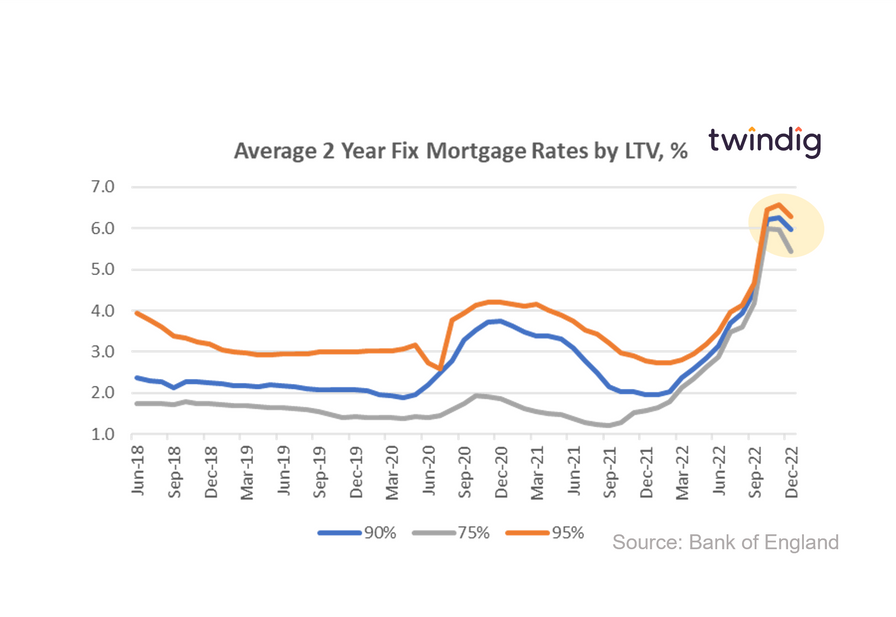 First-time buyers in short supply
Whilst mortgage rates are starting to fall, they are still high in the context of recent history and with house prices currently falling lenders remain nervous about lending at high loan-to-values to first-time buyers.
Lenders have significantly tightened their high LTV lending criteria, this means that although there are high LTV mortgages available it is getting much harder to secure one unless one has a squeaky-clean credit rating.
Bye bye Help to Buy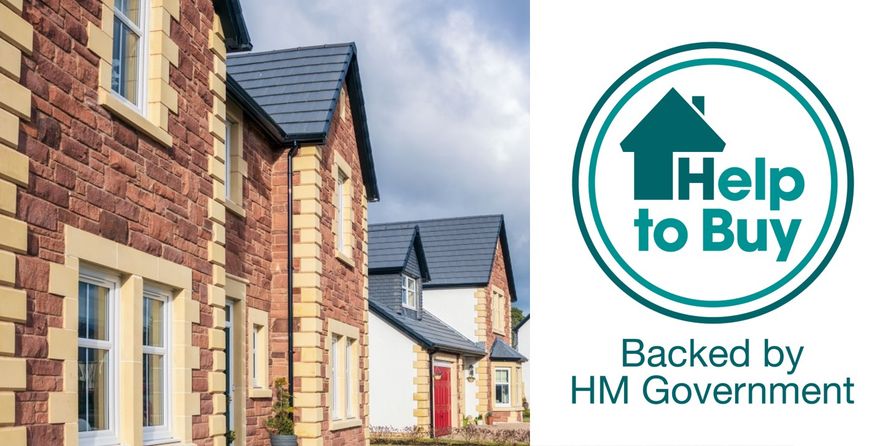 The very popular Help to Buy scheme closed to new applicants in October 2022 (although it has been extended in Wales until March 2025).
Help to Buy bridges the deposit gap for first-time buyers, boosting a 5% deposit to 25% by providing an equity loan of up to 20%. AT its peak Help to Buy accounted for one in three new build sales. Without it, the deposit hurdle returns and fewer can take their first step on the property ladder.
The housebuilders shared the view that Help to Buy brought back to life in England. In our view this may usher in a period where housebuilders build more 'starter' homes 1 and 2 bed homes to help address the affordability constraints faced by many first-time buyers.
You can read more about each housebuilder here:
Subscribe to Market Views