What Brexit Means for UK House prices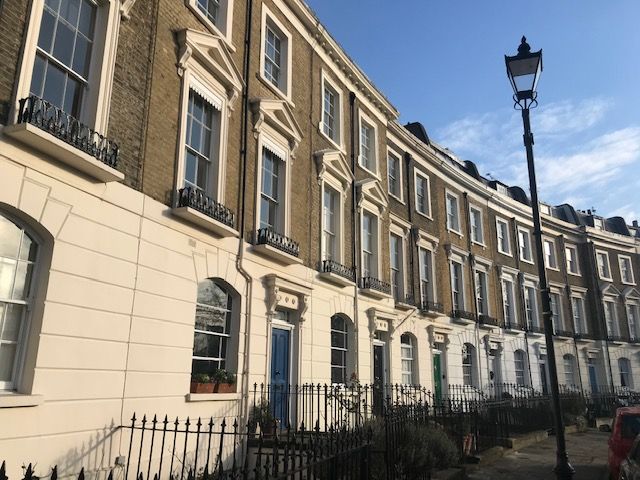 UK House prices will not fall as a result of Brexit. Markets typically abhor uncertainty and the avoidance of a no-deal Brexit has reduced the level of uncertainty faced by the UK housing market. Uncertainty has been replaced by a dense 1,246-page legal document outlining what our post Brexit era will look like and where uncertainty is reduced, markets can thrive. Twindig's Base Case is that UK House Prices will rise by 5% in 2021.
Will house prices rise after Brexit?
We believe that they will. We have analysed the impact of the Brexit process on UK house prices by looking at what has happened to UK house prices since January 2015. Over the last six years, UK house prices have increased, and it is difficult to point a negative Brexit effect on house prices. Twindig is forecasting that house prices will rise by 5% in 2021. We cannot control for the impact of the COVID pandemic, but with the vaccination process underway, the 3-6 month view is looking more optimistic than it has for some time. The end of the Stamp Duty Holiday may cause some short term turbulence, but we believe its impact is more likely to lead to a fall in housing transactions than a fall in house prices.
Will house prices fall after Brexit?
We do not think that house prices will fall after Brexit. Our view is that the housing market dislikes uncertainty and that the Brexit Deal has reduced the level of housing market uncertainty. We have a trade deal with Europe and we are now able to trade on terms which are much more favourable than the alternative no-deal WTO tariff structure.
We also have to remember that the UK voted to leave the European Union and the successful Conservative 2019 general election campaign was largely fought on the platform of 'Get Brexit Done', so voters have now, got what they wanted.
2020 was a fascinating year for the UK housing market, in the face of Brexit uncertainty and a global COVID-19 pandemic house prices actually rose and we enter 2021 with a Brexit deal and a growing number of COVID-19 vaccines. The glass appears to us to be more half full than half empty.
Unemployment may rise as the UK adapts to new trading arrangements, but we believe that unemployment is a lagging indicator for the UK housing market. It is fear of unemployment rather than unemployment which has a negative impact on the housing market. The Brexit deal is more likely to reduce the overall fear of unemployment rather than increase it, in our view.
The Stamp Duty Holiday did contribute to house price inflation where we saw potential stamp duty savings added on to asking prices. These inflationary stamp duty effects may unwind once the Stamp Duty Holiday comes to an end. However, we do not expect this to lead to significant house price falls. It is more likely, in our view, that we will see a fall in housing transactions for a period after the Stamp Duty Holiday than big falls in house prices.
House Prices, Brexit and the EU Referendum
The Brexit process has had little impact on house prices. At a UK level, the decision to withdraw from the EU did stop house prices rising, but house prices certainly did not crash as many feared they would at the time.
The blue shaded area on the graph below shows that UK house prices paused for breath rather than fell following the EU referendum.
What is perhaps more interesting is how UK house prices seem to have accelerated since the start of the COVID-19 pandemic, and we will discuss the impact of COVID-19 on UK house prices in another article.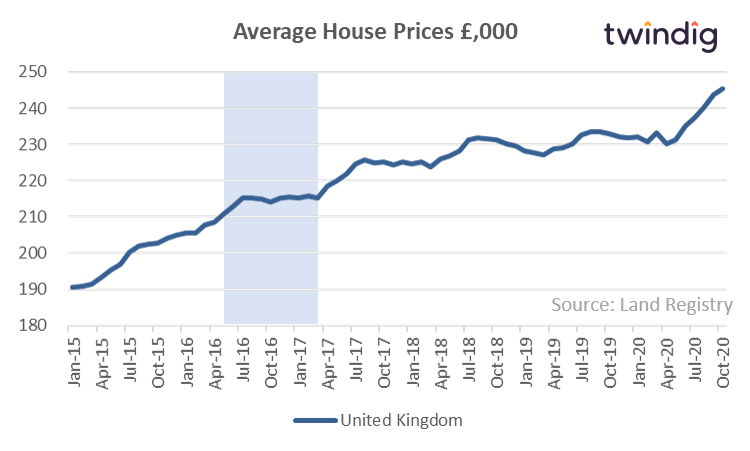 If we zoom in, we see that UK house prices have, in the main, been increasing since the launch of the UK Government's Help to Buy scheme in March 2013. UK house prices increased immediately after the EU referendum and then remained broadly stable until March 2017 after which they started to rise again.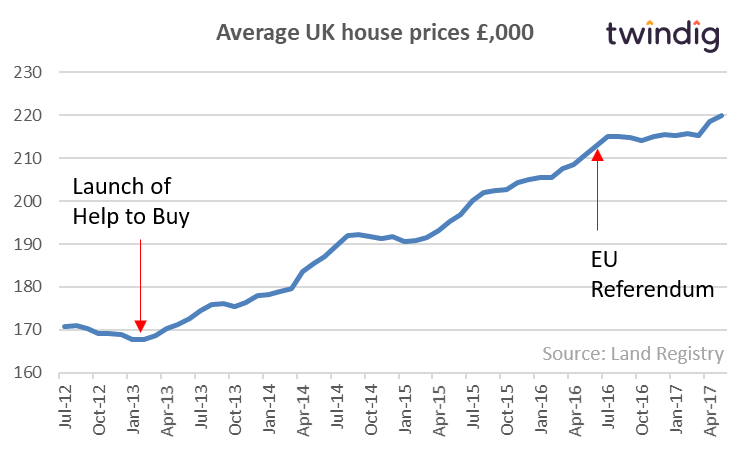 Following the Brexit EU Referendum, there was a lot of political and economic uncertainty, political leaders stood down and the stock market fell significantly. The price of housebuilders shares were hit hard falling by 40% in the two days following the EU Referendum.
Many thought that such uncertainty and market turmoil would take its toll on UK house prices, but as we have noted above, they paused for breath for a few months before continuing to rise.
To understand why house prices were so resilient we have to look at the EU Brexit Referendum itself. At face value, the EU referendum was very close: 51.9% voting to leave and 48.1% to remain. However, if we split the UK into countries and regions, only Scotland, North Ireland and London voted to remain. If we dig a little deeper and split the UK into local authority areas, we see that there were 119 remain areas and 263 leave areas. Therefore 69%, almost 7 out of 10, local authority areas voted to leave, and for these 263 local authority areas the Brexit vote was good news, they got the result they wanted.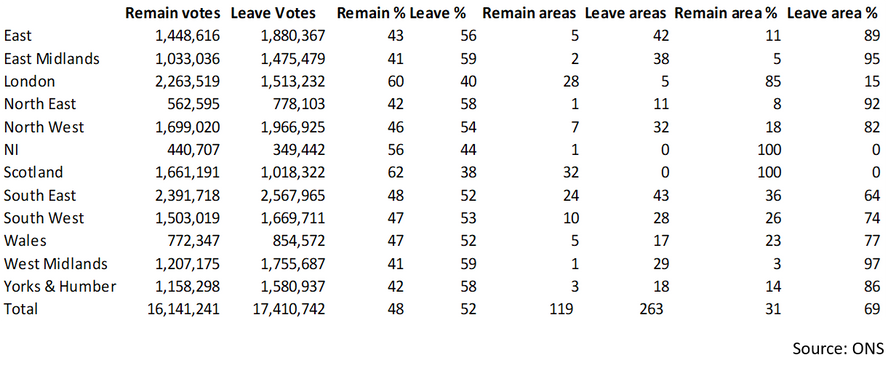 Turning our attention to housing transactions, we can see in the chart below that housing transaction levels have never returned to the levels seen before the Credit Crunch, and appear to have been broadly stable since 2014.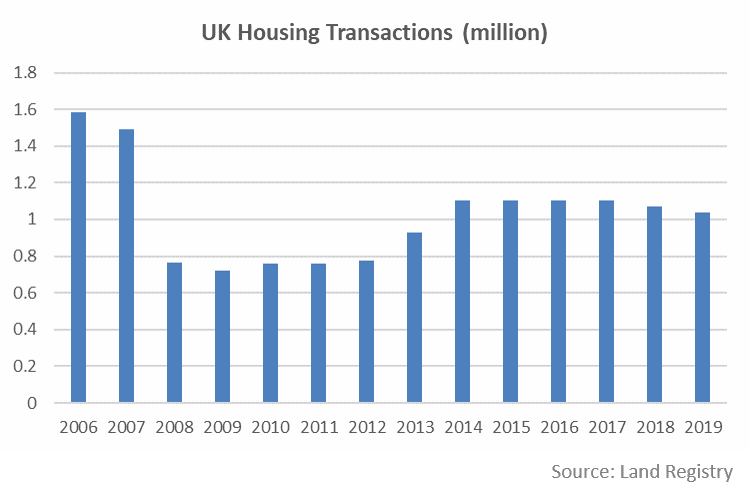 If we zoom in, we see that housing transaction levels have been falling steadily since 2014 and in 2019 were around 6% below their 2014 level.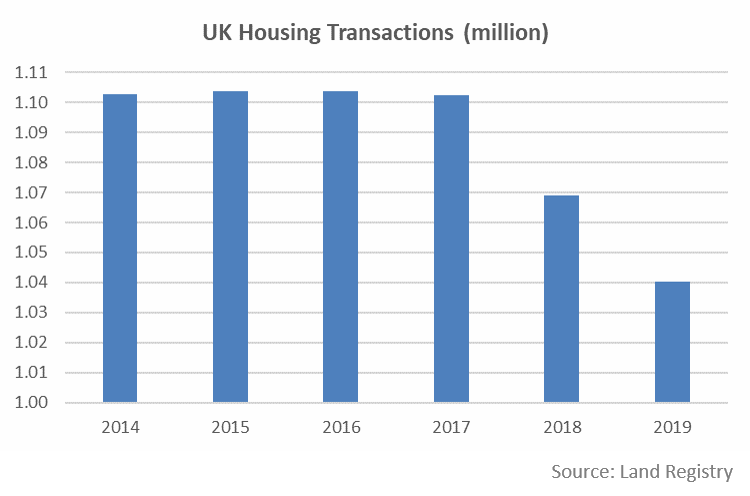 We do not yet have housing transaction data for all of 2020, but in the year to August 2020 the volume of housing transactions fell by 33% or to put it another way, there were 223,659 (almost 1/4 of a million) fewer housing transactions in the first 8 months of 2020 compared to the same period in 2019.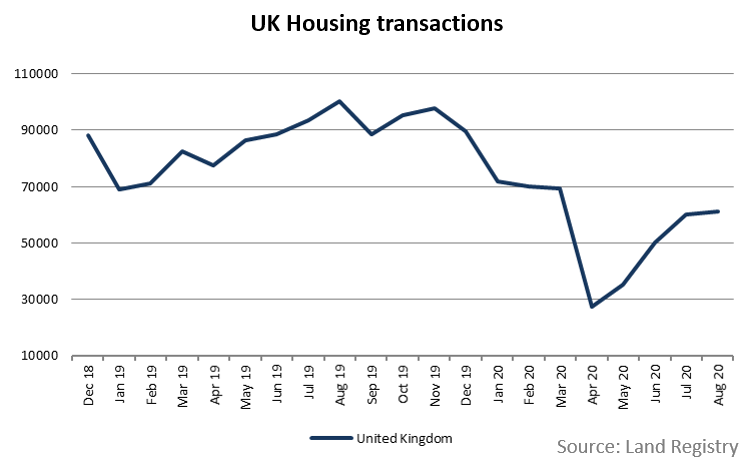 How much is my house worth?
The best way to find out how much your house is worth is to arrange for three local estate agents to come round and value your home. They will have a good feel for the market and will know how many people are looking to buy a home like you home.
If you want to know how much your house is worth right now you can go to twindig.com and register your property and we will provide you with the Twindig market move price. This is our estimate of how much your house is worth and how much the value has changed since it was last sold.
How to find out the value of your home right now
Twindig has details for every home across the country, including yours. If you want to see an estimate of the current value of your home you can do so by visiting twindig.com
Simply:
Enter your street or postcode into the search box

Click search

Find your home in the results page

Click view

Register to see how much your home is worth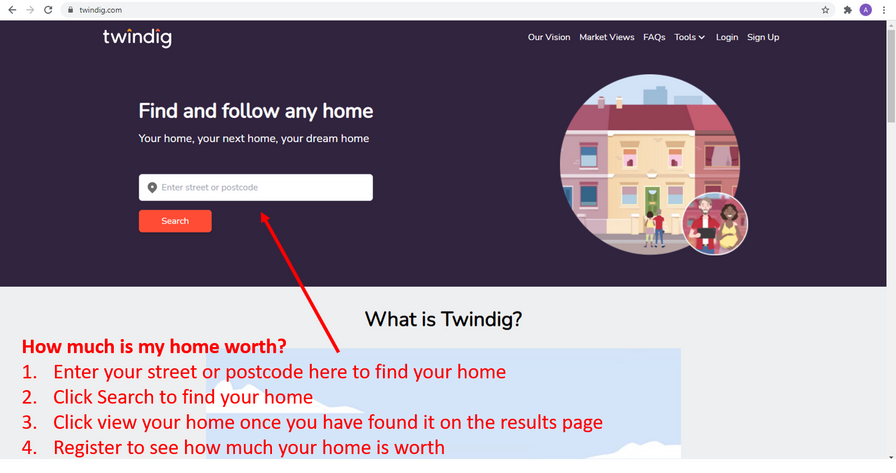 Subscribe to Market Views