House prices set another new record high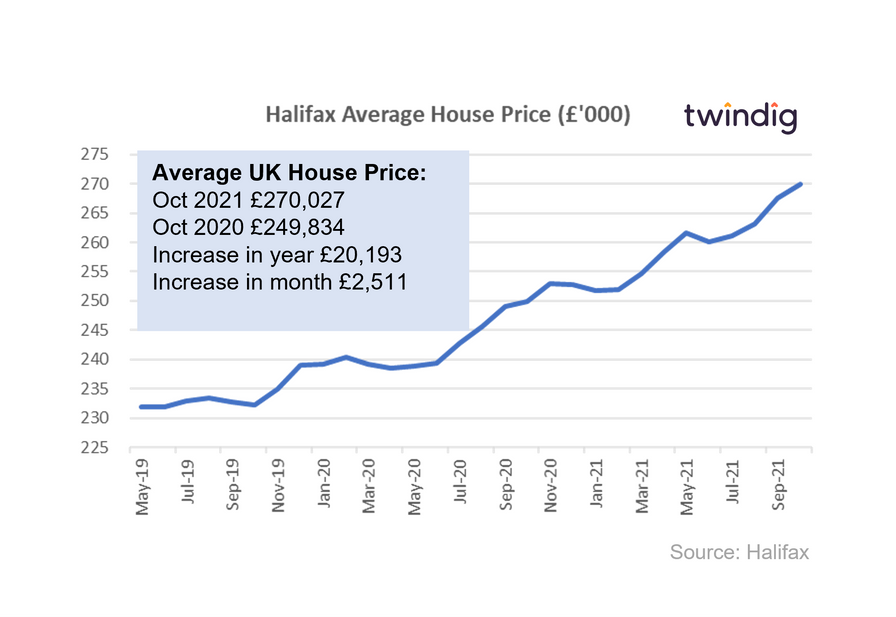 The Halifax published their house price index for October on Friday
What they said
Yet another record high for UK house prices
Average UK house prices £270,027
Annual house price inflation 8.1% or £20,193
Twindig take

Following on from the Nationwide House Price Index published earlier this week, the Halifax House Price index adds further weight to the argument that there is life after the end of the Stamp Duty holiday, and with Bank Rate remaining at its all-time low of 0.1% for at least another month the direction of travel of house prices is likely to continue upward, in our view.


The Halifax reported that average UK house prices hit a record high of £270,027 in October up 0.9% or £2,511 in the last month and up 8.1% or £20,193 over the last year.

Whilst the Stamp Duty Holiday has, in our view, stimulated house prices the race for space, where buyers seek homes with more inside and outside space to make working from home and lockdowns more bearable, has also contributed to the increase.

House price increases are not good news for everyone, affordability has got worse, especially for first-time buyers desperately trying to secure a foot on the housing ladder. The Halifax reports that annual first-time buyer house price inflation has reached 9.2%. Further evidence, in our view, of the growing importance and reliance on the bank of mum and dad whose help is increasingly needed to realise the home buying dreams of their children and grandchildren.

Looking forward the Halifax says that the future trajectory of house prices is hard to predict. On the plus side, we have a strong labour market and a recovering economy. On the downside, rising living costs and increases in Bank Rate expected in the coming months could temper house prices.

Yesterday Purplebricks highlighted the challenges ahead, after reporting a shortage of homes to sell the price of its shares fell by 37%, you can read our full report here: Can you polish a brick
However, in this case, what is bad for the goose is actually good for the gander because a shortage of homes to sell (a shortage of supply), all other things being equal, puts upward pressure on house prices as the pool of buyers chase fewer and fewer homes.
In our view the demand and supply factors in the housing market will outweigh wider macroeconomic concerns and whilst the volume of housing transactions may be subdued for a period following the end of the stamp duty holiday, we expect house prices to remain firm.
Subscribe to Market Views