Halifax House Price Index
House Prices in August 2022
The average UK house price in August 2022 was £294,260 a rise of 0.4% from July 2022.
House prices rose by 0.4% or £1,087 during the last month
House price increased by 11.5% over the last year
Halifax House Price Index Chart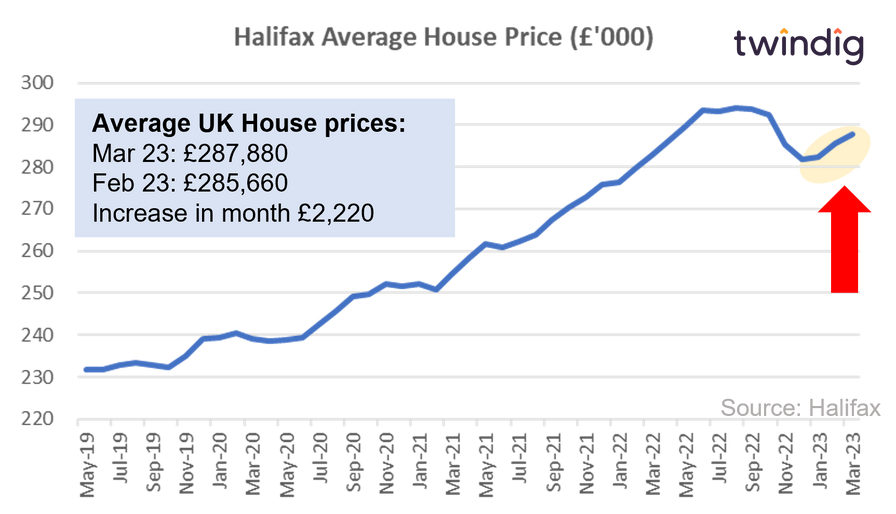 Halifax House Price Index Commentary
After a slight fall in July, house price growth returned in August, taking UK average house prices to a new record high. We continue to be surprised by the strength of house prices since the end of the Stamp Duty Holiday, especially as we are now in the midst of a cost of living crisis with inflation close to 40 year highs. A shortage of supply of homes for sale has certainly helped maintain the strong house price momentum, however it seems that although house prices saw off the COVID-19 pandemic they have found their match in the face of rising costs of living and increasing interest and mortgage rates.
It seems that we were right to suggest last month that one swallow does not make a summer, the house price fall in July appears to have been a one off as a new house price record has been set in August. With a new prime minister in place and tax cuts and help with energy bills on the way house price growth may be underpinned for some time to come.
House prices are are now £17,600 higher than they were at the start of the year, £30,000 higher than they were one year ago and almost £54,000 higher than at the start of the pandemic.
The race for space has been a driving force of house price growth with house prices rising faster for detached and semi-detached properties than for flats. It will be interesting to see if these lockdown lifestyle trends continue as we leave lockdown behind.
The proof of the race for space is clear if we delve into the detail of the house price numbers. Over the last year the average price of a detached family home has increased by £50,000 whereas the average flat has increased by just £10,000. The Halifax reported in July that annual house price inflation for detached homes at 13.9% was almost double that for flats at 7.6%. Not only is it difficult to get on to the housing ladder, it is now increasingly difficult to climb up the ladder once you are lucky enough to get a foothold on it.
Estate agents continue to report a shortage of homes to sell, which will help underpin prices in the coming months and housebuilders are selling homes as quickly as they can build them.
Rising living costs and rising interest rates may well temper future house price growth, but most are on fixed-rate mortgages and therefore changes to Bank rate will not impact them immediately. Rising living costs of course remain a concern, but most homeowners either have sufficient financial reserves or can cut spending elsewhere to accommodate the rising cost of fuel and food.
How much is my house worth?
If you would like to quickly see how much your house is worth you can do so by visiting twindig.com we have details of every house across the country, all 28 million, not just the one million or so that are currently for sale or rent
How much will my mortgage payments be?
If you would like to quickly see how much your house is worth you can do so using our handy mortgage calculator which lets you see how much your mortgage payments will be as mortgage and interest rates change.
Halifax House Price Index Publication dates
Friday 7th October 2022
Monday 7th November 2022
Wednesday 7th December 2022
Friday 6th January 2023
Tuesday 7th February 2023
Tuesday 7th March 2023
Halifax House Price Index methodology
Lloyds Banking Group is the sole source of data for the Halifax House Price Index. The index is based on mortgage approval data provided by Lloyds Banking Group.
In order to provide a robust measure for UK house prices the Halifax House Price Index removes or excludes several types of mortgage transaction from the index:
Re-mortgages
Business use, capital raising, or building mortgages
Discounted mortgages relative to market value where the property valuation is deemed to be less than 75% of the purchase price for instance in the case of many Right to Buy house purchases.
However, to better reflect the structure of the UK housing market, since 2019 the Halifax House Price Index has included shared ownership mortgages
The Halifax House Price Index is calculated by estimating the price of a fixed 'basket' of houses sold, not unlike the way the retail and consumer price indices are calculated by the Office of National Statistics (ONS).
The Halifax House Price Index uses a number of different property characteristics to determine the standardised house referred to in its house price index and average house prices. The idex takes into account the following property characteristics:
Property type: Lloyds Banking Group attributes a property type to each mortgage approval and mortgage offer: Detached, semi-detached, terraced, flat, bungalow
Property size: The Lloyds Banking Group mortgage data includes the size of each property in square metres. Typically the bigger the property the higher its price
Number of bedrooms: The number of bedrooms a residential property has impacts the price of the home as well as its overall size.
Age of home: The Halifax House Price index finds that in the main, new homes tend to attract a price premium over older homes with similar attributes. This could be due to a number of factors including improving building regulations and standards, warranties and energy efficiency. New homes are also likely to need fewer repairs and have lower maintenance costs than newer homes and this gets reflected in the relative prices of the homes.
Location: It is often said that house prices are all about 'Location, location, location' and this belief turns out to be true. The Halifax House Price index looks not only at the main nine regions within England (North East, North West, Yorkshire & Humberside, East Midlands, West Midlands, East England, South East, South West and Greater London), Scotland, Wales and Northern Ireland, but also at the house price differences between postcode districts to improve the accuracy of its house price index.
History
The Halifax Building Society launched its House Price Index in January 1983, which makes it the longest-running monthly house price index in the UK.