Mortgage approvals
UK Mortgage approvals are the key leading housing market indicator, in our view. A mortgage approval today typically leads to a housing transition in three months' time. Mortgage approvals dipped in September 2022.
Latest UK Mortgage approvals
Key UK mortgage approval statistics and figures:
September 2022: 66,879
Down 10.3% on August 2022
Down 7.3% on September 2021
5 year average 69,000
10 year average 67,100
20 year average 74,200
Average since Oct 1986 83,100
Chart of recent UK mortgage approvals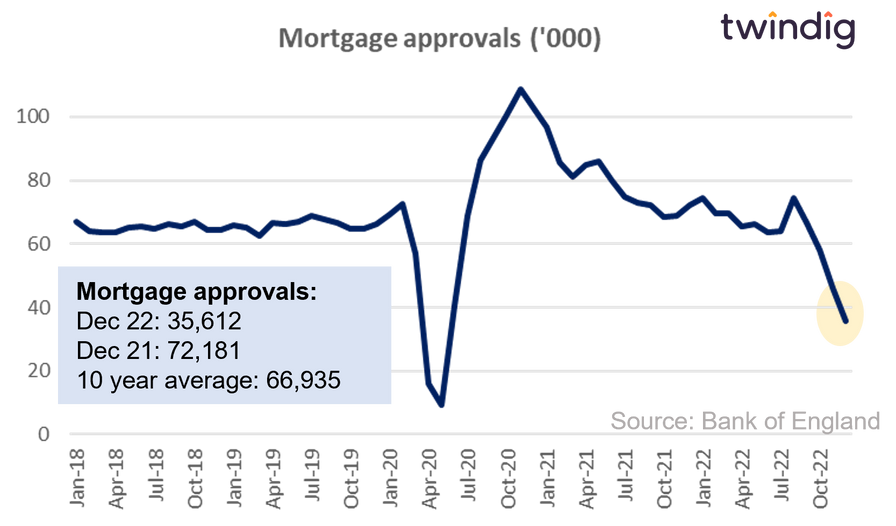 The data for this chart can be found at the end of this article
UK mortgage approval commentary
Mortgage approvals in September 2022 were 66,789, which was 10.3% down on August 2022 and 7.3% below their level a year ago (72,061), and 0.5% below their ten-year average of 67,097. Whilst the drop in mortgage approvals in September 2022 appears large, and will certainly grab some headlines, we were more surprised by the robustness of the mortgage approvals levels in what was a very turbulent month. September saw a new prime minister, the loss of Queen Elizabeth II, a new King, a new Chancellor and a mini-budget. The housing market gave a big thumbs down to the September mini-budget and hundreds if not thousands of mortgage products were pulled from the shelves and quoted mortgage rates rose significantly as lenders reacted to the mini-budget. A month is a long time in politics and since 23 September we have had another new Prime Minister and another new Chancellor of the Exchequer and most of the proposals of the mini-budget have been reversed. The financial markets have welcomed the u-turns and, so far view Rishi Sunak and Jeremy Hunt as more appropriate guardians of the economy than the pairing of Truss and Kwarteng.
Chart of long term UK Mortgage approvals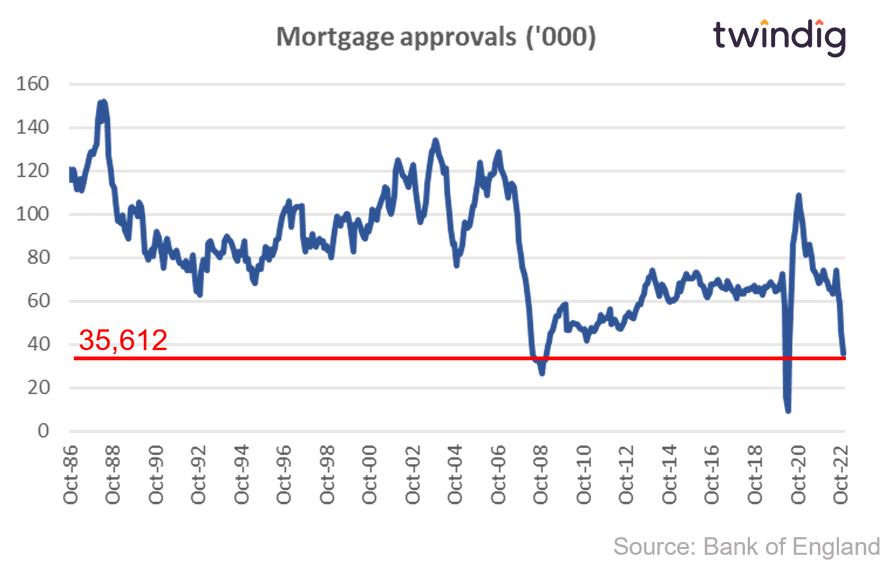 Credit Conditions Survey
The latest Bank of England Credit Conditions survey (13 Oct 22) reported that lenders expect the supply of mortgages to reduce during the next three months and mortgage rates to rise. The demand for mortgages from homebuyers is expected to fall, but demand for re-mortgaging to rise over the next three months. Mortgage supply reduced in Q3 2022 for the third quarter in a row and is expected to fall again in Q4 2022. The reduction in Q4 2022 may be bigger than the Credit Conditions Survey anticipates because the survey was conducted before the UK Government's mini-budget on 23 September. If the survey was conducted today, we expect that lenders' expectations for credit conditions in the coming months would be much lower than they were ahead of the budget. The Bank of England's bi-annual Financial Stability Report in July reported that in response to changes in the economic environment, banks are adjusting mortgage affordability tests to account for recent and expected increases in inflation and interest rates. And in the consumer credit market, intelligence suggests that given the considerable uncertainty in the economic outlook, banks are looking to target new lending towards borrowers with higher credit scores. We often say that the mortgage approvals data is the key lead indicator for the UK housing market and we will be watching the mortgage approval data with eagle eyes to see if they indicate any problems ahead.
Future publication dates for UK Mortgage approvals
October 2022 Data - 29 November 2022
November 2022 Data - 4 January 2023
December 2022 Data - 31 January 2023
UK Mortgage approval data since January 2018
Date
Mortgage Approvals ('000)
Jan 18
66.9
Feb 18
64.0
Mar 18
63.6
Apr 18
63.6
May 18
65.0
Jun 18
65.6
Jul 18
64.9
Aug 18
66.2
Sep 18
65.6
Oct 18
67.1
Nov 18
64.5
Dec 18
64.3
Jan 19
65.9
Feb 19
65.3
Mar 19
62.6
Apr 19
66.7
May 19
66.1
Jun 19
67.1
Jul 19
68.7
Aug 19
67.6
Sep 19
66.6
Oct 19
64.7
Nov 19
64.8
Dec 19
66.4
Jan 20
69.1
Feb 20
72.5
Mar 20
57.0
Apr 20
15.8
May 20
9.3
Jun 20
40.7
Jul 20
68.9
Aug 20
86.3
Sep 20
93.4
Oct 20
100.9
Nov 20
107.5
Dec 20
102.9
Jan 21
96.8
Feb 21
85.7
Mar 21
81.1
Apr 21
84.8
May 21
85.9
June 21
79.9
July 21
74.5
August 21
73.1
September 21
72.0
October 21
68.5
November 21
69.0
December 21
72.3
January 22
74.4
February 22
69.9
March 22
69.5
April 22
65.4
May 22
66.0
June 22
63.5
July 22
64.1
Aug 22
74.4
Sep 22
66.8
Source: Bank of England
Bank of England Statistical Tables