UK Housing: We need to focus on building supply not cutting Stamp Duty
This week's RICS UK Residential Market Survey and recent trading updates from housebuilders all suggest that the problem facing the UK Housing market is one of supply, not demand. Stamp Duty Cuts, therefore, seem to address a problem we do not have.
Setting the scene
Housebuilders are the barometer of the UK housing market, they have to sell the homes they build, it is quite simply the air that they breathe. If a housebuilder doesn't sell it will not have a roof over its head. If a homeowner doesn't sell they will have to make do with the roof they already have.
Lockdown closed the market for buyers and sellers
From 27th March 2020 until 12th May 2020 the UK housing market was closed. Luckily for some the This closure had a big impact on the number of housing transactions as illustrated below where we show the number of homes sold by the three biggest housebuilders for the first six months of 2020 compared to the first six months of 2019. Barratt's H1 2020 sales fell by almost 60%, Taylor Wimpey's by 44% and Persimmon's by 35%.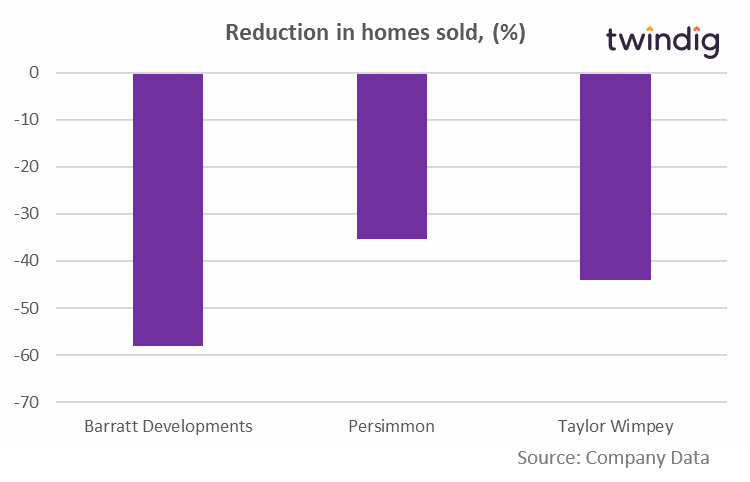 Demand, however, is still strong
All three of the big three builders reported an increase in forward orders (the number of homes where a deposit has been paid, but the transaction has yet to complete).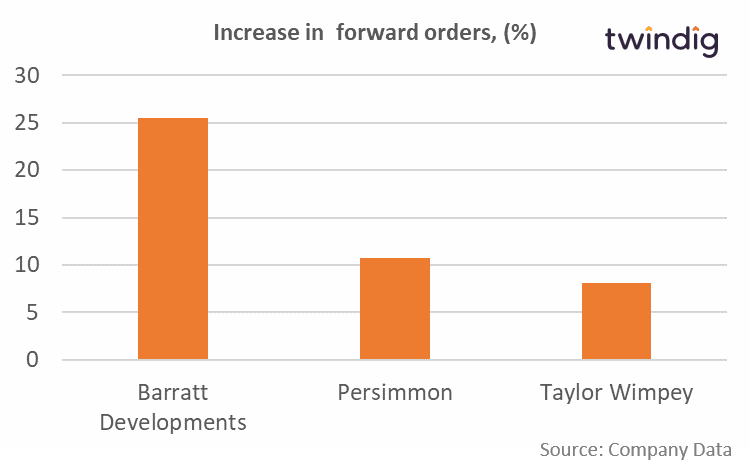 I believe these increases can, in the main, be explained by three things:
Some of the increase may be due to longer completion time frames due to lockdown, but homebuyers can always pull out or cancel their order and Persimmon reported that its cancellation rate remains in line with historic levels.
Barratt reported that demand from first-time buyers looking to use Help to Buy had been significant since the market reopened. This suggests that with lenders placing restrictions on high Loan to Value (LTV) mortgages Help to Buy is the only way for many first time buyers to step on to the housing ladder
RICS reported that second-hand stock for sale is currently at or close to record lows, fewer homes for sale leads to increased demand for new build
I was however genuinely surprised any of the big three had an increase in forward orders especially given the current economic conditions we find ourselves in where mortgage approvals are at all-time lows c.66% below their credit crunch lows.
So if we have demand what is the problem?
If it's not demand, it is probably supply. The issue is clearly illustrated in the graph below from the RICS June 2020 UK Residential Survey published earlier this week.
In my view during the Credit Crunch, we had a buyer (demand) drought. As the supply of mortgages dried up so did the stream of homebuyers. Stock levels (supply) on estate agent's books rocketed as sales plummeted.
This time it's different
This time the issue is lack of supply as shown on the graph below – agents have significantly fewer homes to sell. We have moved from a buyer drought to a drought of sellers.
Perhaps the UK Government should look at ways of boosting the supply of homes rather than increasing demand (via stamp duty cuts) for the few homes already on the market… If a home is not on the market it cannot be sold, and I am sure that estate agents would welcome having more homes to sell. Stamp Duty cuts are good for buyers but do little for sellers.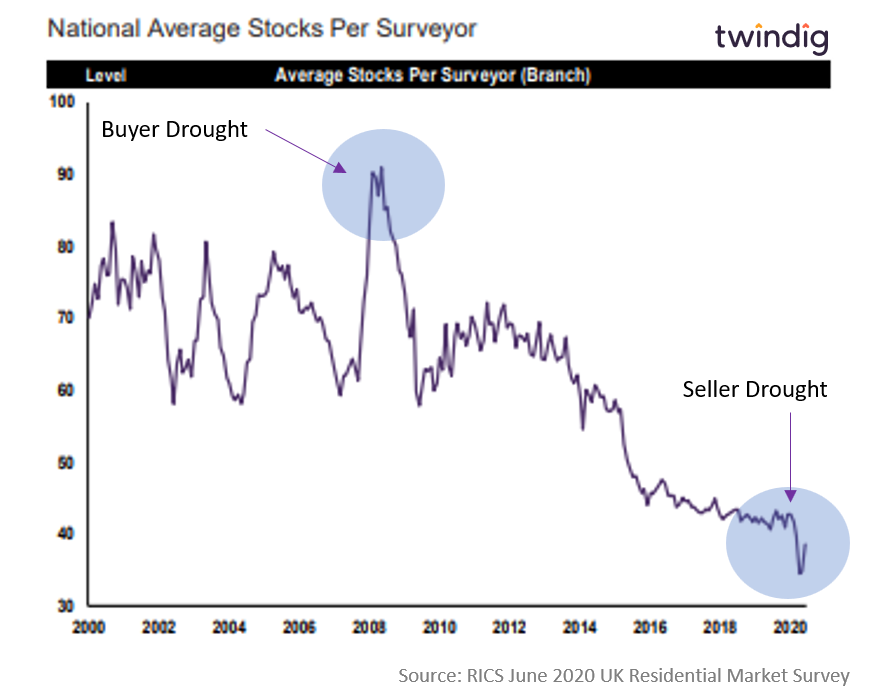 Home sales to stock ratios.
Credit crunch
During the Credit Crunch, the Sales to Stock ratio was low because there was a lot of stock but not a lot of sales (not a lot of people know that…). As we exited the Credit Crunch the Sales to Stock ratio increased. An increase in mortgage supply led to growth in housing transactions and average stock levels fell as the level of stock turnover rose.
And then came Brexit
Brexit added a high level of uncertainty into the UK economy. Housing is a big part of the UK economy. Sales and stock levels have been in decline since 2016 as uncertainty has increased.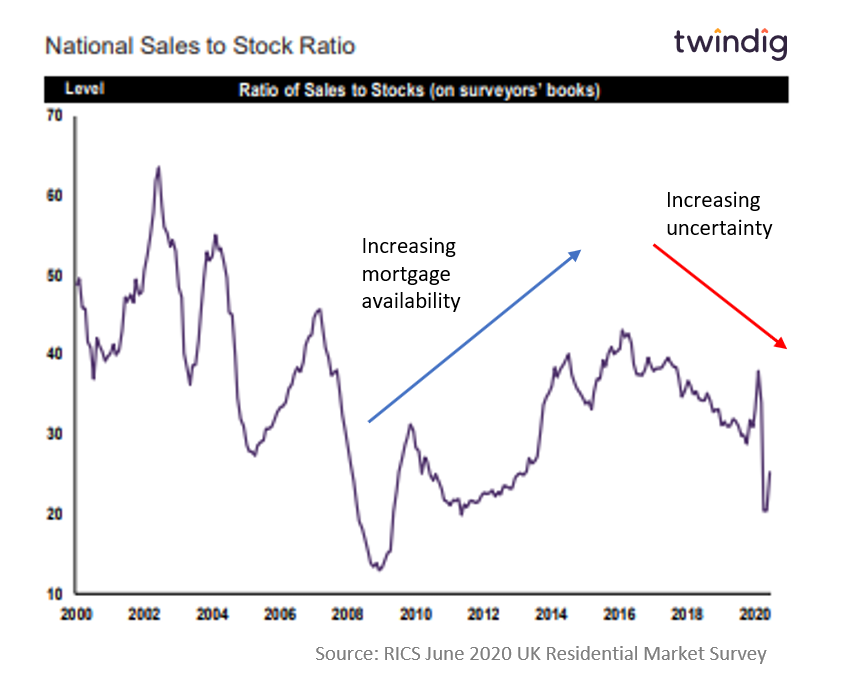 On a fundamental level, the situation we are facing today is more severe than the Credit Crunch one level. At least during the Credit Crunch, we had homes to sell. If buyers return today we don't have much in the way of stock to sell them. If selling homes is the air that housebuilders breathe then having homes to sell is the estate agents oxygen supply.
I appreciate that I have been vocal on social media about #StampDutyCuts and I don't want to be critical of the UK Government's attempts to Get Britain Moving, but all the evidence suggests that Stamp Duty Cuts don't work and even if they did they stimulate demand which we have plenty of and not supply which we need more of.
We need to focus on the supply of homes we need:
Help to Build - to increase the supply of new-build homes and
Help to Sell - to increase the supply of existing homes coming to the market
My last word on Stamp Duty
In November 2017 the then Chancellor Philip Hammond said in his Budget Speech:
I've received representations for a temporary Stamp Duty holiday to first time buyers. But that would only help those ready to purchase now. And would offer nothing for the many who will need to save for years. So, with effect from today, for all first-time buyer purchases up to £300,000, I am abolishing stamp duty altogether. To ensure that this relief also helps first time buyers in very high price areas like London, it will also be available on the first £300,000 of the purchase price of properties up to £500,000. Meaning an effective reduction of £5,000. A stamp duty cut for 95% of all first-time buyers who pay stamp duty. And no stamp duty at all for 80% of first time buyers from today. Mr Deputy Speaker. When we say we will revive the home-owning dream in Britain. We mean it. We do not underestimate the scale of the challenge But today, we have made a substantial downpayment.
Stirring stuff a substantial downpayment to revive the home-owning dream in Britain and not a short term holiday a long term cut.
Has it worked, has the dream of homeownership been revived or are we still living in a nightmare.
In the 12 months leading up to the Stamp Duty cut there were 350,180 First Time Buyer housing transactions.
In the 12 months following the Stamp Duty Cut, there were 355,620 180 First Time Buyer housing transactions an increase of 1.6%
But these policies take time
In the 12 months to 31 December 2019, there were 351,180 First Time Buyer housing transactions an increase of 0.3% on the pre-Stamp Duty Cut levels
It is not for me to judge whether or not this policy has been a success, I merely point out the facts to allow you to draw your conclusions.
Subscribe to Market Views