UK housing market: You're gonna need a bigger ticket…
In August the pace of UK economic recovery slowed, it seems that we will need more than comfort food to get us through the pandemic. In September we saw the lowest volume of new car registrations since the current licence plate system began in 1999, it seems we cannot run (or drive) away from the pandemic either. There seems little pent up demand for new cars (usually classed a 'big ticket item') due to economic, political and pandemic uncertainty. However, is the opposite true for houses? Whilst 'big ticket' items are on the ropes, 'very big-ticket items' (houses) appear, for now, too big to fall? But can the UK housing market remain isolated from the wider economic slowdown?
Halifax House Price Index
Halifax house prices for September 2020
What they said
Average House Prices in September 2020 were £249,870
An increase of 7.3% in the last year
An increase of 1.6% in the last month
We continue to believe that significant downward pressure on house prices should be expected
Twindig Take
In our view, recent house price growth should be seen as temporary, reflecting two things: demand fuelled by a Stamp Duty holiday coupled with a shortage of supply of homes for sale. With demand exceeding supply, prices rise.
Housing is not like other asset classes, it is a source of shelter and security rather than a store of wealth, but many view it more as the latter than the former. As we saw in 2007, 2008 and 2009 house prices may not always be a one-way bet and when everyone is telling you that house prices can only go up it is probably time to worry.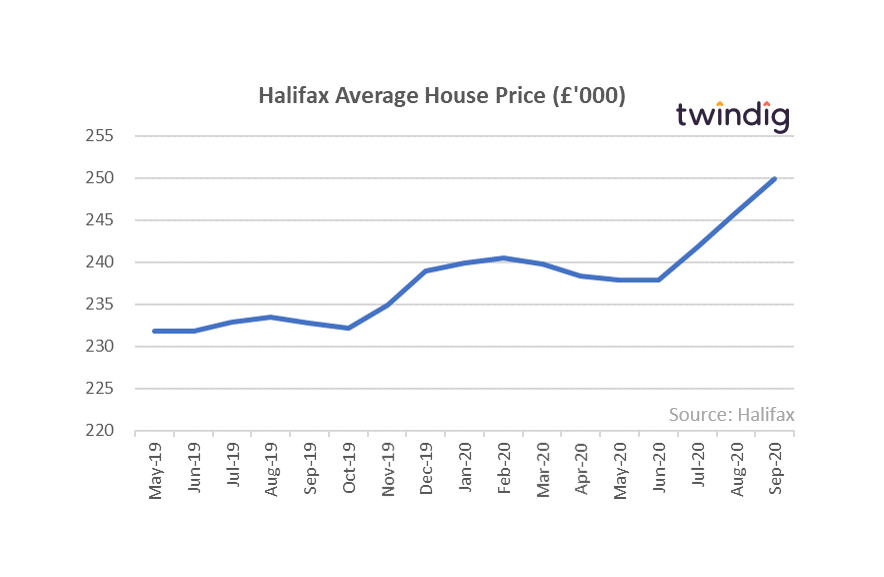 Land Registry House Prices
House Price Data for July 2020, although this series lags the Halifax and Nationwide house price indices it is more accurate as it reflects all housing market transactions rather than just those the respective lender has access to.
What they said
In July 2020 the average UK house price was £237,963
The annual increase was 2.3%
The change in house prices between June 2020 and July 2020 was 0.5%
The Land Registry House Price data confirms the trends already reported by both the Halifax and the Nationwide house price indices. House prices are increasing against the backdrop of a weak economy and these increases appear, in part, to be fuelled by the Stamp Duty Holiday.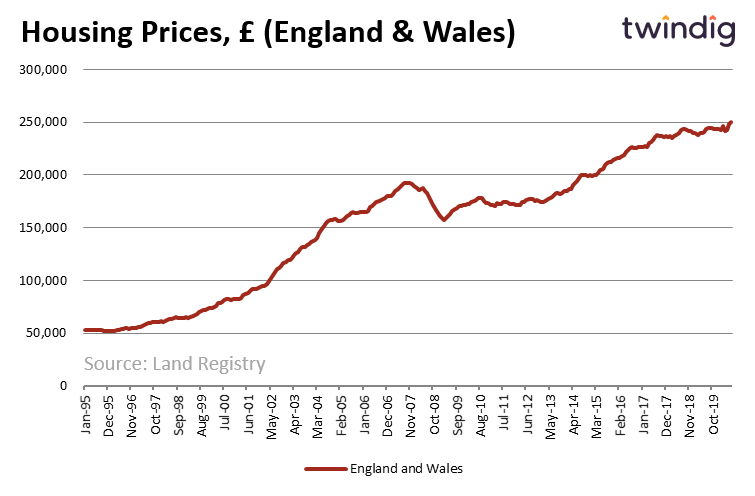 Land Registry Housing transactions
Land Registry Housing Transaction data for May 2020
What they said
Housing transactions in England & Wales in May 2020 were 27,511
An increase in 30% since April 2020
A fall of 61% since May 2019
Twindig Take
It appears that housing transaction troughed in April at 21,000 and increased by 30% to 27,500 in May, but remain a long way off normal levels. The low level of transactions highlights the fact that a shortage of homes for sale coupled with Stamp Duty Holiday fuelled demand is underpinning significant house price growth. Mortgage approvals are currently significantly higher than transaction levels, but what will happen to house prices when the Stamp Duty Holiday comes to an end? Will the high levels of demand start to wane as the realities of the economic slowdown come home to roost?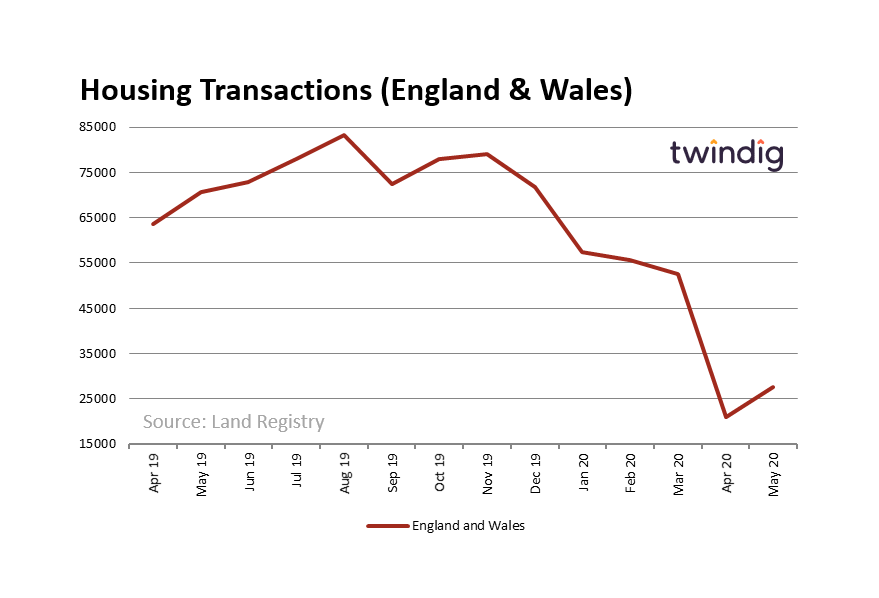 Society of Motor Manufacturers and Traders (SMMT)
New car registrations for September 2020
What they said
Just 328,041 cars registered in September 2020 the lowest September volume recorded since 1999
This decline represents a 15.8% drop on the 10 year September average
New '70-plate', model upgrades and offers not enough to overturn the 615,000 unit year to date shortfall
Twindig take
Car purchases are without a doubt big-ticket items, but even including all of the contract lease and contract hire plans, which make up around 80% of private new car sales, car sales have not seen a post lockdown bounce.
It is hard to square the circle that in the current economic climate we are warier of buying or leasing a new car than of buying a new house. The top three best-selling cars so far this year are: Ford Fiesta 39,436; Vauxhaul Corsa 35,735; VW Golf 31,183, all of which cost considerably less than the average UK home which comes in at around £250,000
Does this suggest that homes are a much better asset than cars or that we are so infatuated with residential property that we are blind to the 'big ticket' nature of a house purchase or do we simply believe that when it comes to our own home its price will only ever increase?
As average house prices approached £250,000 in September 2020 there are risks that those rushing to buy during the Stamp Duty Holiday may be buying in haste and repenting in their leisure as the Halifax advises caution saying it is 'highly unlikely that the housing market will continue to remain immune to the economic impact of the pandemic'. In this environment, it is difficult to see the UK Government's Generation Buy scheme gaining momentum without significant taxpayer-funded guarantees.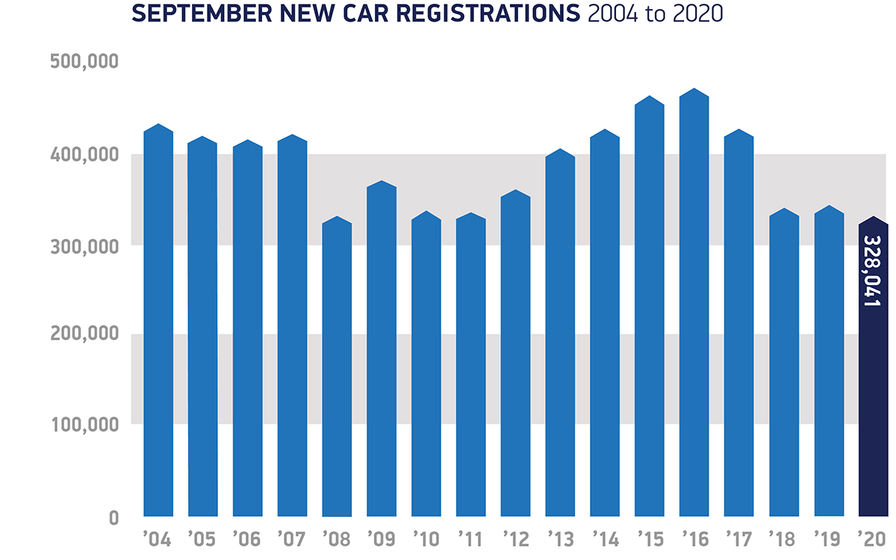 RICS UK Residential Market Survey
This weeks RICS released their September 2020 UK housing market survey
What they said
September saw a continued upturn in housing market activity
Indicators on enquiries, agreed sales and new listings remained strongly positive
Those surveyed foresee housing transaction sales volumes weakening on a 12 month view amid the challenging macro-economic environment
Twindig Take
There is a growing number of market commentators joining us in being cautious about the outlook for the UK housing market once one sees through the smoke and mirrors of Stamp Duty Holidays.
Homes are currently selling like hot cakes, but we believe these sales are fuelled by a combination of the Stamp Duty Holiday, a desire to move before talk of Lockdown II becomes reality and before the recession starts to impact the UK residential market.
The RICS September survey revealed a growing concern about the future health of the housing market. In August twelve-month sales expectations had a -17% negative balance which worsened to -34% in September as concerns about the end of the furlough scheme loom large.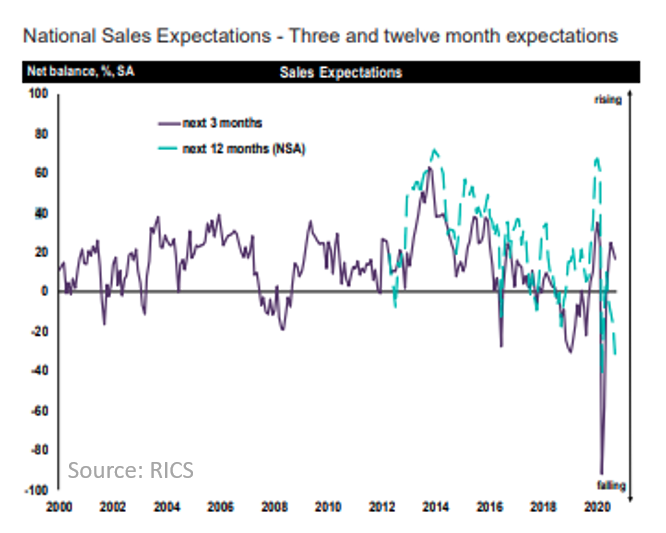 UK GDP growth
The ONS releases GDP data for August
What they said
Monthly GDP grew by 2.1% in August
This is slower and lower growth than in July
Twindig take
Whilst we should not take one data point in isolation, this particular data point does cause some concern. August was the month of warm weather and 'Eat Out to Help Out' lockdown was largely over and social distancing restrictions were much more relaxed than they are today. If growth was slowing whilst the sun was shining, it doesn't bode well for when the weather worsens and lockdowns once again become the norm rather than the exception.
We fear that it will take more than the short sharp shock of a circuit break to kick start the economy. Hopes of a 'V' shaped recovery are starting to fade.
Subscribe to Market Views