UK housing market: Pictures speak thousands of words but do they paint the truth about the UK housing market?
Rising usage of property portals paint a rosy picture of the UK housing market and with Lockdown II many of us will have more time to kill in our homes and some of that will be used looking for or daydreaming about our next home. Portal traffic will continue to rise, but does property porn reflect fantasy or reality? The facts are that unemployment, redundancies and mortgage rates are rising and at the same time credit conditions are tightening. Tighter lockdowns will deter some from leaving the house and others from moving house, both might turn out to be wise choices for the time being.
Unemployment figures
Latest unemployment and redundancy data from the Office of National Statistics
What they said
Between June and August the estimated UK unemployment rate was 4.5% its highest level for three years
Redundancies increased by a record 114,000 in the quarter to 227,000 the highest level of redundancies since May to July 2009.
Twindig Take
It is no coincidence that the record rise in redundancies coincided with the first planned reduction in the level of financial support provided by the Government's Coronavirus Job Retention Scheme.
September and October saw further cuts to the level of financial support from the UK Government and we, therefore, expect redundancies to increase further in the coming months as these cuts start to bite. November will see the introduction of a less generous scheme, which, in our view, will do little to stem the tide of redundancies.
Whilst the UK unemployment rate is low compared to the last 40 years, the record number of redundancies is causing our fear of unemployment to rise. This is bad news for the UK housing market, because, in our view, a rising fear of unemployment leads to a fall in the number of planned or opportunistic housing transactions.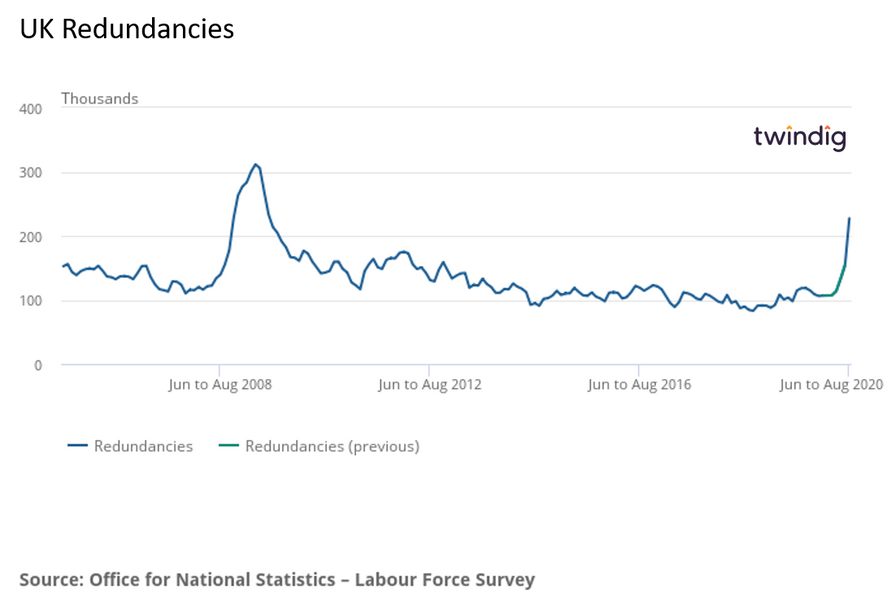 Bank of England Q3 Credit Conditions Survey
This week the Bank of England released the results of its Q3 Credit conditions survey and lenders expectations for Q4
What they said
Whilst the supply of mortgages increased during Q3 it is not expected to increase in Q4.
Credit conditions tightened in Q3 and is expected to tighten further in Q4.
Mortgage pricing increased in Q3 and is expected to increase again during Q4
Default rates on mortgages whilst stable during Q3 is expected to rise in Q4
Twindig take
The Q3 2020 Bank of England Credit Conditions Survey paints a more sombre picture of the housing market than the latest house price and housing transactions data. Could the UK housing market be headed towards a winter of discontent? The latest Bank of England Credit Conditions Survey suggests that mortgage supply will plateau in Q4 whilst credit scoring will tighten, mortgage rates rise, and mortgage default rates increase. It appears that whilst house prices rises and stamp duty holidays are helpful, alone they may not be able to prevent the UK housing market catching a cold this winter. Perhaps it is best to stay indoors for a few months rather than rush to buy a home before Christmas, there might be better bargains to be had in the new year.
Barratt Developments
One of the UK's largest housebuilders issued a trading update and AGM statement this week
What they said
Sales rates up 20.8% on last year
Home completions at 4,032 up 24% on last year
Help to Buy accounted for 51% of private reservations up 13%
Net cash on the Balance Sheet at 9 October 2020 c.£570m
Twindig Take
Barratt has made a strong start to its new financial year with sales rates and legal completions (completed sales) up more than 20%. With no mainstream mortgage lenders offering 95% loan to value mortgages, Help to Buy (a 95% LTV mortgage alternative) is proving very attractive for first-time buyers. Barratt also has the confidence to offer sales volume guidance for the full year (14,500-15,000 homes), but if the current buoyant housing market conditions weaken it has sufficient Balance Sheet strength to see it through any short to medium-term challenges. Barratt is certainly doing its bit to build back better.
OnTheMarket interim results
Challenger portal OnTheMarket published their interim results
What they said
Number of agency branches on portal down 2%
Visits to website up significantly in July
Revenue up 28%
Twindig Take
Whilst the number of estate agents advertising on OnTheMarket (OTM) fell by 2%, due to COVID related branch closures, the Group's revenue increased by 28% as agents and housebuilders came off free trials or teaser rates and started paying fuller fees.
Although website traffic was down in the six months to 31 July 2020, in July 2020 traffic was up 173% to 27.5m (compared to a six-monthly average of 19.5m). COVID is impacting many parts of our lives however, it has done nothing to knock our fascination with residential property.
Interesting that although OTM made a profit in the period it has not yet decided to pay back the grants it received under the UK Government's Coronavirus Job Retention Scheme unlike many of its customers and competitors. Perhaps they are putting that decision off to the year-end. Whilst many are facing a period of unemployment is it fair that Government Job Retention scheme grants help others make a profit?
Subscribe to Market Views