UK housing market: Make hay whilst the sun shines
This week we learned that UK House Prices are reaching new highs, housebuilder's wares continue to sell like hot cakes, although they are underpinned by Help to Buy and BoMaD (Bank of Mum and Dad) and that UK Chartered Surveyors see a strong housing market for the next three months, but are more cautious and expect weakness on a twelve-month view. Perhaps the UK housing market needs to make hay whilst the sun is shining.
The stand-out performances this week were the financial results from Belvoir and The Property Franchise Group two of the UK's largest franchise estate agency group's, whilst the other estate agency groups have seen revenues fall Belvoir and TPFG saw revenue growth. Both have a heritage in lettings rather than sales and lettings certainly underpinned their results. Both are greatly confident about the rest of 2020, which bodes well for those looking to sell or let in 2020.
Halifax House Price Index
What they said
UK house prices reach a record high of £245,747
UK House Prices in August 2020 1.6% higher than in July 2020
UK House prices increased by 5.2% over the last year
Uncertainty remains with likely greater downward pressure on prices in the medium term
Twindig Take
Halifax House Price Index sets an all-time high for August 2020 (following on from Nationwide's all-time high published last week), so another day and another record. I continue to be surprised by not just by the robustness of house prices but by the fact they are increasing at this rate in the face of such economic uncertainty. My concern is that this is further evidence of a two-speed housing market where life carries on as normal for the property 'haves' and the COVID winners but becomes increasingly difficult for the property 'have-nots' and the COVID Losers. If the UK housing market is not open to all we fear that there is a risk that the recovery is being built on sand rather than rock.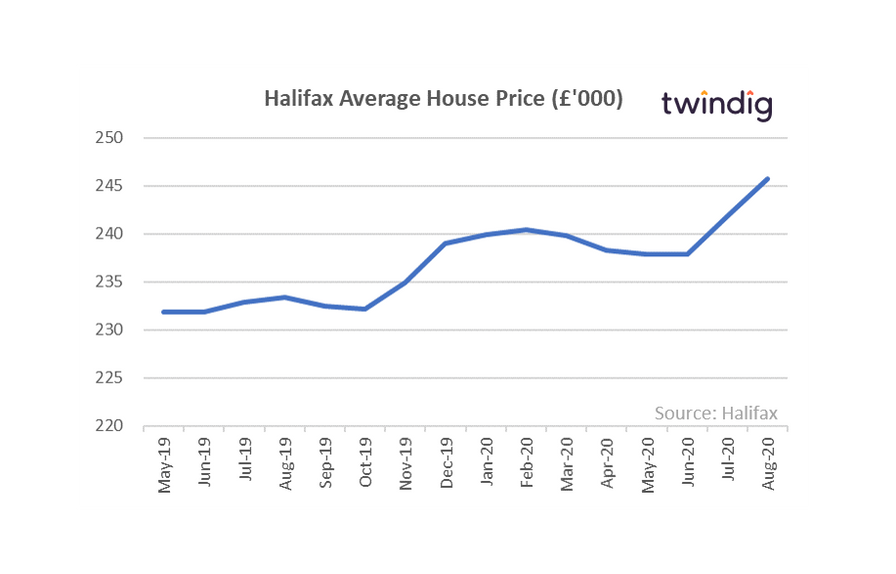 Legal & General Bank of Mum and Dad (BoMaD) update
What they said
Nearly one in four housing transactions (23%) will be backed by BoMaD in 2020 compared to 19% in 2019
One-third of those likely to buy a house in the next five years will do so using money from friends and family
Two thirds (65%) of people who recently purchased with help from BoMaD said their house purchase would have been unlikely without BoMaD's support
On average BoMaD provides £20,000 to assist with a house purchase
Twindig take
The L&G BoMaD report provides us with further evidence of the two-speed housing market and support for our First Time Buyer thesis that 'If your parents don't own their home, then neither will you'. This is a worrying trend in terms of housing inequality and such a growing societal wedge is an unhelpful social phenomenon. Those in the housing market are sitting pretty on money merry go round where house prices climb higher and higher, but the cost of a seat on the merry go round is increasingly out of reach for a growing number of households.
As if this were not bad enough, once on the merry go round (housing ladder), not all seats (houses) are equal. Even those on the merry go round may find that they need to move to a cheaper seat (downsize) for their children to secure a seat (home) of their own.
Vistry Group (Bovis Homes)
Half-year results for the 6 months ended 30 June 2020
What they said
Site closures significantly impacted housebuilding production in the first half
Production capacity returned to near-normal levels from 1 July
Record forward sales position with Group forward sales totalling £2.7bn (30 June 2020: £2.6bn) of which Housebuilding forward sales up 17% to £1,478m (30 June 2020: £1,264m)
Full-year profit before tax for 2020 expected to be in the range of £130m to £140m
Vistry remained active in the land market
Twindig take
Whilst the second-hand housing market is constrained by a lack of supply UK housebuilder Vistry (formerly Bovis Homes) today demonstrated that if they can build it, it can be sold announcing that its sales rates were 20% ahead of the prior year since 1 July at 0.73 sales per active site per week.
This pent-up demand also has legs as the Group announced record housebuilding forward sales of £1.48bn up 17% since 30 June and commented that house prices remained 'robust', which is in-line with the recent house price data from the Halifax and Nationwide.
That the Group has provided profit guidance for the full year shows the confidence it has in the strength of the underlying UK Housing market, confidence further underpinned by its activity in the land market. The Group is seeing attractive land buying opportunities and is not overly worried about the dangers of catching a falling knife.
It is also our view that Vistry's strong partnerships (social/affordable housing) business further bolsters its operations. Demand for partnership housing far exceeds supply and social housing demand is significantly less cyclical than the demand for open market housing.
RICS UK Residential Market Survey
This week saw the publication of the Royal Institution of Chartered Surveyors (RICS) August Residential Market Survey
What they said
National house price growth indicator hits four year high
Enquiries, sales and new instructions all continue to rise firmly
83% of respondents foresee demand increasing for homes with gardens over the next two years
Twindig take
The August 2020 RICS UK Residential Market Survey suggest that the momentum of the 'mini-boom' is building, rising buyer enquiries coupled with low stock levels (the number of homes for sale per agent) means that agents believe that house prices will continue to rise.
However, the debate about whether the recovery will V or Nike 'Swoosh' shaped rages on. Whilst the RICS surveyors questioned expect housing transactions to rise over the next three months, they expect them to decline on a 12-month view as economic uncertainty lingers and at least a few are starting to wonder whether Brexit has been done…
The shift in demand to gardens and away from highly urban areas is in our view a natural consequence of 6 months of lockdown and the recently enhanced restrictions are likely to strength this shift in demand, but it will be interesting to see how the 'working from home vs back to the office' debate plays out. Employers, perhaps being lent on by politicians, appear to be championing the benefits of back to the office. It is our take that those with adequate space are enjoying working from home and those in cramped conditions are as likely to be considering a move further from the office to facilitate a better WFH experience as they are looking forward to going back to the office.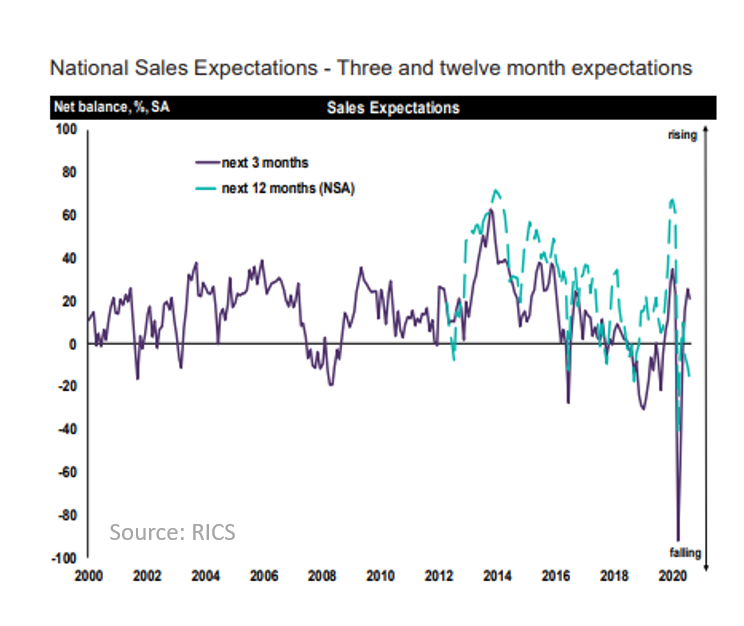 The Property Franchise Group
One of the UK's largest franchise estate agent groups with around 400 branches across published interim results this week. The Group's brands include Martin & Co, CJ Hole and EweMove
What they said
First-half revenue £5.4m (H1 2019: £5.4m)
Profit Before Taxation £2.0m (H1 2019: £2.0m)
Interim dividend reinstated 2.1p
Sales agreed pipeline 25% higher than it was in June 2020
Net Cash as at 30 June 2020 £6.1m (30 June 2019: £2.8m)
Full-year expectations remain at their pre-COVID levels
Twindig take
A very strong set of results from TPFG, the stand-out highlights being no revenue or profit reduction in the first half coupled with a dividend and full-year expectations unchanged by COVID. This is one of the most robust sets of results and confident outlook statement we have seen from the large estate agents. There does remain a lot of uncertainty around the UK housing market, but even if TPFG's confidence is misplaced they have a strong enough Balance to cushion any unforeseen bumps in the road.
Winkworth
Winkworth the large franchising estate agency group operating across the country with a significant presence in London also issued interim results this week.
What they said
Revenues down 4% to £2.5m
Profit Before Taxation down 20% to £0.5m
Net Cash as at 30 June £3.3m (30 June 2019: 2.5m)
Dividend 3.08p (H1 2019: 3.8p)
Twindig take
Winkworth's performance was not as robust as that of The Property Franchise Group, which reflects the impact of Lockdown on their Central London and International client business. Outside of London, the COVID impacts were less severe.
Winkworth has a robust cash position and the payment of an interim dividend also underpins the Board's confidence in the Group's ability to navigate these unchartered markets. Since the housing market re-opened trading has been brisk and in absolute terms, the London market will benefit most from the Stamp Duty Holiday.
Belvoir
They say things come in threes… Belvoir another large franchise estate agency also published interim results this week.
What they said
Revenue up 8% to £9.8m (of which 2% underlying)
Profit before Taxation up 17% to £3.2m (of which 10% underlying)
Interim dividend maintained at 3.4p
Full-year expectations remain at their pre-COVID levels
Twindig take
Of all the franchise groups reporting this week Belvoir's results were the strongest with growth coming from both its underlying businesses and from acquisitions. The Group, in our view, has a strong record of success when it comes to growth by acquisition.
Belvoir also has a confident outlook for the second half and is confident of meeting its pre-COVID expectations for the full year. Given the UK housing market was effectively shut down earlier in the year this is a very strong signal about the robustness of Belvoir's business model.
Subscribe to Market Views