Twindig Housing Market Index (HMI) - 31 July 21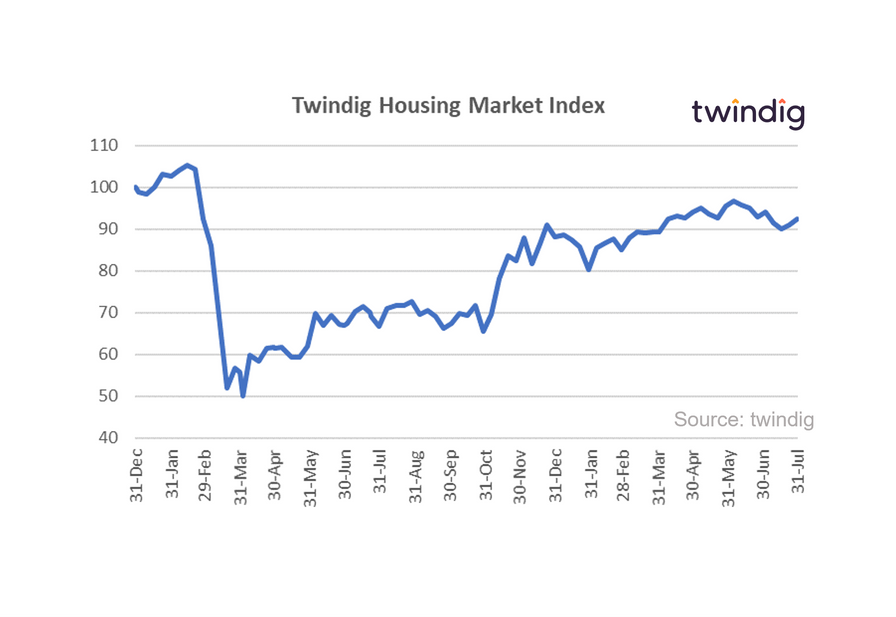 THMI up, up and away
The Twindig Housing Market Index increased by 1.6% to 92.5 this week as investor confidence was buoyed by:
Record breaking results
Record-breaking mortgage lending in June;

Record-breaking results from Rightmove (it has never charged estate agents so much);

Robust results from Foxtons (the London based Estate Agent); and a Strong trading update from The Property Franchise Group (a national franchised estate agency chain).
Stamp Duty Holiday underpinning the housing market
These strong performances are no doubt linked to the Stamp Duty holiday, and we expect that as more data emerges, June will represent a significant peak in housing market activity as homebuyers raced to beat the first of two stamp duty deadlines on the 30 June.

From the 1st July, the stamp duty holiday benefit was reduced from £500,000 to £250,000, and the Stamp Duty threshold will revert to its pre-pandemic level of £125,000 from 1 October 2021.

Although the Stamp Duty benefit has been reduced, it is still in line with the average house price across the UK, so for many, the potential stamp duty savings will not have changed. We, therefore, expect above-average levels of housing transactions in July and August with one more spike in activity as the stamp duty holiday draws to a close in September.
House prices dip but housing market resilient
According to the Nationwide, house prices dipped by 0.5% in July, but were still up over 10% in the year. This is nothing to worry the horses, just a bit of a post stamp duty holiday race breather, in our view. But don't take our word for it, mortgage pricing remains very keen suggesting that lenders are looking to increase both their loan books and market share, and they wouldn't be doing that if they saw dark clouds on the housing market horizon.
Subscribe to Market Views