Twindig Housing Market Index (HMI) - 30 Jan 21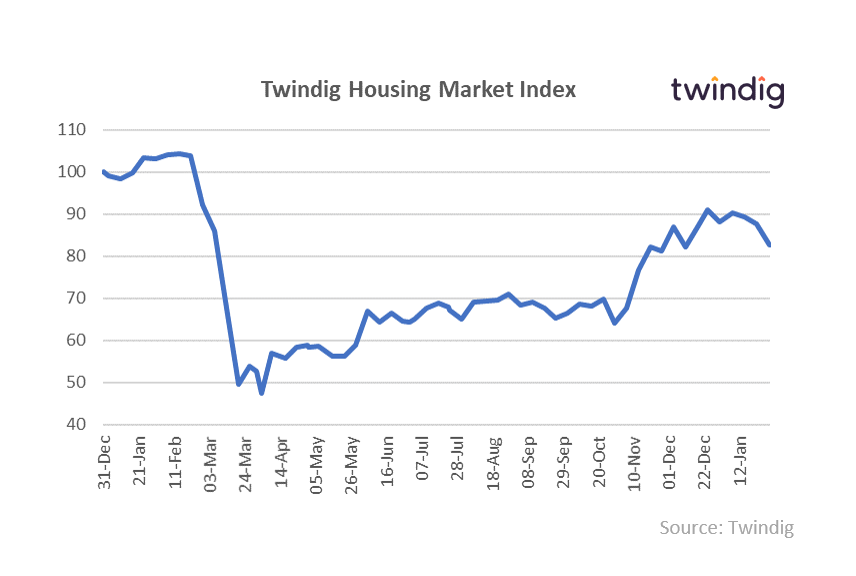 The Twindig Housing Market Index (THMI) fell by 5.7% this week from 87.6 to 82.7 as investor confidence fell ahead of Monday's parliamentary Stamp Duty Holiday extension debate.
On the whole, investors agreed that an extension puts off the problem rather than solving it and many believed that the Stamp Duty Holiday was trying to solve a problem that did not exist in the first place. The Stamp Duty Holiday has in some eyes actually caused a problem.
Whenever the stamp duty holiday ends, investors expect it to cause short term disruption to the housing market (a reduction in housing transactions and some short term house price weakness).
We would be surprised if the Government announces an extension to the stamp duty holiday on Monday, but if they do it will provide a positive boost for housing market sentiment and investor confidence, albeit a short term one.
Next weeks housing market newsflow:
Monday:
The Bank of England publishes mortgage approvals for December 2020
Parliamentary debate on the Stamp Duty Holiday extension petition
Tuesday:
Nationwide January 2021 house price index
Thursday:
National housebuilder Barratt Developments interim results
We expect the positive momentum in mortgage approvals and house prices to continue and for Barratt to report it has had a strong start to 2021
Subscribe to Market Views