Twindig Housing Market Index (HMI) 29 Oct 22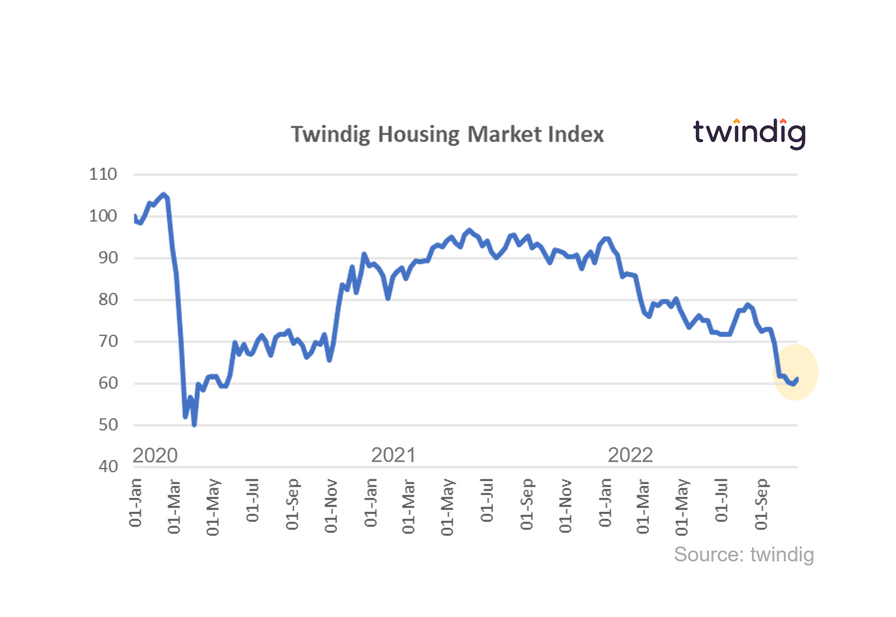 After a miserable few weeks, the Twindig Housing Market increased by 2.1% to 61.1 this week as a sense of stability returned in Westminster and residential investors gave their nod of approval (or at least the benefit of the doubt) to the new Prime Minister.
It was another interesting week for the housing market, Lloyds Bank certainly put the cat amongst the pigeons as its latest scenario analysis forecasts a base case where house prices fall by 8% next year. Whilst the story grabbed headlines and filled many column inches in the press, residential investors weren't hugely perturbed by the forecasts. All banks are required to publish their scenario analysis, and since the Global Financial Crisis, when they were criticised for overlooking the risks, all have tended to err on the side of caution, preparing for the worst and hoping for the best. If we compare what actually happens to Lloyds house price forecasts we find that, with hindsight, they are usually too pessimistic.
This week we also saw another chapter in the tale of differing estate agency models. The reassuringly expensive Foxtons delivered results ahead of expectations, whereas Purplebricks, the Ryanair of estate agency floundered, laying off staff and losing its recently appointed Finance Director.
We may be in a cost-of-living crisis, but it appears that homeowners are happy to pay top dollar to sell their homes rather than take risks with a cut-price service. Purplebricks woes may not be over yet, in our view, because you pay their fees whether or not they sell your home and in a slowing market, fewer homeowners may be willing to take that risk.
Subscribe to Market Views