Twindig Housing Market Index (HMI) - 28 May 22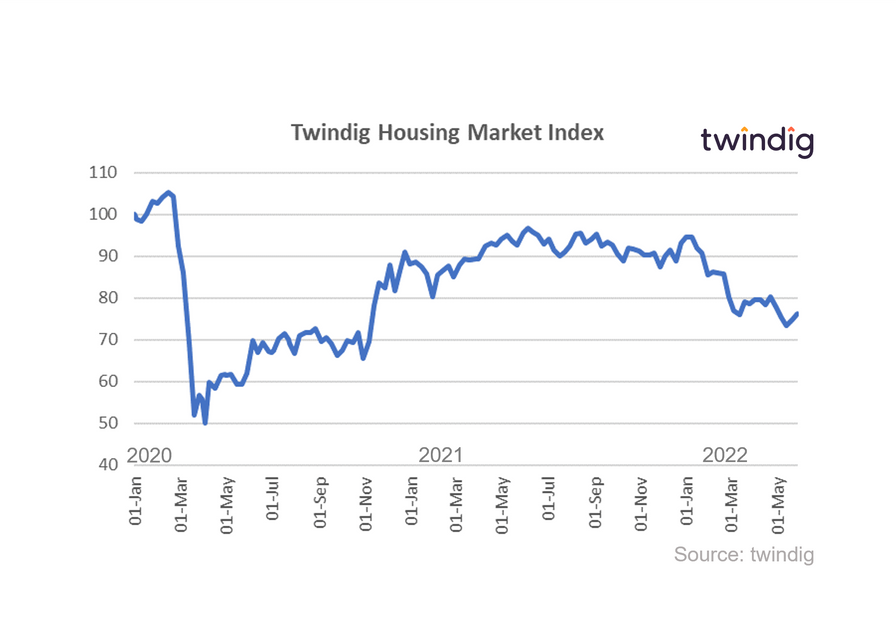 In the week that saw housing transactions fall for the first time in six months, the Twindig Housing Market Index increased by 1.9% to 76.2 this week.
It was an interesting week for estate agents this week. The cut-price, low touch challenger estate agent Purplebricks revealed that despite the heat in the housing market its sales and revenues were falling, whereas the more traditional estate agency group Belvoir reported that trading during the four months to 30 April 2022 its revenues were up 14% on the same period in 2021, with the property division up 8% and the financial services division up 20%. LSL, one of the largest estate agency groups in the UK reported that revenues for the first four months of 2022 were in-line with those achieved in the buoyant market of 2021. It seems that the Purplebricks model has not caught on, and its performance is at odds with that of the mainstream market. The traditional model certainly appears to be the model preferred by homebuyers and sellers.
However, despite the comforting words from Belvoir and LSL, residential investors appeared to be concerned about the falling housing transactions, the element of the Twindig Housing Market that relates to estate agents fell by 8% this week, despite the positive trading update from Belvoir.
Following a strong start to the year Vistry, the housebuilding group announced that it was starting a £35m share buyback programme. A share buyback is a way that companies can return surplus cash to shareholders. In Vistry's case, this means that it does not have significant concerns about the health and outlook for the housing market and therefore needs less money in the bank saved for a rainy day.
Subscribe to Market Views