Twindig Housing Market Index (HMI) - 27 Feb 2021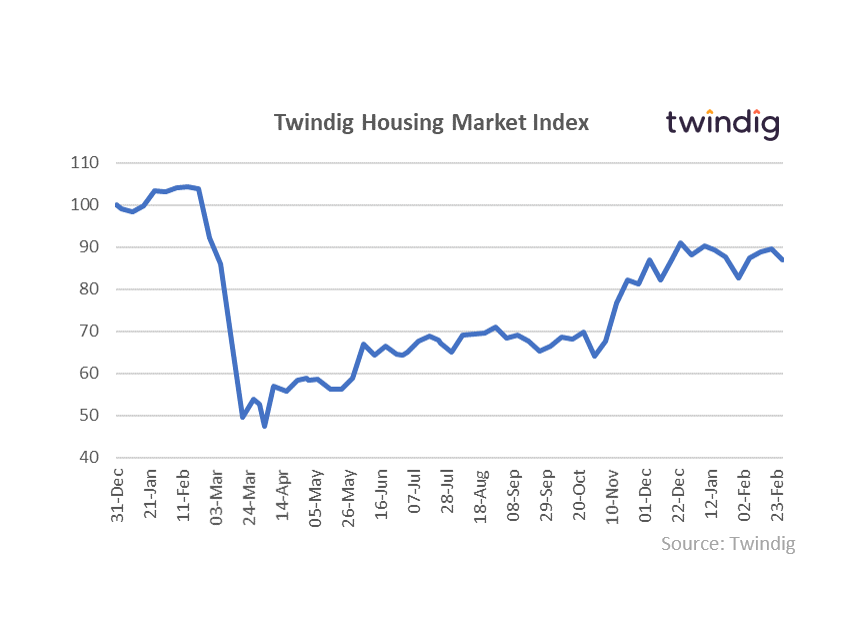 The Twindig Housing Market Index fell by 2.8% to 87.0 this week, which is a muted response to the well-sourced speculation that the chancellor will extend the Stamp Duty Holiday by three months to the end of June in next week's budget. We also understand that Mr Sunak is also considering providing Government support to the UK mortgage market.
There was also a lot of positive housing market news this week: LSL (the UK's largest listed estate agent) has had a strong start to 2021, Rightmove appears to have benefitted from herd immunity from the pandemic, growing its net assets by almost 200% in 2020 and was charging its customers more in December 2020 than it was in December 2019 and London based estate agent Foxtons is in talks to buy its competitor Douglas & Gordon. On this evidence, it looks like the UK housing market is in no need of further stimulus and that housing market confidence should be on the up. However, Lloyds Bank (the UK's biggest mortgage lender) reported this week that it expects house prices to fall by 4% this year and that mortgage growth will be at its lowest for seven years as households lockdown savings unwind as the UK economy opens up.
Subscribe to Market Views